How To Promote Your Online Shop In A Global Scale
There are many ways in which you can market your online shop. In order to broaden your targeting, you need to use approaches of marketing that aren't focused on a small area.
Forget billboards and flyers!
You need ways to reach people from all around the world in an effective way.
A lot of brands tend to expand globally for two reasons.
They can reach more people thus sell more
The market in other countries may not be as saturated
By expanding globally, you get access to an incredible number of potential customers. You just need to reach them, convince them, then sell to them.
In this article, we'll be discussing How To Promote Your Online Shop In A Global Scale.
1. Use social media
If you're new to social media and using social media as a marketing tool, Instagram is always a great place to start.
Instagram is easy to use and still have a fairly good organic reach left – as opposed to Instagram, which means that you can get great results from the platform without paying for ads.
Facebook is also a good place to market your online store, however, because of the limited organic reach, you'll either have to pay or work harder in order to get any results.
Start by joining a few groups and contribute your knowledge to people looking for information in your niche. When you present yourself as an authority in your industry, people will start coming to you for information and help – which is extremely valuable for customer retention and engagement as a brand.
(More on Facebook groups further on).
Share quality content
Since Instagram is visually driven, and most other social platforms are as well, sharing quality content is key.
Nobody goes to social media to see low-quality boring images and if you share them, you probably won't get much traction.
Obviously, your objective with social media is to promote your product and store, and if you want to do that, it's not enough to just photograph a product with your phone and then post it.
The key to getting people engaged with your content and products is to share posts that incorporate the products in a very discreet yet appealing way.
Watch brand Daniel Wellington does this extremely well:
Have a consistent theme
You want to have a consistent theme of your page and the content you share so that your business is easily recognizable. When someone sees a photo from you, they should be able to instantly tell that it is yours.
To create a coherent and consistent brand message with your content, it is all about how you create the content. To make your images look similar, you can do the following:
Put a watermark/logo in all your images
Use the same filter on all your posts
Edit them in the same way
Use the same frame on all of them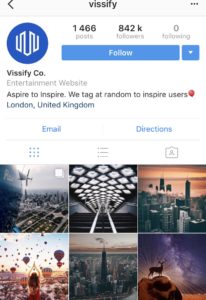 Follow and engage
If you want your brand noticed on social media, Following and engaging with potential customers essential.
When you engage with people, they become aware of your brand and might decide to follow you.
Also, by engaging with people, such as leaving a kind comment on their post or liking a few images of theirs, there's a chance they'll visit your profile and then click through to your website, thus resulting in more traffic and an increased brand awareness.
The best way to is to make your audience trust you, and by engaging with your audience on a  personal level, you increase their trust in you, while also getting loyal supporters in your brand.
2. Does your shop have any content on it?
Search engines love content, so if you want to rank higher and gain more organic traffic, you need to create content.
Having content on your website has several benefits.
Increases the visitor time
Decreases the bounce rate
Attract people who initially wasn't interested in your product
Convince people that they need your products
Let people discover your website and products
Content on your website can be everything from articles, blog posts, infographics, videos, quiz, games, and so on. The key to creating valuable content is to make it informational, entertaining, informing. or insight, such as articles, blog posts, infographics, videos, etc? If not, you definitely want to add some content to your website.
Content apart from the products themselves can be seen on almost every successful online store – and that's because it works!
Death Wish coffee have a whole section for content that is made to attract more visitors and make the existing visitors stay longer.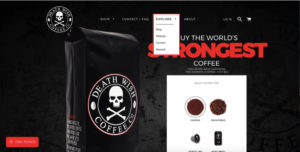 You want to give people a reason to keep coming back to your online shop apart from your products, and by having appealing content, you can attract the people who you are trying to target, then let them know about your products.



3. Where are you getting traffic from?
Is it organic (search engine) or do you have advertising in place?
As an e-commerce site, you are obviously heavily dependent on traffic. If you don't get any traffic, you won't make any sales.
Simple as that!
Therefore, a lot of your focus when it comes to expanding globally is to increase your traffic.
The type of traffic you get matters because if your traffic isn't targeted, and those who visit your site aren't actually interested in what you have to offer, it means they'll quickly leave and certainly not buy from you.
Advertising
If you have a budget for advertising, paid traffic can be tremendously valuable. The great thing with ads is that you decide what people will see your ads – something that you cannot do with organic search.
For paid marketing, Facebook ads and Google Adwords are the two big players.
Google Adwords help you get your content to rank higher without having to focus on search engine optimization. However, just because you are paying for traffic, you should absolutely not neglect SEO. If you add them together and work with both SEO and paid traffic, you can get quite impressive results.
Google Adwords lets you pay for different keywords, and based on how much you are paying for that keyword, and how much your competitors are bidding for the top spot, you can end up on the top every single time.
The great thing about Google is that you target the keywords that your audience actually search for. For example, if someone searches for "Coffee beans", chances are, they are looking for coffee beans.
Have in mind:
When going after keywords to pay for on Google Adwords, you want to target so-called "paying key words" or "money key words".
The names of the keywords are simple: They are keywords where the searcher is ready to pay.
For example, compare two keywords of different nature:
Free coffee beans
Coffee beans free shipping
Which of these two keywords do you think are most likely to generate a sale?
It's easy to see which of these brands value the most and are ready to invest money in because obviously, they don't want to pay for keywords where the user isn't prepared to buy anything.
When paying for Adwords, going after "paying keywords" is key to driving the right type of traffic to your website that will repay you for the invested money.
Search engine optimization
Search engine optimization means optimizing your website so that you can rank higher in search engines and get more traffic as a result.
Get Backlinks
One way you can improve your search engine ranking is through backlinks.
Wherever you go to read about Search engine optimization and ranking better on Google, backlinks are brought up. In case you didn't know, backlinks are links placed on one website pointing to another website. One of Google's over 200 ranking factors is backlinks, and they have a huge weight to them. For Google, backlinks are indications of a popular website that people enjoy.
The more backlinks you have, the better you'll rank. However, it's not just the number of links that count. It's also the quality of the links that are pointing to your site that matters. Therefore, good backlinks to your website will help to increase the overall Search Engine Rank of it and help generate more traffic.
Twitter
We've already touched on social media channels, but Twitter is a platform we didn't mention that has the power to generate tons of traffic to your site.
Twitter is a social channel that is used by most bloggers and businesses looking to increase their traffic. The great thing about Twitter is that it lets you reach people globally and from all around the world.
Google has also admitted that they take social signals such as retweets, mentions of your brand etc. when ranking websites, so getting traction on Twitter can further help you market your website globally since more people will be able to find it in the search results.
Submit your website to listings
Whichever niche you are in, there are people creating lists of the "top most popular websites" within that space.
For example:
Top e-commerce stores for horse supplies
Top 5 e-commerce stores for men's fashion
Best 10 e-commerce website for tennis supplies
And so on…
If you can get your website to be featured on these lists, not only will you get a ton of exposure and a lot of direct traffic, you'll also get a backlink to your website, leading to better search engine ranking.
A practice you shouldn't take is to submit your website to listings. This was a popular practice a few years ago since people were absolutely desperate for backlinks but didn't care about the quality of them
Today, Google's algorithm also looks at the quality of the links that point to your site, and if you submit your site to a directory, you'll end up on a website that points to thousands of other websites. The issue is that Google tends to see these websites as spam, thus making the link to your website harm you instead.
Participate in forum discussions
You should engage and be active in at least two or three forums related to your niche where people in your target audience are to be found.
Some of the most popular discussion/question & ask forums are:
Of course, if you are in a very niche market and looking to reach people more globally, you might find more success in using more niche-specific forums that only discuss things in your industry.
Set up your profile, add your profile information, signature, and profile picture to make yourself more approachable.
Start engaging with people, answer questions, and ask questions.
By showing your expertise within your area, and doing it consistently, you'll soon display yourself as a thought leader, making yourself the go-to source for people.
Not only will you attract more people to your store since your audience will believe you are the best in your industry based on the knowledge you have shown, you'll also build your brand within the industry you're in which will be far more valuable for long-term results.
Facebook Groups
Joining Facebook groups is a great way to reach and engage with people in your niche. You can promote your website and store, but be careful because people generally don't like spammers and self-promoters. Find a good balance between providing value and promoting your site, and you can get targeted traffic to your site that converts.
When joining groups, make sure that they are actually relevant to your niche. There's no point in joining a horse-related Facebook group if you are selling cat equipment.
Bonus tips
Pay Per click ads include all types of ads where you only pay when you get a click. This is a popular marketing method as you only pay for the results that the ad is generating.
As we discussed above, using forums for reaching your targeted audience, and reaching a more widespread audience globally is a great idea.
Forum marketing is completely free, and you are reaching those who actually matter for your e-commerce.
Search engine optimization is one of the most effective digital marketing sources to date. By learning how Google (and other search engines) rank websites, you can optimize your website to rank higher and get much more traffic to your website. With Google, that traffic is highly relevant because those who are searching for your keywords are most likely interested in your niche.
Facebook ads offer the ability to create highly targeted ads that let you choose very specific criteria when targeting. This means a very high ROI for invested money.
Coupons and freebies are always a great way to attract people to your site. Use one of the mentioned ways to promote your freebie and discount campaign, and watch your customers increase.
Sending samples of your products to top bloggers in your niche in exchange for a review on their blogs
Also known as influencer marketing, identifying individuals who your target audience looks up to will not only help you reach your target audience, it will also impact them at a much higher level because your audience trusts the influencer and their recommendations
YouTube is one of the most powerful social platforms today. If you are great with video making, you can draw interest to your site by creating appealing videos relevant to your niche.
Conclusion
When looking to expand your geographical targeting audience, and promote your store outside of your current geographical targeting, it is important that you always have your target audience in mind.
It doesn't matter where your audience is from, it only matters if they are relevant to your brand.
Increase your reach and exposure to the tips presented below and you can be sure to reach people on a global scale.