How to Boost Sales of Things That Aren't Selling With Social Media
Have products that doesn't sell?
Want to promote them and start getting sales on them?
Luckily, getting traction for products that doesn't sell well isn't a difficult task.
Social media has time and time over shown the tremendous results.
In fact, a report from Social Media Examiner found that 43% of businesses are seeing an increase in sales from social media. And that's just one of the many benefits of social media. There are of course other factors that ultimately lead to a sale such as brand awareness and increased traffic, but these are more difficult to measure.
That's also why they tend to be forgotten when talking about the power of social media marketing.
To help you boost the sales of your products that isn't selling well, I'll give you the most effective tips on How To Promote Low-selling Products With Social Media.
1. Use Instagram Stories and links
Instagram restricts the use of links on the platform to prevent spam. Therefore, if you want to drive traffic to the products pages that doesn't convert well, you need to take advantages of the few places where clickable links are to be implemented.
You've probably seen people who include links in their captions of a post, even if they're not clickable.
Unfortunately, most of the time, it doesn't work. The chance that people will type in the URL you've included in your caption, letter by letter is minimal. Especially if your link is 2 rows long. Then you can with almost 100% certainty know that nobody will visit it.
It's just too much work!
People want to get to the product they are interested in with minimal effort.
And as a brand, you want to make the process of buying as simple as possible, because this will increase your chance of selling.
Instead, if you want to drive traffic to the page of the product that isn't selling well, your best bet (if you want to promote using regular Instagram post) is to guide your audience to the clickable link in your profile.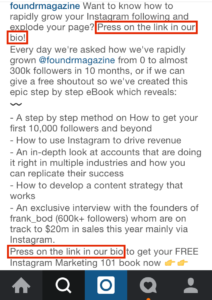 Apart from using Instagram posts to promote the link in your bio, Stories is one of the places where links can be incorporated on the platform.
Why not use it?
Considering the fact that Instagram Stories see far more engagement than regular posts, Stories is an opportunity you can't afford to ignore.
In fact, TheAmplify is seeing 28% higher open rates on Instagram Stories compared with Snapchat. In addition to that, influencers are seeing an average of 6-10% of their followers open their Instagram Stories within 24 hours.
This means that when you post an Instagram Story, more people will see it, thus giving a greater exposure for your brand and products.
Show the benefits of your product
If you want to see more of the product that isn't selling well, simply putting up a photo of it and including a link where people can buy it  on your Story won't be enough.
Understand your product
Chances are that there's a reason to why your product isn't selling well.
By identifying those reasons, you'll be able to fully understand how your customers think,  and come up with ways to display it in a way that makes it more attractive.
And this does not only concern Instagram Stories as a marketing tool. Understanding your product better will help you no matter where you are promoting it.
Got it?
Good.
When you've identified the reasons to why it isn't selling well, it's time to write down all the benefits your product has, and how it improves people's lives.
If you come to the realisation that your product is straight out terrible, then you might have some problems. But most of the time, that's not the case.
More often, it's just that you just haven't explained all the benefits of the product.
Identify your product's benefits
Ask yourself the following questions:
Why should people by this product?
How does this product improve the customer's life?
What pain points is this product solving?
When you've done so, you want to tell your audience about them!
You might have a kick ass product but just haven't been very good at explain to your customers exactly how good it is.
Showcase your product's benefits on Instagram Stories
This can also be done by using regular Instagram posts, but since Stories is a powerful storytelling tool (duh, it's called Instagram Stories for a reason), you have loads of opportunities to create a coherent explanation of how your product work and why it's awesome.
The number one mistake you can make is to simply tell your audience how awesome your product is.
It doesn't tell them anything. When brands say that their product is awesome, people quickly run the other way. It has gotten old for people to hear brands endorsing their own products.
Instead, show them how great it is.
And let them decide what they think of it.
Luckily for you, Stories makes it super easy to showcase your product, how it works, and its benefits, while also slipping in a link where your audience can
How to include a link in your Story:
Adding a link to your Story is super easy!
Before Instagram released links in Stories, only a few selected accounts (verified) could use it. Turns out it was a great success among brands, thus being available for the public today.
To add a link, go to Instagram Stories and upload/take a photo or video.
At the top of your screen, you'll have a chain symbol. Tap it.
Type in the link to the product and tap Done.
Now, when someone watches your Story, they'll see "See more" with an arrow pointing up.
When swiping up on the screen, you'll then be redirected to the link that was implemented in the story.
Many brands are also adding a call to action on their Story to further encourage people to swipe up.
2. Create a YouTube video showing its benefits
A picture says more than a thousand words.
How about a video?
Video has skyrocketed in popularity over then years, and with all right.
Just like stories, (that is both based on photo and video), video on YouTube allows you to tell a story and present all the benefits of your product in a more appealing way.
To have success with video and increase sales of the product or products that aren't selling well, you shouldn't create a full-on promotional video.
Instead, you'll be far better off if you create a video that speaks to your audience and then the promotion of your product becomes a by-product.
There are many brands who have successfully implemented video in their social media strategy to promote their products, but a famous one is Dollar Beard Club.
DBC creates fun sketches on their YouTube channel that includes showcasing their products and the benefits of them in a way that isn't seen as promotional but instead ties very well into the message they want to convey.
And, of course, their very own brand values.
As a result, they have been able to accumulate  YouTube subscribers and millions of YouTube views.
That's a ton of exposure.
Dollar Beard Club's YouTube videos can be seen as edgy and controversial.
https://www.youtube.com/watch?v=69C3md2f6P0
Yet still, they work tremendously well.
Why?
Because their target audience resonates well with them!
"The key to creating videos which your audience will love is knowing what they love."
What I mean by that is that if a conservative company like Bank of America would have created similar videos, they would most likely be met with hate and criticism.
That's because it doesn't align with the brand's values, nor their target audience's values.
Again, it's about always being highly aware of who your target audience is and what resonates well with them.
3. Share the video on your social media platforms
Okay, you've created a video about your product. Maybe you've even uploaded it on YouTube.
But the job doesn't end there.
Videos work extremely well on all social platforms, so why not upload them there to further increase the exposure for the product that isn't selling well, too?
Studies show that customers are 85% more likely to buy a product after viewing a product video.
But that's not all…
This just goes to show how popular video is, and that you're missing out on a tremendously powerful marketing tool if you don't use it.
If you've put a lot of time and effort into creating a video, you want everyone to see it, right?
Don't let the power of your video stop on YouTube.
Depending on which social platform you upload your video to, it may be a little tricky with video length.
Instagram, for example, allows a maximum length of 60 seconds when uploading a video. Therefore, you may or may not need to shorten your video so that it's uploadable.
4. Run sales
A sale is the most common way for brands to promote a product.
Why?
Because they work!
And they're easy to set up.
If people can get the feeling of "making" money when buying your product on sale, the chances of them buying it increases.
Of course, you don't actually make money by buying something unless it's an investment, but the human brains perceive a sale as making money, thus leading to more people actually buying – and feeling good about it.
There might also be people who have checked out the product of yours that isn't selling too well but for some reason haven't bought it.
In many cases, all it takes to convince them to purchase might be setting up a sale.
Chances are, you've done the same thing yourself.
You've constantly checked the product you are eager to buy to see if it's still there or on sale. You've been a little hesitant about buying it for some reason, but when the brand announces a sale, you can' restrain yourself anymore and buy it.
Sounds familiar?
While you make less money if you offer your customers discounts on your products, it's better to get them sold at a cheaper price than not getting them sold at all.
This is even more important if you're a brand who sell products that isn't relevant for a too long of a time period.
This is why you see most clothing brands running summer sales, winter sales, spring sales, etc.
Because when new collections arrive, or more importantly, a new season arrives, these stores can't stand there with an enormous stock of product for a season that arrives next time in a year.
No one buys flip-flops in the winter.
Guessing you use social media regularly, chances are, you've come across brands promoting sales on social media.
That's because most brands that are on social media and have sales promote them through it.
This, of course, tells us that it works.
The beauty with social media marketing is that you can get a ton of exposure for free, and in that way promote the items you have on sale without investing more than your time and a bit of effort.
5. Arrange a giveaway
Giveaways are always appreciated by your audience.
Because…
Well, who doesn't like free products?
Best of all, giveaways are win-win situations where both parts get something from it. Both you and your audience.
You give away a product to a happy winner, and you get exposure and increased awareness around the products that isn't selling well.
Since you came here for one reason: to sell more of the products that aren't selling well, It goes without saying that you should give away that exact product.
Yes, it is true that the better the price is, the more contestants you'll get.
However.
If you arrange giveaways where you give away things that don't have anything to do with your brand, chances are you'll attract "the wrong" people. In other words, people who aren't really your target audience and don't have any real interest in your brand or your products.
When you give away your very own product, on the other hand, you'll only attract people who are interested in getting it. Best of all, you're making people aware of your product and build hype around it.
When the giveaway is over, most of the contestants won't stand as winners. Those who didn't win might, therefore, decide to buy the product instead.
And it isn't rare that this happens.
Social media is the ultimate place to run giveaways and contests on because if done correctly, they can generate immense traction.
In fact, you not only can get traction. The beauty of social media is that it offers amazing marketing sources right at your fingertips.
If you need more exposure to your giveaway why not partner up with an influencer and run the giveaway together with them?
6. Give away coupon codes
With social media, you can reach your audience in a matter of seconds.
This means that doing something as simple as giving away coupon codes is as easy as 123.
However, just writing "30% off" in your caption isn't very appealing. Especially if it's only concerning the product that isn't selling well.
To spice things up and make your audience more engaged to receive and use discount codes, here are two ideas on discounts you can run through social media:
Reward people who repost your post
One of the best ways to get exposure on social media is by getting your content shared by your audience. When you can get your audience to become marketing pillars, you'll get organic exposure, completely free, on a regular basis.
But how can you encourage people to start reposting and sharing your content?
By giving them something, of course.
Now, unless your brand is highly sought-after, chances are people won't buy your product just because you give them 10% off.
And really, the only reason (except for organic shares) to why people would share your content is because they want a discount code. Or, as we discussed in the beginning of this article: "make" money. At least according to the brain.
To get the ball rolling, you need to offer your audience a deal they can't resist. A 2 for 1 deal or even 3 for 1 deal tends to work better than percentage discounts, but of course, this will also depend on the nature of your product.
The reason X for X deals work so well is that you get people in your sales funnel and make them into customers. At the same time, you're getting your products sold, and (hopefully) make a profit from it depending on how good your deal is and how big your margins are.
Give a discount your customers can't resist
The higher the discount, the more you'll sell.
That's how the general rule goes.
Again, this is about how the brain works, and it's fascinating to see how people react when the price of a product has reached a certain level that is to be classified as a bargain.
Just look at black Friday.
Conclusion
When a product doesn't sell, it sucks.
However, do know that it isn't the end of the world if it doesn't.
There are endless ways you can promote the low-selling products, and social media is a powerful such.
Social media is a tremendous tool for showcasing your product and its benefits by storytelling.
By evaluating the products that don't sell well, and then promoting their benefits and strengths on social media using the methods discussed in this article, you'll be amazed at what results you can generate.