Blogging Vs YouTube- Which One Is Better and Why, to Be an Entrepreneur
Before starting my online career as an entrepreneur, I was just a freelance writer with although good income but not a satisfactory one. However, life slaps you where you least expect; so, one day, my freelance account on Upwork was blocked for no reason. 
Yes, my only earning channel with a five-star rating, lots of positive reviews, and bulk of freelance jobs, vanished from the internet just like that. 
For one whole week, I could not understand what should I do next… 
Being a freelance writer or a worker-from-home, I hated the idea of going to a 9 to 5 job and listening to the orders of an arrogant boss, sitting with the team doing politics, and everyday struggling not just to work but to survive at the workplace. I also feel so ponderous towards the idea of waking up early and reaching the work station – I am not going to have a school routine again…. 
Upon days of thinking, thinking, and just thinking – I was still thinking and now it was almost three months. Though I had some of the contacts of Emails and Cell Numbers from my previous clients at freelancing sites, I also had skills to start the channel again and earning money maybe not many but less, however, if it was just about money. 
Nonetheless, I was not ready to spend my time, efforts, and of course, hanging around something fickle and slippery as I had been given no deadline, nothing else, just one day and I am all blocked from my earning source. 
So, what did I do?
Due to being a writer, I am somehow attached to SEO as well and can conduct good research online. I have skills to extract data from the online sources and ready a sheet of facts. So, one day, while surfing the internet, I got an idea to Create a YouTube Channel. 
I had many questions in my mind such as:
If it is lucrative to start a YouTube channel?
Do I need to get some courses before starting?
Which niche should I choose?
In how much time my YouTube channel would start bringing earnings? And,

 

How much money can you make on YouTube?
Etcetera, etcetera…
I went to one of my friends, an SEO expert, and shared my idea with him. You must be thinking that I got the answers to my all queries, right? Well, instead of giving me answers to my questions, he gave me another idea, or I would say confused me, about my decision…. 
Why don't you start a blogging channel? He said…, and I was like, blogging for money…??? Numb!!! 😐
I again had some questions in my mind such as how to start a blog and where to. I had some knowledge about YouTubing but Blogging, 
"I only knew how to write blogs but blogging for money was not my cup of tea – He got my wires crossed."
I was again confused about:
how to create a blog?
How to do blogging for money?
Do I need to hire an SEO expert for my blog?
Once again, it was me and my laptop, and the internet to get us connected from the world. I again started my research and believed,
"No one can give you a right path to walk on, you make a path right by walking on it" anonymous
Here is what I found:
Blogging vs YouTube Which One Is Better?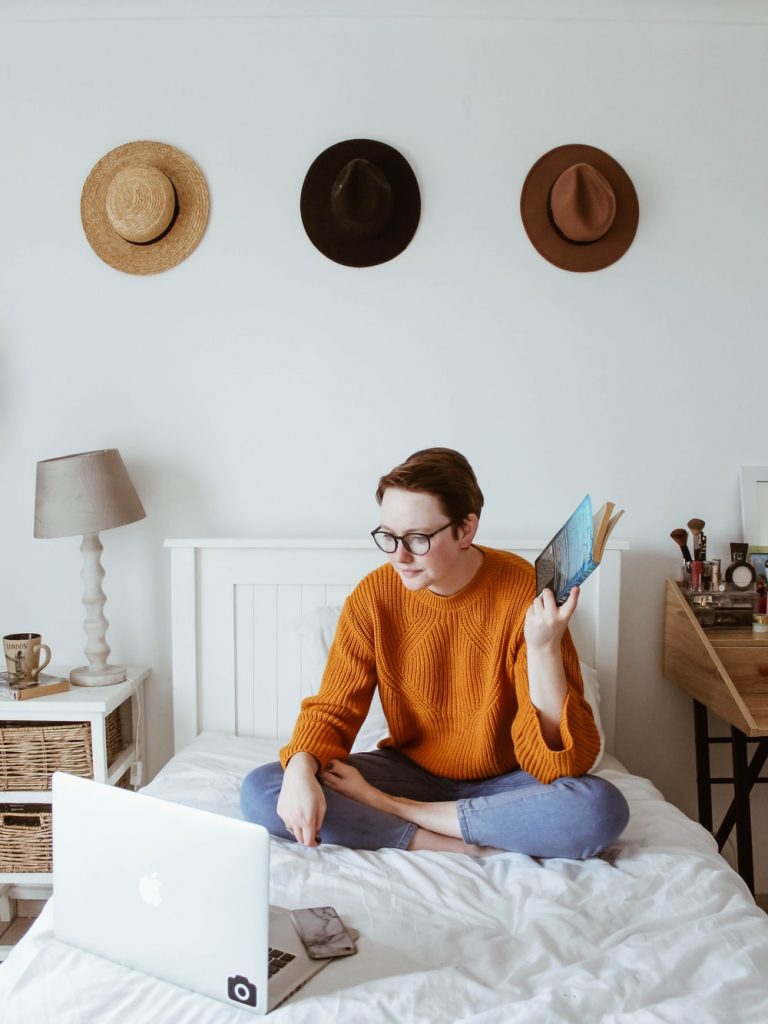 I searched from the point of view of earning and being an entrepreneur, so I needed in-depth knowledge. YouTube is also a type of blogging, usually referred to as "Vlog" as there is only video content is available. On the other hand, a blog is something relevant to textual content because here marketing is mostly done through writing articles.  
A person can earn through both channels and they both are reliable to stay with you forever however precautions and tactics required to keep them secure. Here are some points, in which Blogs are compared with Vlogs:
1.Niche your choice:
 The both channels are great for earners however the type of niche you select will make Blog or Vlog better for you. For example, if you are starting with home designing ideas, tips to clean the kitchen, or doing best makeup tutorials, YouTube features as the best channel. 
On the other hand, if you are more towards business, eCommerce, teaching, and strategical niches, Blog is the best channel. You will have to write a lot that cannot be simply shown by videos and graphics, so blogging would come handy. 
2.Type of Audience You Select:
Your audience matters the most in deciding Blogging VS YouTube. If you have an audience of housewives and teens, they are most likely to watch videos instead of reading long scripts. Moreover, they search for things that can be described in videos. So, here, YouTube stands out of the crowd.
On the other hand, if your audience is something that is more in reading concepts and taking deep notes from the things, you must have a blog. You can do better on business-related tips and how to in words rather than showing them in graphics. 
3.The Skill You Have:
The channel would work best for you, will also depend on your skills. For example, if you have good knowledge of video making and video editing, the option of making a YouTube channel would suit you best. 
On the other hand, if you are great and writing things, making quotations, using keywords properly, and letting everyone falling in love with words, blogging is most probably your cup of tea. You must go by starting your blog channel. 
4. The cost requires:
Do not comprehend cost with just money because you are not just investing money but you are also investing your time and efforts. Therefore, you must see how much time and money each niche cost and how much you can invest as an entrepreneur. 
For the YouTube channel, you will, of course, need a good camera, video editing software, lights, and all with this knowledge of scripting or directing your video. 
On the other hand, for Blogging, you will need a website, domain, and hosting, some great keywords, a deep knowledge of the topics, and of course so much time for a write-up. 
Blogging vs YouTube Which One Is Better Decision-Making Time:
Now, as you can see, both channels are opening the greatest ways for earning however in their own ways. So, now it was time for me to decide my niche for earning.
"Intrigued by my instincts in decided to go for both channels because they both were going to work for my hand in hand and side by side and of course let me earn well."   
Why YouTube And Blogging Both Should Be Opted for as An Entrepreneur?
The online world is all about bringing the audience to your channels from all sources and means. Therefore, if you are choosing one and leaving the other, you are washing your hands off, from a vast number of people who could be your potential traffic. Here are some points that show why it is better to have both:
1.More Views / Traffic:
In real life, YouTubing and Blogging go hand in hand because you don't want to spare even a single view of a single visitor from your channel. Moreover, though all niches have their own types of audience however with the powerful content, you can drive your YouTube audience to blog and vice versa.
2.Less Effort:
As you are having the same channels on different platforms, so the content you will add in both will be similar. It means you don't have to do much effort to run multiple channels at one time on different platforms. Moreover, according to the latest Google Updates, A Video Optimized Blog Will Rule Internet better than a blog with just written content. 
Hence, if you are writing a blog, adding YouTube videos in it and linking it with all the platforms you are working on, you will catch gigs faster than you thought.
3.More Money:
As you are using different platforms and having an audience everywhere, now you have the chance to earn more. It means, same content in different types according to the platform requirement will let you get big bucks of money. 
More channels are equal to more money hence by having your accounts everywhere and having a YouTube channel and blog both will let you earn more money. 
4.Reliability:
Reliability means Google will consider you as a reliable user if you have all the information to tell him. A single blog or a simple YouTube channel will never let Google understand you and take you as a legit user. However, when you have both, you will become legitimate in the eyes of Google and of course will occur more in the search results. 
Also, if your competitors would try to attack you, your account on the other platform would help in retrieving your accounts back and keep you safe during such hacking attacks.
5.Market Reputation:
As you are searching and trying to be an entrepreneur, therefore, reputation is going to play a keen role in making your reputation. Have you ever searched different channels for the same thing and purchased only from those with good reputation all over? The same is the case here. 
Your YouTube audience will play a role in building your reputation on the blog and vice versa. Also, google will take you as a reliable platform and showcase you more in the search results. 
The discussion doesn't end here. You need to know about some specific precautions and considerations while starting your YouTube channel and the blog.
Precautions and Considerations to Take While Making YouTube Channel and Blog:
Though you are not an SEO expert, however when it comes to starting your blog or channel, you are advised to get some basic knowhow about SEO including:

Keyword research

 

Trending hashtag research

 

Trending niche research

 

Writing schemas
SEO and social media optimized writing

You need to have the proper time to give to your channel and the blog because investing money is not enough.

 

You will have to keep up with trends.
You must acknowledge your followers and audience.
Make sure to remain updated with Google trends.
Conclusion:
By searching day and night and giving proper time to my YouTube channel and blog, I became able to get a good start to being an entrepreneur. Soon, I am launching another channel. Life is good and I am more than satisfied with what I am doing. And yes, I am earning well.