Try to imagine how many problems you face all day. They belong to dozens of different fields and one of the most dramatic is the question of social media promotion.
I will bet anything that you asked yourself, HOW TO MAKE MY INSTAGRAM SUCCESSFUL? To the rescue, there were created thousands of templates. They will surely vary your Instagram channel, multiply the followers and grab the attention of users.
In such a way, you exactly need a top of social media templates. And I will provide you with each social media strategy template. At the end of the article, you will get some tips on making your Instagram account prosperous.
Now it's time to get to know 10 best social media templates better.
Don't you think that these stunning templates are only for Instagram? They are best because of their universality and Plus pack in on the matter. This pack perfectly fits for Facebook, Twitter, Pinterest, and Instagram. A great solution for any fashion blogs, magazines or retail brands. All you need to do is just edit your artworks in a few minutes and your account is ready for the new posts and followers.
Now I propose you to take a look at the new and impressive arrangement of posts by means of puzzles. This is a brand-new idea to present your Instagram in the most preferable way. May be said that the main plus of this puzzle is timesaving, cause you need just to edit one Photoshop file and then get 27 ready posts' images. It will make a good effect on your business profile and draw the maximum of attention.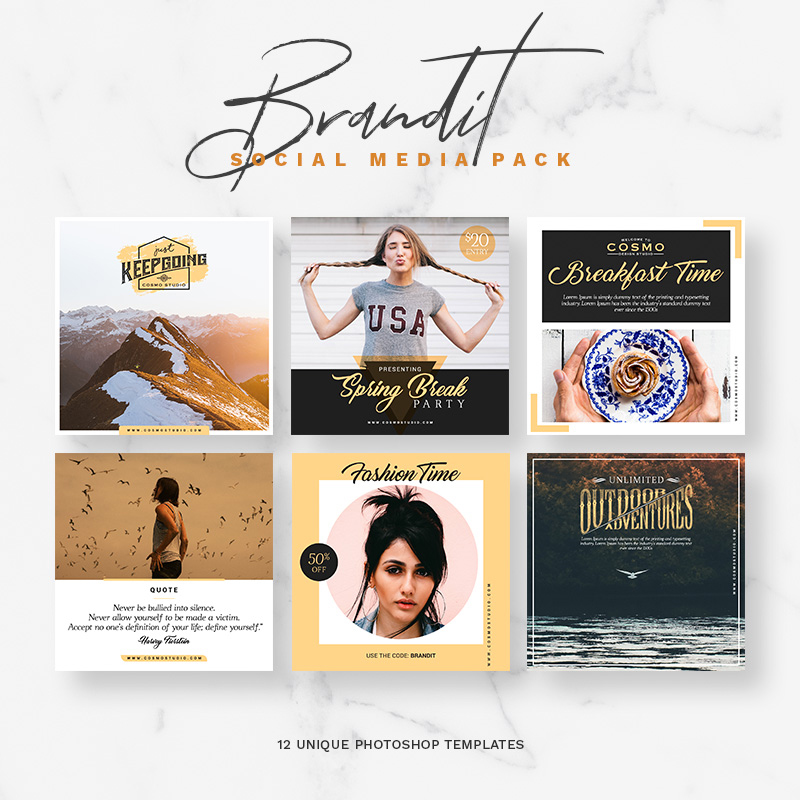 Do you want to upgrade your social media page but have no idea what to do? For this case, was created Brandit social media pack with 12 awesome Photoshop templates. The banners which are included in the pack will easily promote your account without any efforts. Warm colors create a pleasant atmosphere for all followers, so just wait a minute and the new customers will come quickly.
Wow, here is a bundle for Instagram, Facebook, and Pinterest. This super pack will create a marvelous style for your business page on these social networks. All these elegant and charming banners tell about the exceptional creativity of account. 2 fashionable colors and loads of pre-made banners. What can be better for successful promotion? Just one pack but million impressions.
What do you say to animated posts at your Instagram? This is perfect and spectacular offer for successful business promotion. The ready video animation will surprise all your current and coming customers. If you are afraid of lack of skills, this template is your true helper. You can create the animated video in a one minute and immediately share it with all followers.
Pretty and trendy Hello Pack – is what your business on social media needs. 12 different templates for your Instagram or Pinterest will do their best to promote the company most accurately. Just look at these square, horizontal and vertical banners with mild colors and gentle font. Using this pack you don't need any promotion anymore, as your posts will promote themselves.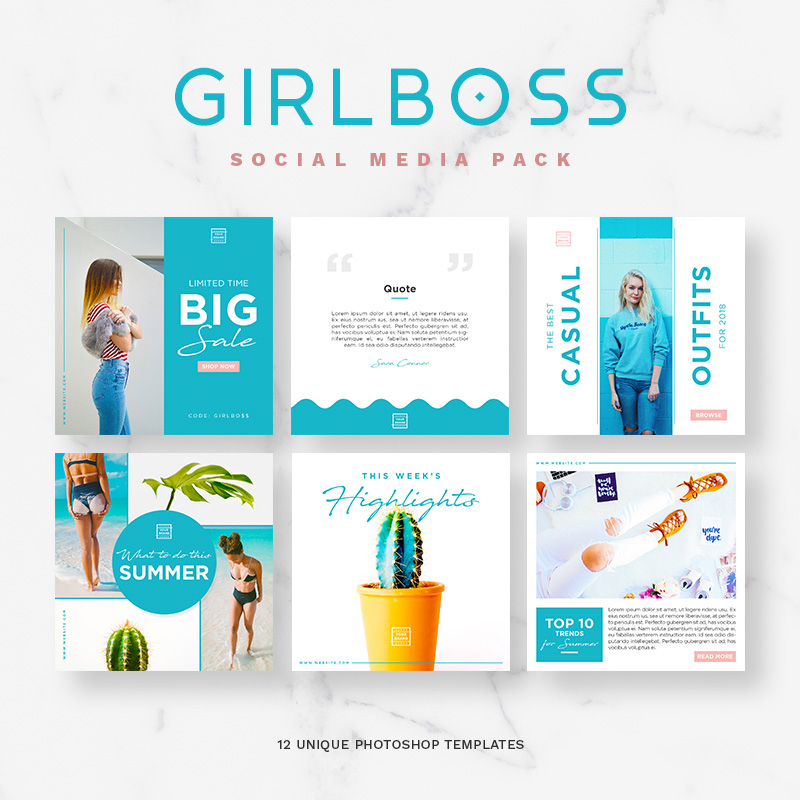 If you have your own fashion blog, you can't imagine your Instagram page without pretty posts and charming pictures inside. Girlboss social media pack is especially for this purpose and fits for Facebook, Twitter and many other social networks. These stunning banners can steal the heart of your followers and work for the prosperous of your blog. Also, this pack will come in handy for businesses, lifestyle blogs, brands or showrooms.
You are a blogger and need a brand-new solution for your social media? Or you have a business, magazines or fashion brand which immediately need the upgrade. So, this modern social media kit is a perfect variant. Look at its simple and good-looking design. Also, watch out that red color calls attention to the blog. As a result, thousands of new customers who want more and more.
For your business company, we found a marvelous Instagram promotional banner. Its design will compliment any page and give active feedback. Fashion is the best field for this template so don't hesitate to try this one. Unique design will impress your present customers and attract new ones. Vivid colors will make the atmosphere of summer all the time and your followers will feel comfortable.
This bright banner pack for Instagram is perfect for those bloggers who need more colors. Be sure that your company will look excellent thanks to these colorful Instagram templates. Different shapes, vivid gradients will set the style to any business account. You need to replace the images, edit the text and banners are ready for meeting with your followers.
And in order to present your team the content strategy of your Instagram page, you can always use the most popular PowerPoint templates.
Instagram Success Tips
Of course, it's great to have a couple of attractive bundles for the Instagram channel. However, the way to successful Instagram lies not only in beautiful templates but in some other useful things. So, here is a list of tips which will surely help your business.
Call your attention to the bio, make sure it's excellent and simple
Create a business account and be up on the statistics
Use Instagram Stories every day to get more followers
Post regularly and don't forget about entertaining and helpful content
Hashtags are a free "promotion" so use them effectively
Build reliable relationships with your followers via likes, comments and following back
Needless to say that your Instagram page should be eye candy and as you know for this case you have top 10 social media templates
Over To You
So, you know how important is Instagram in building a business. Your success depends on loads of factors which you can control and improve any time you want. With the help of Instagram, your company can be on the top, therefore, don't be afraid to try something new.
Social media templates are created for better promotion of your blog, for the pleasant look and new impressions. Make a gift to your followers and upgrade your social media page.