Today's Instagram Stories is a place to find entertaining content and a field of robust sales and product promotion. Stories' popularity knows no bounds, and today we all go to Instagram to look for updates on Stories before exploring the news feed.
Every ongoing marketing company has a particular must-to-do item — the content setting for Stories. It is the primary key to a successful marketing strategy and increasing sales. It is why you may find the hottest, interesting, exciting, and up-to-date content in Stories.
But…Although Stories are now one of the trending sources of information and the place where leads start to be interested in your account, we all know Insta Stories' short-term. Is that their main disadvantage or not? Wouldn't Stories be the most relevant content without this feature?
Along with all pros and cons of such a feature as Stories, a question arises: how do you save Instagram Stories, and what is the benefit of storing them out of IG?
Read the article to find out the helpful Insta Story download tools and the benefit of the other user's Story saving?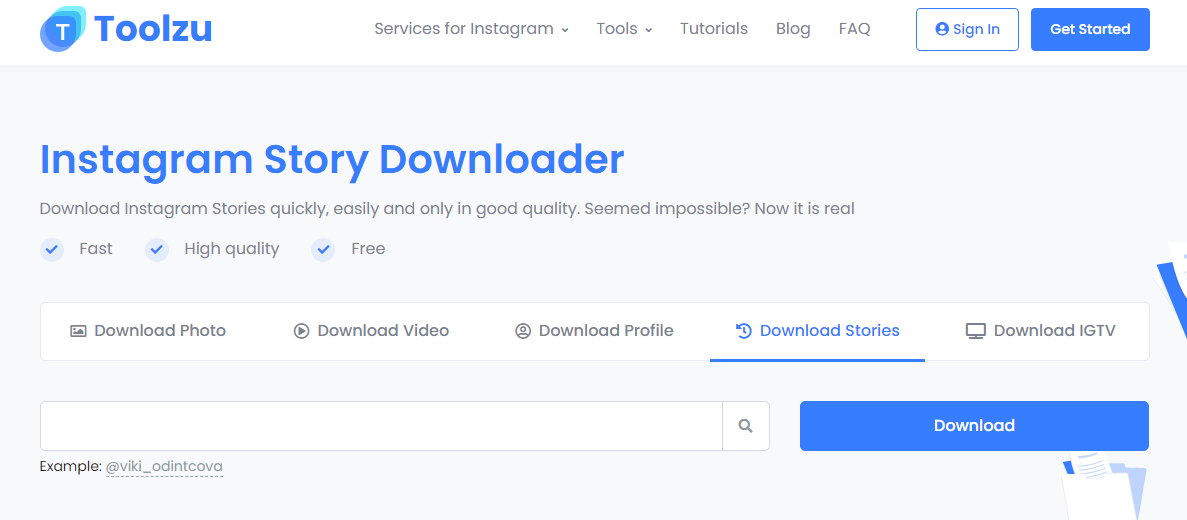 How can saved Stories be useful to marketers?
Boundless inspiration for your future content
Are you swiping through Stories and suddenly come across good content or an idea for its implementation? You can remember it, but you can't keep it all in your head, and then the best solution is to save the content in a secure place (a gallery on your phone or a separate folder created on your pc). So even in the "darkest of times", you won't run out of ideas while creating a selling content.
Useful info for your better marketing campaign
The internet is full of all kinds of content, but amid so much info, it's hard to indicate what is the most relevant for you. Information from your favorite influencers or competitors can be beneficial. So a worthwhile Story with content that you can use to improve your online sales can also be extracted from the endless stream of information to browse in the future at a convenient time.
Reshare a like-minded user's Story with your target audience
Resharing is a great way to entice users and increase their interest. Plus, by posting content from the influencer's Story (by tagging it, of course), you show interest and respect to the user, and the chances of further collaboration increase dramatically. It is a kind of open communication with your niche users.
The most valuable information is in a safe place
Agree that it's cool to have a treasure chest of information that's useful for you and your marketing campaign. Make sure you don't miss anything and only focus on what's important to you.
Access stored content anytime and anywhere
By saving Stories, you have a great chance to browse content offline without going to Instagram again and without being distracted by other notifications. So you can even take advantage and explore the content on a long journey without internet access.
How do you save Instagram Stories?
Online services
Finding a Story downloader is not easy, because easy IG Stories downloading to any device is not Instagram's policy. So many apps are not entirely safe. 
But today, there are some tools that are secure and easy to use — web-based downloaders (of course, you may make a screen recording, but the video quality will suffer).
Some services allow you to get not only Stories but also images or videos with Instagram video download online savers to get IG content from the news feed.
For Story saving, you may try, for example, a Story Downloader, Story Saver, DownloadGram, Toolzu, etc., downloaders that don't require to be installed.
The process of getting Stories on your device is similar for all web-based tools: 
open a saver with a browser on a device;

insert the username whose Story you desire to store into the service input line;

hit "Download," and pick out Stories you wish to have on your gallery or pc folder.
Apps for iPhone and Android
If you prefer to have an app on your device, you need to be more careful because not all of them will be useful and safe for your data and device. Most apps that have a feature of Story saving are multifunctional, unlike online platforms designed only to save a certain type of content in seconds. Thus, such apps require extra device memory and time to install and register in (not in all).
For example, for an iPhone, you may try a Reposter for Instagram, ReShare Story, or Story Saver for Me; for Android — Story Saver.
All tools require installation (from App/Play Store), and only then you may use their features to download Stories. Some services require registration. 
The essence of saving Stories remains the same: 
in the search line, enter the name of a user whose Story you desire to save;

then pick out the one you wish to enjoy and explore it from your phone folder.
Screen recording feature usage
If quality is not essential to you, you may use the outdated way — screen recording. 
How?
find a Story you wish to get but not play it;

swipe the screen from bottom to top or go to settings (depending on whether you use an iPhone or an Android) to hit the "circles" button

—

screen recording button;

once you have pressed it, go to Insta and play the Story (recording starts after 3 seconds of pressing the button);

after the Story ends, swipe from bottom to top again or press the "screen recording" button on settings to stop screen recording;

enjoy the stored Story on a phone gallery.