5 Tips to Improve Your Instagram Marketing
Instagram has a lot of marketing potential, but to be able to fully take advantage of it, you need to have a clear strategy, and always look to improve your efforts.
If you are still hesitant, just look at the statistics, because they speak very clearly:
What's more is that Instagram currently boasts over one billion users, taking just 4 months to go from 600 to 700 million.
Now, you will obviously not be able to reach all of these people, in fact, you don't want to reach all of them because most of them aren't in your target audience if you look percent wise. However, if you look in terms of numbers, you'll realize that it still is a lot of people.
Now to the big question. Are you constantly looking to improve your Instagram strategy to get better marketing results?
If yes, great. Are you implementing all the tactics mentioned in this article?
If no, great. Continue reading to learn how you can improve your results.
Guessing you're a busy marketer, let's jump right in.
1. Use hashtags
Hashtags are extremely powerful. In fact, Instagram is one of the platforms where hashtags are the most effective, so obviously, you want to take advantage of that.
The maximum number of hashtags you can use is 30. Some statistics say you should use them all, and others say you should only use a few.
One study by Piqora suggested that 7 hashtags generate the most engagement and 8 might be perceived as spam.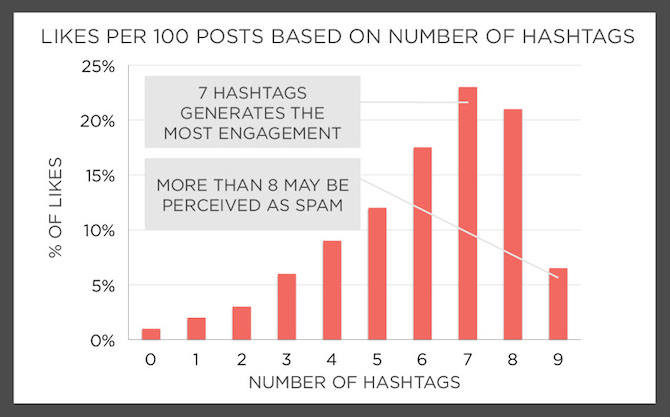 Obviously, every hashtag gives your post exposure so it seems reasonable to use them all. However, you should only use them all if you can pull it off without seeming like a spammer.
You can place your hashtags in two places:
In your caption or your comment section.
If you are going to place your hashtags in your caption, there are two rules that you should have in mind. First of all, never use more than 4 in your caption, because doing so will make it hard to read, and people will see it as spam and get turned off.
The other method is to place your hashtags in your comment section. Here is the place you can put 30 hashtags, because once you've got a few comments, the hashtags will not be instantly seen, thus reducing the risk of looking like a spammer.
2. Arrange contests
Contests are one of the most effective ways to increase your exposure on Instagram.
If you use Instagram regularly, you have probably come across a few contests.
There's even a chance that you've joined some contests during your Instagram days.
The reason brands arrange contests is because they work! And you should use them too!
When it comes to arranging Instagram contests, the golden rule is always "the better price, the better results". It's not really a secret that if you offer a better price to the winner, more people will go out of their way to have a chance of winning it.
There are several types of contests you can do. The harder they are to join, the better price should you offer, because no one wants to spend 10 minutes to join a contest just to have a chance of winning a toothbrush.
Here are some contest ideas for Instagram:
Like this post to enter: Probably the least effort-demanding rule of entry that you can have, thus, it's not necessary that you have a price that is too expensive or advanced because liking a photo only takes 1 second, and anyone who sees your post will do it.
Tag X friends in this post: Probably the most common Instagram contest. By having people tag their friends, they'll get huge spread very quickly. By only asking people to like your post, only those who see the post will do it. However, when getting other people to market your giveaway, you'll get great traction quickly.
Repost this photo to enter: A rule of entry that is a bit more effort-demanding. Many people want their Instagram feed to be top-notch and only post the best of the best content. If they, all of a sudden start posting giveaway photos, some might be afraid of harming their visual brand they've built up, and some might be afraid of what their friends will say. If you are going to run a contest like this, make sure you offer a price worth reposting for.
3. Engage with your audience
According to me, this is one of the most, if not the most important part of improving your Instagram marketing results.
When engaging with your audience, you build a relationship with them and increase the trust they have in you. And as you probably know, trust is the single most important thing to making a conversion. If your audience doesn't trust you, they won't buy from you either.
First of all, you need to make sure that you respond to every single comment you receive on your post. If you completely ignore their questions, kind words, and thoughts, why would they continue to comment? Chances are, they'll go to a competitor of yours if you ignore them.
Secondly, engaging with people who aren't already following you is a great way to further increase your growth and get people interested in your brand.
Search for relevant hashtags within your niche and engage with those posts! Comment on them and let them know how great the post is, like them or even start following them! The best of all is of course to start a conversation with them. By having a conversation that continues, you'll slowly but surely increase their trust in your brand, and they'll become lifelong supporters.
4. Use Instagram Stories
Stories is a great tool to share behind the scenes content, and content that is raw and uncut – compared to the content you share on your feed that has been edited to perfection.
People will resonate with your brand better if you show the faces behind it, and Stories will help you do that. When you share behind the scenes content, you are able to build up a personal connection and not a logo-based one, thus making you more human and approachable.
On Instagram Stories, you can also run live videos. Something that has gotten more common since its launch is Q&A session that lets customers ask you questions in real-time. Not only will you be able to better understand what your audience think of your products, you'll also engage with your audience on a really personal level.
5. Optimize when you post and how much you post
Do you have a content strategy that tells you when you should post?
Do you have a content strategy that tells you how often you should post?
These two things have a huge effect on how your posts perform, and ultimately how much success you can find on the platform.
Compared to other platforms, studies are relatively agreed on "the ultimate number of posts" you should stick to on Instagram.
Of course, these statistics should only be seen as starting points and not taken literally. While some pages can get away with posting 4 times a day, some can only get away with one. This depends on your followers, so knowing them well, and knowing what they expect from you will help in deciding your posting strategy.
When should you post?
A lot of studies about when you should post have been done, and not surprisingly, many of them say different things.
According to Hootsuite, the best time to post on Instagram is between 12pm-1pm, Monday-Friday.
According to Instagram scheduler, over 50% of social media managers said that evenings from 7-9pm was the best time to post on Instagram.
I would be more cautious about listening to the studies about when you should post compared to the studies to how often you should post.
What will have the biggest effect on when your optimal time to post is, is where your audience is from. Obviously, if most of your audience is from America, you'll have a different "best time" than if your audience was from Europe.
Again, it comes back to knowing your audience, and this just proves how important it actually is.
The best method is to experiment and see when your posts get the most engagement.
Also, if you have activated Instagram Insights, you can see what days of the week, and what times of the weekdays your audience are opening the app the most. While this won't tell you when you should post, it will give you an indication when your audience is most active.
About the author:
Jens Wirdenius is the editor-in-chief and co-founder of VeloceInternational.com and the influencer directory Veloce Network. He is a social media and marketing nut, sharing his passion for business and marketing in his articles.