You might have started your influencer marketing campaign but want to optimize it to generate better results. Or maybe, you're looking to start using influencer marketing but you're not quite sure how you can execute an effective campaign that generates results worthwhile.
No matter which of these is true for you, these essential tips of a successful influencer marketing campaign will help you improve your results.
As there are many factors that play a part in how successful your influencer marketing campaign become and what the turnout becomes, there are quite a few ways you can optimize and improve your influencer marketing campaigns to generate better and more immediate results.
It's no secret that influencer marketing is one of the most effective marketing methods today, and while it's nice to present a bunch of impressive statistics, I'll be frank with you and say that influencer marketing is just like a tool. What has the greatest impact on how successful your influencer marketing campaign is, is to a large extent determined on your ability to plan, set up, and execute a campaign.
I'm sorry to tell you that it's simply not enough to just reach out to the first influencer you find, have them promote your brand, kick your feet up and wait for the results to start rolling in. It just doesn't work that way.
So to help you make each and every single influencer marketing campaign a success, article, I'll be presenting The Must-do's of Influencer Marketing to Generate Immediate Results.
1. Identifying the right influencer
The reason that this is written as the first point is that it probably is the most important thing that decides how successful your influencer marketing campaign is.
You have to choose your influencer wisely because this can be the difference between a fiasco and a success.
Why is this so important?
Well, first off, you're relying on the influencer's audience. You're not relying on your own audience, and you're not relying on a marketing method such as Facebook ads that allows you to reach the people that you target. Instead, you're relying on the fact that the followers of the influencer are relevant to your brand, may have an interest in buying from you, and that they are within your target audience. If this is not the case, you may see great results on paper, but you may not have reached the people who truly matter to you.
With this in mind, you can imagine that the influencer you work with is extremely important.
Firstly, make sure that they are individuals that actually would use your products. If not, the endorsement won't be genuine and their followers will sense it. Do not underestimate the bullshit detectors that we humans have, because we can very easily pick up biased endorsements because they just don't feel authentic. Therefore, try to look for influencers who would actually use your product even if they weren't paid to do so.
When you can find these people, they can speak from the heart about their experiences, and the campaign will come off as much more authentic and credible.
Another thing you should have in mind when choosing influencer to work with is if their message goes well with yours. Do you speak the same language? Now, I am not talking about the same language in the language sense, but with what voice do they speak. For example, if I ask you to think about a boring company, you're probably going to think of a very strict, bureaucratic company, often in an industry that is known for being strict and proper, and where it's important to be serious.
If you are one of these companies, it will create a disconnect if you partner with an influencer who is known to have a personality that is the complete opposite, and the message won't come off as equally authentic as well.
This is why you need to make sure that the personality and voice of the influencer align with yours. This is a detail that most marketers don't put too much thought into, however, it's a detail that can have a huge effect on the success of your campaign.
2. Quality over quantity
A mistake that a lot of brands are committing is only looking at the follower count of the influencer.
There are many reasons why this is a bad idea. In fact, if you do this, you can risk running campaigns that are complete fiascos and which turn out to be a poor investment of your time and your money.
Their follower count may be high but their engagement may be very low, which means that their reach actually won't be as big as you are expecting
While many still believe this is the case, it's not the follower count that matters, it's the impact that the influencer can have on their audience.
First off, because of algorithms and the competition between accounts of being seen in the feeds, most of the time, you're only going to reach a small portion of your total followers when you share a post. So don't for one second think that if you're teaming up with an influencer who has one million followers that you're going to reach them all.
But the good news is that when an influencer has high engagement, it means that you'll be able to reach a larger percentage of those followers. But that's not all. It also means that the people the campaign reach will be more engaged in the content they're consuming, and they'll be more likely to comment and interact with the content of your campaign. And the more engaged they are, the greater of an impact your campaign will have on them, which means overall better results.
It is far better to partner with an influencer who has a small yet highly engaged audience than to work with someone who has a ton of followers, but whose followers aren't really engaged in the content you share. Makes sense right?
This is also the reason why micro-influencers have proven to be so effective. The best thing about micro-influencers is that they charge considerably less to promote your brand than the major influencers do, but at the same time, they may very well be able to generate the same results. This means a higher ROI for you – so don't stare yourself blind on solely the follower count because there are so many more factors that play an important role in the success of a campaign.
3. They might have bought fake followers
This is another thing to be aware of, and another reason why you shouldn't only look at the follower counts when you're determining influencers to partner with.
Today, it is extremely easy to build up a fake image of popularity. You can buy followers and you can buy engagement within just a few minutes, and so this makes it even more important for you as a marketer to carefully examine the influencers that you're looking to work with. A good way to do this is to look at what people are saying in their comment section. Are they generic? Are the comments truly genuine and authentic and show that the influencer has truly impacted them?
Instead of looking at their follower count, you should instead look at things such as their engagement and the quality of their comments.
Looking at the comments of the influencer's post can tell a lot about their followers.
If the comments they are receiving are genuine and personal, then the influencer has a big impact on its followers.
If the comments are only positive phrases such as "nice" or "I love your feed", that can indicate that the influencer is buying fake comments, the influencer isn't making a big impact on its followers or that random accounts actually like what they are doing.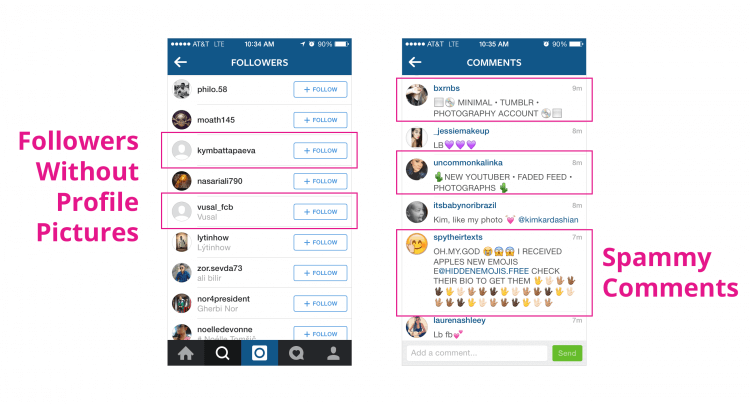 It can also mean that the accounts that are making these comments want to spread awareness of their pages.
So in conclusion, look for quality comments/engagement rather than just looking at the follower count.
A tip is also to read how to spot a fake influencer.
4. Their followers might be irrelevant and not targeted ones
Not all followers are great followers for you – even if they are engaged, they may just not be relevant to your brand. This ties together with what I said earlier about finding someone who is in your industry and relevant to your brand.
Make sure that the audience of the influencer is interested in your niche, and that the influencer is equally so because this will mean that they've built a following of like-minded people.
If you really want to generate great results with influencer marketing, not using VeloceNetwork influencer directory would be a foolish move.
Now, I'm not going to be all self-promotional here, so I'll give some more tips on what you can do instead as well.
The Veloce Network is a directory with thousands of social media influencers that are updated every week.
In the directory, you can filter the influencers based on your needs, so you can be sure to get the most out of your influencer marketing budget by reaching your targeted audience.
Finding suitable influencers can be a real struggle but by joining Veloce Network, you don't have to do any of that – saving you both time and energy.
Simply filter the influencers based on your preferred criteria such as platform, demographics, niche and much more.
The best and most suitable influencers based on your criteria will then be listed.
You don't need to be afraid of being tricked by influencers who have fake followers etc. because all out influencers are hand-picked by our team and only accepted into our directory if they meet our strict demands.
Since, as mentioned, the influencer you partner with is the single most impactful factor in your campaign's success, you need to build a strategy of how you can find relevant and targeted influencers. Some tips I've already shared above, but for a complete guide, I recommend that you read how to find influencers.
6. Focus on building long-term relationships
I cannot stress this enough.
You should always enter an influencer partnership with the approach of starting a long-term relationship.
Never see an influencer as a one-time use product. Instead, see an influencer as a long-time partner that can help build your brand in a cost-effective way.
If an influencer proves to be a great fit for your brand and is generating great results, there is no reason to why you should quit the partnership with them. Instead, you should plan a more frequent and consistent posting schedule. There are many reasons for this but have in mind that marketers consider finding good influencers as the single biggest challenge, and if you have to spend time, energy, and resources after each completed campaign, you're wasting resources that could have been used to set up more successful campaigns.
And you know what they say… Never change a winning concept.
If you build long-term relationships with your influencers, they'll be more engaged in your brand, and they'll want you to succeed, so they'll do everything they can on their part to make sure they drive the best results possible. Also, the more posts you purchase from the influencer, the better prices they will offer, so it is a mutually benefiting strategy.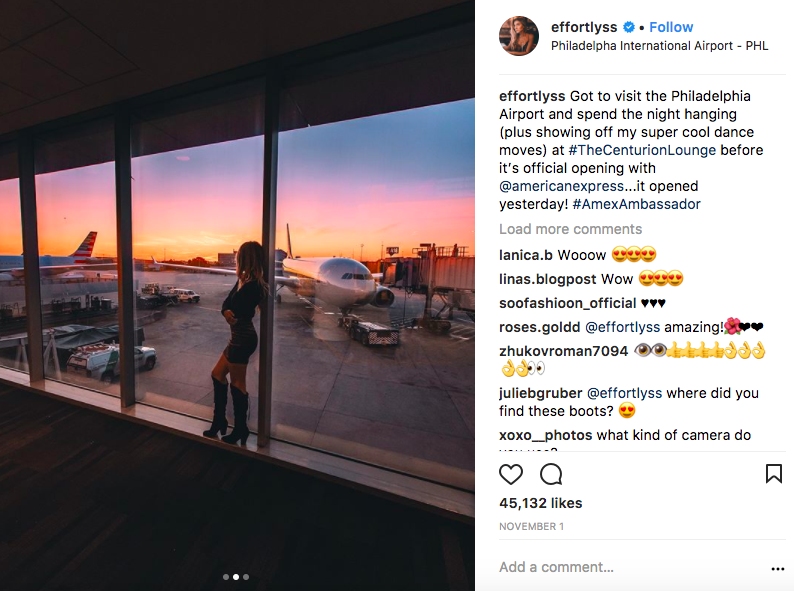 Furthermore, the recommendations of an influencer will be far more trustworthy if they recommend a brand and product time and time over as opposed to promoting them once and then never mentioning them again.
If you are using influencers as a one-time use product, you are probably missing out on some very valuable opportunities of building your brand and making new contacts. Plus, in the long run, you'll continue to drive better and better results, and you should also have in mind that people need to see and hear something several times in order to ultimately get convinced to buy something. It's usually not enough to see something once.
7. Ask the influencer to include powerful call-to-action
Don't underestimate the power of a good call to action. Now, it is important that you don't give the influencer a list of how they should run the campaign, because this risk removing the authenticity of the promotion, and ultimately make it less effective. Who do you think knows the audience best and what they respond to the best- the influencer or you?
The answer is given, right? Therefore, you should just give the influencer an outline (if any) of how you want them to set up the campaign, then you should trust the expertise of the influencer, because they know their audience best and what they respond to.
Usually, it is the influencer that is crafting the content and caption but that doesn't mean you don't have anything to say about it.
You, of course, want to include a great call-to-action but you don't want to be too promotional. Just have in mind that in order for a campaign to be successful, it is crucial that it comes off as inauthentic.
Some simple calls to action that are fun and engaging but not promotive are things like asking people to comment below, tag someone, or just answer a simple question. By asking the influencer's followers for simple actions such as the ones mentioned above, you engage the audience and also make them stop for a second and watch the post carefully.
This is especially important on Facebook,  Instagram, and other social media platforms which are driven by algorithms. That kind of engagement and those kinds of comments will help drive more exposure to the post.
Conclusion
These 5 tips should be able to generate quick and effective results from your influencer marketing campaigns.
If you want to make your influencer marketing campaigns successful, make sure you aren't too promotive, and maybe most importantly, are choosing the right influencers. 
It is also crucial that you understand the simple concept that the influencer knows their audience best and what they respond to, so give the influencer control. And if you do feel the need to have control, ask them to confirm with you before they share anything. Lastly, don't underestimate the power of strong calls to action.