How To Create The Most Appealing Instagram Bios For Businesses
Your Instagram bio is extremely important. It is the first thing people will see when visiting your profile, so making it appealing and including everything that people need to know about your brand is key.
You only have 150 characters to use when writing your bio, so here you have to put some thought into what is important to include and what is not. You'll also want to be interesting so people stay on your profile and keep scrolling.
In this article, we'll be teaching you How To Create The Most Appealing Instagram Bios For Businesses.
Objectives with your Instagram bio
Your bio should be able to do several things at the same time. And that is in a very limited space.
What you want your bio to do:
Tell what your business does
Tell how people can find/contact you
However, that's just the basics of a bio. If you want your bio to be something unique that draws interest, you'll also want your bio to do the following:
Make your customers take action
Showcase your brand's personality
And sometimes, you'll also want your bio to make your audience laugh. If your brand's personality allows it, that is.
There are some basic principles of how you can set up your bio:
Making your bio simplistic and minimalistic
Including everything you can fit
Using your brand's slogan
We'll go more into detail about those later on.
Instagram bio parts
Apart from the 150 characters you have in your bio, there are more things you can (and should) include in your profile to create an Instagram bio that is as appealing as possible.
let's go through the different components:
Profile picture
This might be the first thing people will see when visiting your profile, therefore, it's important you have fine-tuned it to perfection.
As a business, finding a picture to use as your profile image shouldn't be a problem. Because Preferably, you should use your company's logo to help build brand awareness and make those who are already aware of your brand instantly recognize your page.
Of course, if you're a famous brand like Louis Vuitton, you can let the profile picture speak for itself and don't think about including every single piece of information about your brand because it is "expected" by people to know your brand.
Louis Vuitton is one example of a brand with a huge brand recognition, and therefore, they write "The official Instagram account of Louis Vuitton" in their bio. Simply because they need no introduction.
If you do not have a logo, or simply don't wish to use it, make sure you use a photo that is relevant to your business, and that it is easy to see what it resembles even when it is shrunk.
Dimensions:
Your profile picture will display as 110 x 110 pixels in the mobile app.
On the web, the image will be slightly larger- 180 x 180 pixels.
So make sure you use a photo that is to 180 x 180 maintain a to maintain a high-quality image in both settings.
Username and name
Now that you've completed your profile picture, you'll want to think about your usename and name.
Your username is the name what people will see when looking at your posts and when tagging you.
Because mentions are a great way to get a broader reach, preferably, you want to have a short and easily recognizable name so people can find and mention you with ease.
Below your username and at the top of your bio is your name. Your name appears in a bold text in your bio, and both username and name are searchable in the Instagram search bar, so make it easy to find you.
Try to avoid using unnecessary numbers, underscores or dots.
Bio
Now, it's time to write your bio and page description.
As mentioned earlier, you only have 150 characters so think about what you want to include carefully.
Your bio is what will have the most impact on the ones visiting it, and it can often be the deciding factor whether they follow you or not.
To edit your bio, go to your Instagram profile and tap "Edit profile"
Scroll down to "Bio" and start writing.
Website link
You can only include one clickable website link in your bio so use it carefully.
Preferably you want to include your website's URL but sometimes, I see brands who are linking to an article about them. Think about if this is worth doing as people will have a harder time finding your actual website.
Business account
If you have made your Instagram account into a business account (which you should), you'll get access to more buttons on your profile (more about these buttons later) which helps free up space in your bio and make it easier to contact you etc.
In addition, making your profile into a business account also lets you gain access to Instagram insights which is a built-in analytics tool in the Instagram where you can see profile views, website clicks, reach and much more.
Category
When you set your Instagram account to a business account, you connect it with your Facebook account and choose a category.
Your business's category will be placed in the top left corner of your profile, right below your name.
Having a category makes it easier for visitors to quickly know what your page and brand are all about without actually including it in your bio – saving you space.
The categories you can choose from are directly connected with Facebook's business categories, and they have a ton of categories, so finding your brand's category shouldn't be an issue.
Call-to-action buttons
When you're setting your Instagram account to a business account, you get access to contact buttons, also known as call-to-action buttons which are displayed right at the bottom of your profile.
These buttons are:
If you can include them all, you should but if you don't have a physical location for example, you will manage just fine without.
Before the Instagram business update, brands were forced to include the call-to-actions in their bios, leaving very little space for further descriptions about their brand left.
Now, the call-to-action buttons are easily spotted and include links which redirect you to either email, phone number or a map.
Here is how Starbuck is using call-to-action buttons on their different Instagram pages: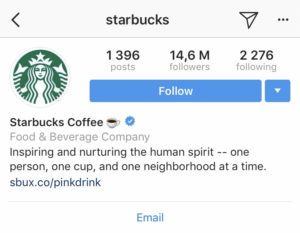 Email
A lot of businesses are not taking advantage of all the call-to-action buttons, and only choose one or two, but email is the most common one that you can see on a lot of business pages.
When you tap the email button, you'll get redirected to your email app and have the brand's email address prewritten in the recipient bar.
Directions
This is only relevant if you have a physical location, and that's also why a lot of businesses are choosing not to use this.
Call
When someone taps this button, they'll automatically start calling the number connected with that button.
Hashtags
If you have a branded hashtag, adding it in your bio can make people start using it, thereby getting you more spread.
Experiment
There are a ton of different ways you can design your profile on, for example using emojis, lines, dots and other characters. This comes down to your business and how you want to portray it.
Just have in mind that how your bio looks on your phone may not be how it looks on the web.
Calls to click
Because instagram is yet to introduce clickable links in captions, the workaround for some brands have been to add a call to click in their bio. This also makes it feel for safe for the users because the brand describes what you can expect when you click the link.
Tommy Hilfiger's call to click asks their audience to click the link to shop the collection:
Dell lets its audience know that they will visit their blog by clicking the link (and asks their audience to click):
These were everything you need to know about How To Create The Most Appealing Instagram Bios For Businesses.
Don't forget to subscribe to our newsletter if you found this article helpful!