How To Convert Your Twitter Followers Into Repeat Customers
Twitter is a powerful marketing tool. I could spend this whole article rambling on about the statistics of Twitter, but as a marketer, you're probably well aware of all those. What's more, you're probably getting tired of seeing statistics all the time – even if they rock.
The real reason that you are here is to learn how to do it. Not that you can do it. Right?
That's what I thought.
In this article, I'll list some clever and effective ways to impact your audience enough to eventually convert them into sales.
Establish your brand
When looking to generate sales through Twitter, you have to start from the ground up. You cannot start from the wrong end.
The most obvious first step is to set up your page properly. You've probably created a Twitter account, and maybe even added a profile picture and written a bio, but how good is the impression of your profile, really?
When getting started, these are the basics you want to take care of:
Add profile picture
Add header image
Choose your link
Write an appealing bio
Start sharing tweets
You can't say that you have established a strong presence on Twitter if you've shared 5 Tweets, and if people visit it when you have, they might think you are new to the market. When you are looking to make yourself look well-established, you want to make it look like you've been in the game for a long time, and the number of tweets you've shared can be an indication of that.
Use the correct image size and file format
When adding your header image and profile picture, it is extremely important that you have the right dimensions for your photo. There's not much that screams amateur and beginner as when you use images that have the wrong dimensions.
Look at this visual from Socialmedia today:
The perfect size for your profile picture is 400×400 pixels.
The perfect size for your header image is 1500×1500 pixels. Note that it will be cropped to a 2:1 aspect ratio on mobile.
When uploading the images, make sure they are in either JPG or PNG format.
Use all 140 characters for your bio
You have 140 characters to describe your brand in your bio on Twitter, and that's not a lot. Therefore, you want to make sure you make great use of them!
When you have a good and appealing bio, you can make yourself look more established in your industry, look trusted and professional, and most importantly, spark interest in your brand among the people who visit your page.
Look at how Ford Motors are able to squeeze in a powerful text in their bio:
Create a content strategy
Inevitably, the content you share on Twitter will be of the highest importance. After all, it will be your content that to the biggest extent decides your success on the platform.
By having a thorough content strategy, you know exactly what you should post, how you should post it, when you should post it, and what your audience will find interesting.
Creating a content strategy isn't that difficult, you just need to know how to do it. But of course, that's what everyone says about something they know how to do, right?
In any case, here is a complete guide to developing a content strategy so you can start dominating Twitter with top-notch content.




The content strategy is so much more than a map that tells you how you should manage your content. Yes, your content is extremely important to help you get that first connection with your potential buyers, increasing brand awareness, and impacting them, but what will ultimately decide if you are able to convert your audience to repeat customers is what you do after that first interaction.
Therefore, it's also extremely important that you include things like how you're going to interact with your customers and build long-lasting relationships with them. Hopefully, though, that's already covered in your complete social media strategy.
Something worth mentioning is that you don't necessarily need to use all 140 characters that are allowed in a tweet. Especially not since Twitter has increased their character limit to 280 characters.
Show your brand's personality
Personality is crucial for converting your followers into long-time supporters and customers of your brand. When you have a brand personality and show them that you are human, just like them, you become more approachable, and will thereby make it easier for your audience to establish trust in you, which is the single most important thing to driving sales.
Think about it.If your audience
If your audience doesn't trust you, will they buy from you? Probably not.
Don't just share promotional content and shove ad after ad down their throat. Driving sales is about providing value, just like entrepreneur Gary Vaynerchuk emphasizes in his book Jab, Jab, Jab right hook
Just look at this quote from Vaynerchuk presented by Quotefancy: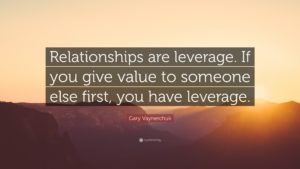 That's powerful. And it is also the truth.
Share content that shows what your brand is all about, and share content that your audience actually cares about. Do that for a long time, and after that, it will be your time to do the right hook, which is asking for the sale.
Use photos
When talking about Twitter and promoting your brand on there, I can't help to talk about the things that go into a successful and impacting tweet, because as mentioned, it will have the biggest importance.
Even though Twitter is a platform that is more focused on text than visual content, it still works really well.
In fact, Tweets with images receive 150% more retweets than tweets without images.
What's more, tweets with images see a 2x higher engagement rate.
And it's not really surprising when you look at the fact that 90% of the information transmitted to the brain is visual:
Tweets with images make a bigger impact on your audience and will, therefore, allow you to impact them more into buying from you.
Use links (and shorten them)
Links are great because they allow you to guide your followers to wherever you want to guide them. If you have a sale and want to make their journey to your sales page quicker and better, links are extremely helpful. The only thing is that links take up characters in your tweet, and if your link is long, it can be difficult to fit everything you wish to write.
Here's where link-shortening come in handy. The services that help shorten your links will leave more room for your main tweet, and the text that really matters, which will ultimately convince people to click on the link you've shared.
There are several websites that offer link shortening, and some of them are Bit.ly, Ow.ly, TinyURL, and Bit.do.
Use hashtags
Hashtags are keywords with a # symbol in front of them. In case you are wondering, Twitter was the inventor of the hashtag system, and as a result, you can expect them to be quite good at it.
Hashtags are keywords that you add to your tweet, allow other people to find it when they search for that particular keyword. Therefore, using hashtags with keywords related to your industry and niche is tremendously effective for reaching people within your target audience and people who might be interested in your brand and products, giving your tweets more exposure, and even more importantly, exposure from people who are most likely to buy from you.
Creating lists of hashtags with keywords is a great way to both save time and get the most out of the hashtags you use.
Your tweets will obviously be about different things, but they will still hold a certain structure and form that is related to both your brand personality and your niche. As a result, having a list of hashtags you can use is helpful.
To make a list, you want to start looking at hashtags you can use and do some hashtag research. Start by looking at what hashtags your competitors are using, search for keywords that are related to your brand, and search for words that you think your target audience might use. The more fine-tunes your hashtags are, the better you'll reach the people who really matter, and the bigger chance you'll have of converting them into returning customers.
Identify relevant keywords
The keywords you use in your tweets are also important. These will allow you to show up in search and in that way get more exposure to people who are highly likely to be interested in the search result.
Use Google Keyword Planner to research words related to your niche and that people are searching for to find out what words you can try to include in the tweet you share.
Study analytics
Twitter analytics are helpful in telling you how well you are performing, what results you are generating from your efforts, and what you can do to improve.
Start by taking a look at your Twitter Analytics, and make it a habit to do so at least once a week.
Respond quickly
As mentioned briefly, it's not just about reaching your audience with the help of a tweet. What's even more important is what you do when you've reached them.
You won't build many relationships by never talking to your audience, and this is the reason why customer interaction and that you do it quickly is crucial.
Twitter is fast paced and people expect brands to respond quickly. If you don't they might go somewhere else, and you'll harm your brand.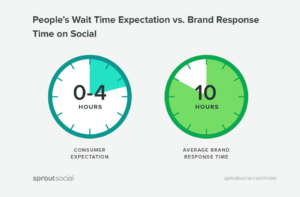 People expect brands to respond within 4 hours on social media, but the sad reality is that brands on average respond within 10 hours.
Be better than that and put great emphasis on the quality of the responses you give, and the pace of which you give them.
It's when you build strong relationships that you actually have the chance to ask your audience for a sale because they'll feel more positive towards supporting you.
It's just like when a friend asks you if you want to buy something to support them. You are far more likely to buy from them compared to someone random that asks you, right?
Conclusion
Twitter is a powerful marketing tool, but as with all marketing tools, they won't generate any results unless you have a clear strategy that you execute on.
When looking to drive sales, your tweets are your most powerful weapons. To drive sales, you need to share perfect tweets every time – and know how to do so.
But tweets are not everything. What's also tremendously important is what you do when that tweet has been shared.
The single most powerful thing to driving a sale is relationships. When you've shared a tweet, don't just leave it to hang. Jump in the conversation and get to know your followers!