The Complete Guide to Developing a Social Media Content Strategy
Social media is a jungle for marketers. You have to watch every step, and you need to know which way to take to avoid stepping in traps or getting lost on the way.
To generate marketing results with social media, you need to develop a content strategy that puts the right pieces at the right place, and lets you spread your efforts on the things that truly matter.
For great marketing results on social media, you need to have a plan on how you're going to execute. Have you ever seen a winner that hasn't had a plan? Probably not, and that's because the social media content strategy guides you to success.
For most people, a content strategy for social media sounds both complicated and hard. But once you've got all the questions to ask on the table, it's actually not that difficult.
In this article, we'll solve all your problems and questions you have with creating a content strategy for social media, and when we're done, you'll have a completely finished strategy that will lead you to social media success.
What is a content strategy?
First and foremost, the most obvious question.
What is a content strategy, really?
To get it out of the way, a content strategy is the exact same thing as a content plan.
It's also easy to confuse content strategy with social media strategy, but if you were to explain them briefly, you would say that the content strategy is dedicated towards the content you create, share, and distribute on social media, and your social media strategy is a map that tells you exactly where you should go and how you should get there.




In that sense, your content strategy can actually be a part of the larger social media strategy, but to make it easier, these are normally separated. Yet still, they're very well connected to each other.
Sounds a bit strange, right?
Well, Susan Cato, Senior Director of Web and New Media Strategies at CompTIA, said,
"You can't have a social media strategy without a content strategy."
In other words, your content strategy and your social media strategy are heavily dependant on each other and both parts are needed to be able to operate.
If you want the good old Wikipedias explanation, here it is:
"Content strategy refers to the planning, development, and management of content—written or in other media"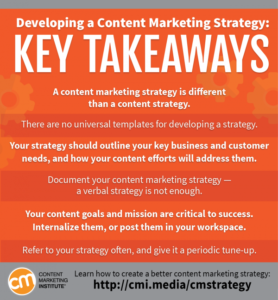 Why you need a content strategy
There are many reasons to why a content strategy is needed, but let's look at the most fundamental reasons you should have one:
By having a content strategy, you'll save both time and energy, because you will know what you should do and how you should do it before even starting.
A strategy will be able to show you whether or not your social media marketing is working and if you are generating any results or if you are wasting your time and energy.
Your content strategy will let you share better content that leads to greater results for your brand.
Are all of these things you want to do and accomplish?
Of course, they are! Let's begin crafting your own.
How to create a content strategy
Know your audience's pain points
Content strategies generally start with a keyword research, and it makes sense because it is with the help of your content that you'll reach your audience, and if you are using the wrong words when trying to reach your audience with your content, there's a big risk that you'll miss them.
Knowing your audience's pain points is not only about the pains they have. It's about knowing everything about them because this will allow you to reach them in a better way. Once that is done, you can present the grand final, which is you presenting solutions to their pain points and problems.
When you've found keywords that are relevant to your niche and to your audience, you can (and should) incorporate these words into your content to better appeal to your audience, but that's a problem that comes further on.
The most common and easy way to find keywords related to your niche is Google AdWords. It's a free tool that allows you to search for keywords related to your niche, get suggestions for similar keywords, and see the popularity of each keyword. You can, of course, create ads based on the keywords that are related to your niche.
Know where to find your audience
It is with the help of your content that you'll reach and appeal to your audience, but in order to do so, you first need to know where they spend their time, and where you can find them.
When you know what is important to them, you can in a better way approach them, because they will find the content you share appealing.
The only thing you need to do is know where to find them.
As a first step, you need to think about what social media platforms you should use. This is partly based on your audience, and partly based on the content that each platform supports.
As you probably know, all social media platforms aren't perfect for your brand. In fact, some platforms might be completely excluded from the equation because you know that your target audience isn't using it.
A common myth that is circulating around the web, and has done so for quite some time is the idea that the more social platforms you are active on, the better.
The only problem is that most of the times, this is not true. In theory, the more social platforms you are active on, the more people you reach, and the better results you gain, but in reality, that's not the case.
Reason being is that it is better to focus on one or two platforms, going deep, rather than going broad and spreading your efforts across multiple platforms.
And the reason to it is simple: social media is extremely time-consuming and sharing a few posts and then wait for the results to start rolling in simply won't cut it.
When deciding what social platforms to choose, it's important to ask questions. The most obvious has already been mentioned: where is your audience? But considering the fact that this is a guide to creating a content strategy, we're missing a huge block: content.
Knowing how to find, and understanding where your customers are spending their time, is an art itself, and if I'd go through it all, we'd be here all day.
However, a great tip is to stay updated with social media industry news because these will allow you to be quick to adopt new trends and changes in your space. You'll also better understand how your audience acts, and where they are.
Ask questions
Without question, there can be no answers, and if you don't know how your brand will work with your content strategy, chances are, no one in your team does either.
When developing your strategy, it's important that you ask a lot of questions.
And more importantly: ask the right questions.
What type of content will you share on each channel?
First off, you want to choose platforms. When choosing, you should select them by two main "criteria". Audience and content.
This visual from Coschedule gives a quick understanding of what type of content some of the most popular social media platforms support and depend on.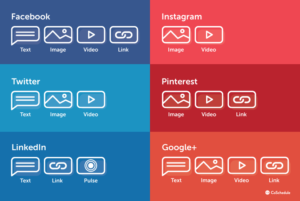 The content that these platforms support, or more importantly the content that works the best on the different platforms is usually considered at second though.
Normally, the platforms are chosen first, mostly based on where the brand's audience is to be found, and then, the content is adapted based on the platform.
Unfortunately, that means doing it backward.
For the best results and the best choices, you need to make the decisions based on the questions you asked. Not the other way around.
After reviewing the content types for each network, ask these questions:
Which of the content types above am I currently creating?
Which of the content types am I missing in my content strategy?
Will I need any additional resources to create good content of the ones I am not doing?
The bottom line is that you need to choose social platforms based on the content type of content you do.
And that brings us to the next question.
What content do you want to do?
What content are you best at?
What content does my audience enjoy the most?
What content works the best for marketing my brand?
These questions are not only relevant when selecting a platform because the chances are that you already have platforms in place. These questions are also helpful when you want to tweak the content you share in order to generate better results and meet your target audience. They are also tremendously helpful when you are looking to change or do a makeover with your social media platforms. You might realize that video is the type of content you are both best at, and see the best results from.
Obviously, you want to opt for using more video content in that case. Does this mean that you need to change platform, though?
Well, not necessarily. You might use Facebook but want to go from only sharing status updates to only posting funny videos, and that is completely fine!
Who Will Be Creating Content For Your Company?
To succeed with social media, you need a good team. Working with social media is possible to do alone, but only if you're working small-scale. To be able to expand, you need the right resources. Both financially and in people. How time-consuming social media really is, is often neglected by people, but if you boil down a large corporate's social media strategy and efforts, you'll find that there are quite a lot of people involved.
In either case, you need to clearly define your content strategy who will do what when it comes to the content you create and the content you share.
To do so, you need to ask the following questions:
Who will create the social media content?
Are they experienced? Do they know how to create content that aligns with your business's values and visual theme?
For all great content, there's an editor behind it. For perfection, someone needs to edit the photo, videos, and any other types of content to make sure that it holds perfection standard. This is an important role that should absolutely not be ignored.
Do I have the resources necessary to create the content I want?
Considering the fact that you now have chosen social media platforms, you need to analyze whether or not you have the resources you need to actually execute on your plan. Creating top-notch content is essential in this very competitive social media world, and doing so is also difficult. You might realize you have the people for it but not the experience or knowledge. If this is the case, you need to take action and solve the problem you are faced with.
How often am I posting?
You probably already have a few social media platforms that you are active on.
How often are you posting on these?
Consistency is key on social media, and if you aren't posting consistently on some of your social platforms, you might want to consider either shutting it down, merging it with another account (if you have several), or start posting consistently.
Here's how a posting schedule could look:
Apart from the type of content you share, how consistent you share posts is also highly important. If you post whenever you feel like it, and long periods of time pass between your posts, people will start unfollowing you, they'll think you've quit, and your social platform will do more harm than good.
When answering these questions when developing your social media content strategy, make sure you make a wise decision on what actions you will take.
Am I generating the results I want?
If you are active on several social platforms, this question is particularly relevant to ask. If you are noticing that some platforms might perform better than others, you need to ask yourself if the weak results are tied to poor execution.
Evaluate if that platform really is good for you, or if it is your execution that needs to be changed. In fact, you might even realize that you should stop using it and focus on the ones you are already seeing great results from.
What are my goals?
Now that you've evaluated both your social media efforts, platforms and the content you are creating for them, it is time to set goals to what you want to achieve and think about how the content will help you get there.
Your goals can be divided into two categories:
Business objectives and social media objectives.
They are both goals, but they differ from each other slightly.
The business objectives are the "broad" and "general" goals you want to achieve with your social media efforts. These can be anything from increasing sales to increase brand awareness.
Your social media objectives, however, are more focused on the results you are generating on the social platform in particular. A goal can, for example, be "reach 10K followers on Instagram".
Based on the goals you've set, your content strategy should have a plan on how you are going to achieve those goals.
For example, if your objective is to grow 10K followers, your content strategy might tell you that you are going to create amazing, appealing videos for YouTube that people are going to share, thus giving them a lot of spread. This is an example of how goal and actions are aligned with each other.
Otherwise, a goal is just a goal that will never be achieved.
What brand voice and tone do you want to have?
This question covers a lot, and that's because it's so greatly important.
Your content says a lot about your brand, and if your content strategy is clear and tuned to perfection, you should be creating content that is similar both message-wise, visual wise, and style-wise.
In other words, your content should be coherent, and align with your brand's values.
A famous example is Dollar Shave Club.
They are known for their humoristic and funny YouTube videos, and that's also how they built much of their success after going viral.
In fact, their most famous video has accumulated around 25 million views!
That's a ton of exposure.
It's clear that the brand has a strong content strategy that both tell them what tone they should have, and what brand voice they should use. And that's also the reason why the style remains the same, with its satirical and funny language and message across all of their videos.
This step is especially important once you've defined who your target audience is.
When you know who they are, it's time to set up a strategy that tells you how you are going to talk to them.
Having defined your voice in your content strategy allows you to keep your personality the same no matter how much time passes, which allows you to stay true to your values, and avoid coming off ass inauthentic.
Audit your content
We've already touched briefly on auditing your content, but let's dig into it a little more thoroughly.
Evaluate your current social media situation, and how you are executing your content strategy (that is not yet in place).
When you know where you are, it will be easier to move forward, and knowing which gear to start from. When you evaluate your current content, you'll also get a good understanding of what type of content your audience dislikes, likes, and love.
Without knowing your current situation, you will have a hard time figuring out how you will create content that dominates your industry on social media.
Measure your results
With all social media efforts, you need to evaluate results in order to see if your efforts are actually leading somewhere.
There are literally hundreds of metrics you can measure on social media. Some are completely irrelevant, and others are highly important.
When you've tweaked your content and created your content strategy, it's good to make it a habit to measure the results of your efforts every now and then.
This will allow you to see if you are actually following the road that your map tells you to go, or if you are on the completely wrong path.
Whatever you choose to do, following these 4 points is essential:
Be patient. Just because you've shared one post that follows your newly created content strategy, doesn't mean you'll generate amazing results. Generating results on social media takes time, and if you have the mindset that you are going to see results within a week, there's a risk that you'll get disappointed. Your content strategy's main objective is simply to allow you to build better relationships with your audience, thus making it easier for you to reach and approach them.
Listen. Having a content strategy isn't always about talking. It's about listening and understanding.
Be flexible. This is, according to me, the most important part of a content strategy. When you are sitting there and writing your content strategy, everything except the evaluations you are doing of your current efforts is guesses. This means that you need to be flexible and ready to adapt and tweak your strategy whenever necessary. You might share a post that aligns perfectly with your content strategy, but still, generate lousy results, If this is the case, you need to go back, study and analyze your strategy and see how you can improve.
Conclusion
A thorough and detailed social media strategy is part of every successful brand's social media strategy.
Without a strong strategy, you'll find it more difficult to achieve the results you want to see, but with a strategy in place, you'll save both time and energy.
But something that brands don't always think about is the content strategy. Your content strategy plays an important part of a social media strategy, but without a strategy for your content, your social media strategy just won't be complete.
Social media is based on content, and this alone tells you that you need a plan for the content you are going to share.
Ans that's exactly what a social media content strategy does.
Do you have a strategy for your content? Has it helped you?