Twitter is an incredibly powerful marketing and community building tool for entrepreneurs, influencers, nonprofit organizations, and business owners both large and small. Many Twitter users are able to build up a reasonably large following, but have trouble getting their followers to engage with the content they post.
Large numbers of followers can only get you so far, and if your online community isn't replying to your posts and retweeting them, you're missing out on a big opportunity for increased social media exposure. When people like, retweet, and reply to your tweets they are not only thinking more about your brand, their followers are more likely to see your content too. This allows you to reach an entirely new audience!
It's clear that boosting Twitter engagement is helpful for your brand by increasing your visibility–but increasing engagement is often easier said than done. Here are some of the best ways to boost the number of replies, likes, and retweets you get on Twitter:
Engage With Other Accounts
The first tactic for increasing your Twitter engagement is to like, reply, and retweet other accounts that are relevant to your business. Whether it's customers expressing their love for your product, other industry players creating a conversation on a topic in your industry, or a joke about a problem that your business solves, you should be engaging with the people that you want to follow you. This legitimizes your Twitter account by showing that it's active and not just for posting marketing material.
Use Images
It's been shown that including an image in a Twitter post increases retweets by 150%! This is an easy change to make if you're not already doing it. If there's a photo or other image that's relevant to your post, include it! If you don't have a good image to share, you can easily create one online. Simply make a solid colored background, add some shapes, and add text that reiterates your point. This is a very simple way to include an image that mirrors your tweet and gives your followers something other than text to look at–and you can add your logo to it for extra brand recognition!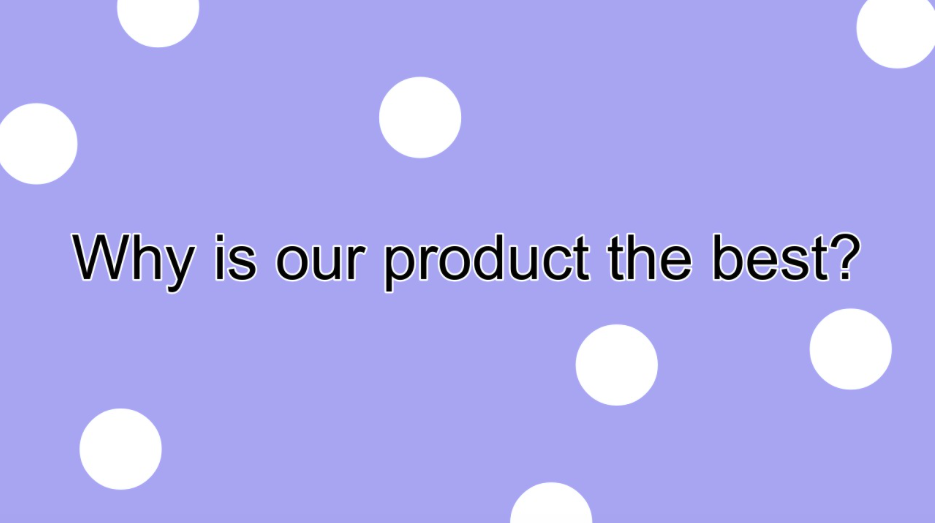 Example of a simple image to add to a tweet
Post Questions 
Posting interesting questions for your followers to respond to is a great way to increase replies on your tweets. Think about who it is you want to be engaging with on your Twitter account; who are your customers? Who are the influencers in your industry? What type of question would spur interesting dialogue and opinions from those people?
People like to be asked questions about their experiences and opinions, and you can gain valuable customer insights in the process! Once you've posted your question, use a non-affiliated Twitter account to respond to the question first. This is a step that many businesses skip, but it's important to give your organic followers an example of how to answer the question and let them know that other people are going to do it.
Optimize for Time Zones
Posting at different times of day will allow your followers from different parts of the world to see your content when they log on. Different people have different internet habits, but generally people are on the internet in the morning before work, at lunch, and in the evening before bed. If you are optimizing your posting times for someone in California's morning and evening routine, a potential customer in Australia is not going to see your posts at the top of their feed.
Think about where your followers are located and where you'd like to increase engagement before deciding on when to post. The benefit of Twitter is that users expect an account to post several times per day–so you don't have to worry about over-posting!
Create Twitter Polls
Posting polls on Twitter is another way to get your followers (and their followers!) to engage with your content. While this option is similar to posting questions, it's distinct in a couple of ways. Twitter polls are much easier for followers to track the progress of because it's a simple percentage of how many people have voted for each option rather than what people are saying in response. While questions lead to deep, thoughtful participation, polls are a much faster and simpler means of engaging community.
This means that you will likely get more responses than you might with other tactics, but they're lower quality responses. Twitter polls are useful for fun and easy community building, but you'll miss out on other opportunities if you rely on them too heavily without using other strategies.
Express Personality
With every tweet, you are communicating the personality and values of your brand. Everything you do on social media should be a part of your larger marketing strategy, and it should definitely be consistent with the voice of your organization. If you want to keep a light, funny, and casual tone, you can create memes or use GIFs to communicate your message on Twitter. Likewise, if you want to have a very serious brand that is trusted with deeply personal information, posting thoughtful questions and insights will communicate those values well.
Conclusion
Twitter represents a host of marketing opportunities for motivated brands. By utilizing these simple tactics you will see much higher engagement from your followers, as well as better brand recall from current customers and potential customers alike. Go forth and tweet!
About the Author
Julia McCotter is a San Francisco-based Content Strategist, Marketer, and general Enthusiast. She works at Kapwing, a seed-stage startup in San Francisco that makes tools for casual creators. You can find her on LinkedIn, or at any bakery with a good cinnamon roll!