Email marketing is truly a timeless digital marketing channel, and with its ROI of  4400%, it clearly dominates the landscape. It makes it simple to communicate with both current consumers and prospects, ensuring that the former become repeat customers and the latter become new ones. It provides a two-way window for personalized communication without intimidating the recipients. Here's the list of finest eCommerce email marketing software for 2021 as curated by our team, including Klaviyo experts:
Top Five Email Marketing Solutions
Email marketing tools are way beyond sending and tracking emails. They are ecosystem enablers that cover prospecting to reactivation across a sales funnel. As a part of this, they facilitate expanding your audience, segmenting your lists, and combining all of your marketing channels makes the program a great tool for growing your business and increasing income revenue.
#1 Mailchimp
Because it contains the functionality that most businesses want without being unduly difficult or confusing, Mailchimp is the finest overall email marketing software. You can schedule campaigns, A/B test material, receive data on open rates, click-through rates, and unsubscribe rates, among other metrics. On top of that, it is one of the best tools for startups and small businesses due to its freemium pricing strategy with its generous free-forever program.
Mailchimp is a great solution if you are searching for a straightforward method to communicate with their consumers via email. It contains a simple email editor, and when you upgrade to the first subscription plan, you have access to more complex features like A/B testing and multi-step journeys. The reporting feature will help users understand what works for them and what doesn't in a very lucid manner. Open rates and click-throughs are identifiable, allowing business owners to see how well their material is being received.
#2 ActiveCampaign
Because it contains hundreds of pre-built automation that allow you to customize campaigns for each user, ActiveCampaign is the finest email marketing software for automation. One of the specialties that make ActiveCampaign favorable is its vast library of tutorials and its quick customer service team. It can be termed full-fledged customer experience automation (CXA) software. It has over 850 integrations since it is intended to handle contacts and the sales process. ActiveCampaign has an advantage in this area since it allows organizations to create customized automation to enhance subscriber engagement.
The user interface is simple and intuitive, with resources for any issues that may arise during the procedure. Its sales automation feature also makes it a powerful solution as it allows sales teams to collaborate better when running campaigns, ultimately boosting revenue.
#3 MailerLite
Among all solutions on our list, MailerLite is the most user-friendly email marketing software. It offers a drag-and-drop (WYSIWYG) interface that makes the email template development process quite simple and enjoyable. It has a clean UI, and it stands up to its reputation of being simple and extremely user-friendly. If users have any issues, they can contact email support for answers and troubleshooting.
It provides all necessary features without making the system appear unnecessarily cluttered or complex. It can be considered as the best fit for organizations looking for an easy-going email tool to get started in days rather than months.
#4 HubSpot
Hubspot is hailed as the best all-in-one marketing suite for businesses (website, social, email marketing, and more). With Hubspot's CRM, you can save all of your contact information and reach out to potential customers via lead forms, live chat, and online advertisements. The platform is great for an all-in-one marketing solution since it can manage everything from emails to social media postings to blog publications.
Hubspot centralizes all of your marketing activity, so you can see how contacts interact with your website, social media, Google AdWords, and email marketing – all of this in one location. It gives company owners information on the buyer's journey, allowing them to better adapt their marketing efforts for success.
#5 Klaviyo
Klaviyo is a popular email marketing platform when it comes to Ccommerce companies. It provides a CRM-based email marketing experience that helps organizations monitor their marketing activities, and it is hailed for its versatility. Unlike other email marketing tools that offer a wide range of predefined automation workflows, Klaviyo empowers its users to extensively customize its workflows. This helps create custom campaigns through a series of complex, cascading workflows.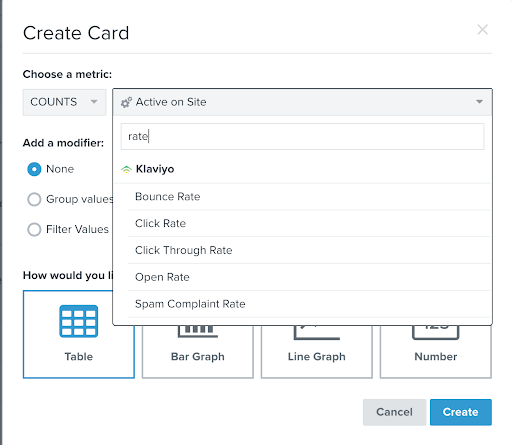 It may not be as user-friendly as some other ESPs, but for seasoned marketers, it provides some of the best functionalities. This makes it tough for new email developers to design email templates, but the flexibility makes up for this aspect, and hiring a Klaviyo expert would be the key. The prices start at $20 and upwards. But the best part is the fact that the users get access to all of Klavio's features across all subscription plans. Also, it is focused on helping you sell, which makes it a perfect solution for eCommerce businesses of all sizes.
Summing Up
Users may use email marketing software to produce, send, and track emails to their subscribers. It's simpler to produce well-designed emails with software, and you can track critical data like open rates and click-through rates. Our experts find that it is necessary to consider each of the available options to see how their functionalities resonate with your requirements.
Author: Kevin George is the Head of Marketing at Email Uplers, one of the largest Email Templates production company which specializes in converting PSD to email templates. He loves gadgets, bikes, jazz, and breathes 'email marketing'. He is a brand magician who loves to engage and share insights with fellow marketers.