Every business has big goals, targets to hit, and opportunities to take advantage of. Implementing tailor-fit digital marketing strategies helps deliver expected results. The ultimate goal of digital marketing strategies is to drive greater return on investment (ROI) by boosting online presence.  
Businesses can attain desired sales and marketing results through paid media, social channels, and organic searches, among others. In this article, you'll get to learn some helpful tips to optimise PPC and SEO marketing strategies to achieve your business goals.  
What Are PPC And SEO Marketing Strategies? 
Common Ground explains that search engine optimization (SEO) is an effective and sustainable way of driving search-targeted quality traffic, resulting in business growth. This digital marketing strategy involves well-thought keyword research and placement, link building, content management, and continuous monitoring. SEO aims to deliver long-term results, sustainable performance, and the best ROI by using white hat or acceptable SEO practices. 
On the other hand, pay-per-click (PPC) offers good control, immediacy, and scalability that organic search doesn't generously provide. PPC involves building campaigns using online ads to maximise returns through paid searches. Also, PPC allows businesses to get the best return on ad spend based on targeted cost per acquisition (CPA). 
Using both PPC and SEO marketing strategies may provide the right online presence that drives more users to your business website and converts them to paying, loyal customers.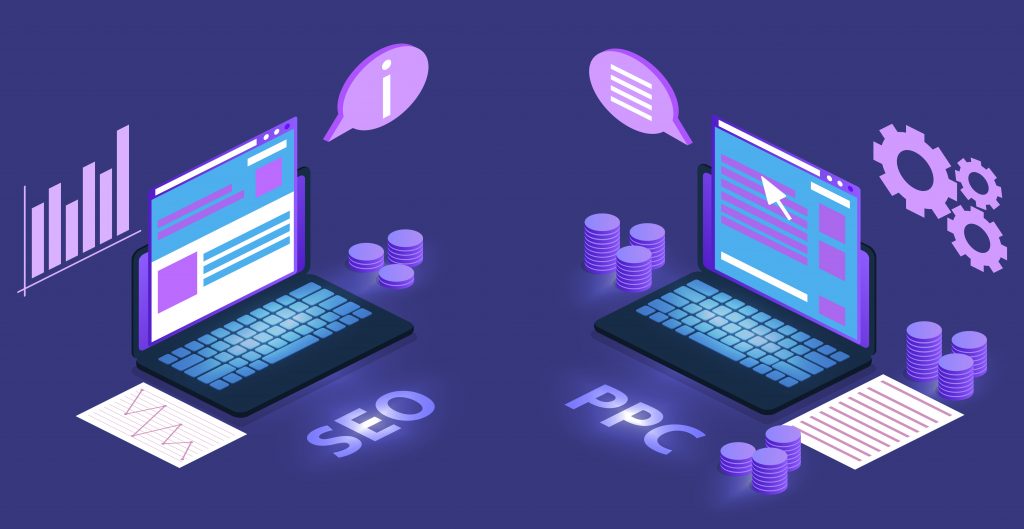 Tips To Optimise PPC And SEO Marketing Strategies 
Now that you know what PPC and SEO marketing strategies are, it's time to learn some helpful tips on how to optimise them.  
Stay Up-to-date With Emerging Trends
According to a trusted source, pay-per-click ads can help boost brand awareness up to 80%. This means that every USD$1.6 spent in Google Ads makes a US$3 in revenue. This statistical data shows how effective PPC ads are in driving ROI. 
Staying updated with emerging trends in PPC and SEO helps improve brand visibility and awareness. While it can be challenging to land on the first page for a particular keyword, combining digital marketing strategies will overshadow your competitors synergistically. So, optimise your PPC and SEO strategies by keeping yourself abreast with the latest trends. 
Stay within the game by being aware of these emerging PPC and SEO marketing strategies: 
Advertising Alternatives:

While Facebook and Google Ads are popular PPC platforms, marketers find Amazon as an excellent alternative, which is one of the giant online marketplaces in the world. 

Focusing On The Audience:

While keywords remain useful in SEO, focusing on a target audience helps secure higher performance and search engine ranking.

Artificial Intelligence:

While AI takes up more search paid ad tasks, it'll still stay dependent on human input. Marketers take new roles, such as building creative ad solutions to ensure human connection through measurable, realistic, and intent-driven advertising.
Use The Power Of Social Media Marketing
One of the best PPC and SEO marketing platforms is social media marketing. This is because millions of people search, browse, and engage in various social media networks. The popularity of social media extends beyond casual encounters with family and friends. It's also in demand for advertising purposes. So, why not take advantage of social media to expand your reach and increase your sales? 
Take a look at these smart tips on how to optimise your social media marketing strategies: 
Know Your Audience:

Optimise your PPC and SEO campaigns to the fullest by knowing your ideal customers or buyer persona through analytics. By knowing your audience's demographics and behaviors, you can create easy-to-digest social media posts.

Target Your Content:

You can take multiple approaches to target your content. Regardless if you prefer Facebook, Instagram, Twitter, or any other social media channel, create content that appeals to your audience's emotions. Diversify your content to convert leads, such as well-written copy, infographics, interactive content, and professionally shot video or blog post.
Capitalize And Grow Your Existing Traffic
While your SEO efforts aim to attract more people to your website, you also want to create a lasting impression. In this way, you can encourage your visitors to return. Optimising your website for a higher conversion rate requires a deeper understanding of user experience.
The following are some useful tips on how to capitalize on your existing traffic: 
Find out how, why, and when people visit your website. Determine how many times they click or respond to your call-to-action (CTA).  

Contact people who sign up for your emails to send them incentives and offers or introduce a new product or service.  

Encourage web visitors to visit your product pages, read your blog posts, and follow you on social media.
Check The Technical Aspects
When it comes to SEO's technical aspects, it's important to analyze data to identify specific patterns. Remember that referral sources tell you many things about your audience. Search for your in-demand web pages to get more conversions. 
Understand the technical aspects of SEO by following these tips: 
Intensive Keyword Research:

Find keywords relevant to your niche and use them to look for long-tail keywords suitable to your audience's intent. You can begin with a broad keyword and then produce long, value-rich content.

Optimise For On-page SEO:

Your headline and at least one subheadline should contain your primary keyword. Avoid stuffing keywords by aiming to use keywords 0.5% to 2.5% of the body–distributing main and sub-keywords throughout the body.

Optimise For Off-page SEO:

These external means of optimizing your SEO include influencer marketing, guest blogging, brand mentions, and guest blogging.

Optimise For Mobile:

If you want to have successful PPC and SEO campaigns, make sure that your website is mobile-friendly. Take note that Google launched an SEO optimiser, the mobile-first index, to rank a website better if it focuses on mobile-friendliness.
Conclusion
There are many ways to improve your PPC and SEO strategies, such as using the influence of social media to expand your reach. Keep yourself aware of the merging trends in PPC and SEO to optimise your PPC and SEO campaigns. 
Also, capitalizing on your existing traffic can improve your conversion rate with a higher percentage of your organic traffic that converts. Finally, don't forget to check the technical aspects of these digital marketing strategies to ensure steady positive results.