Instagram Profile Design: Principles, Trends, Ideas
Instagram is one of the most popular social networks in the world. And no matter if you are a free blogger or leading a company page — everyone has equal opportunities.
Main Principles to Design Your Instagram Page
#1 Harmonious colors

#2 Grid

# 3 Collages

I

nstagram Layout Designs

Instagram Design Trends

Trend 1. Color blocks

Trend 2. Video Content

Trend 3. One style

Trend 4. Animation posts

Trend 5. Real colors
Many say that today only stories matter. And it is not necessary to design your Instagram page anymore. If you also think so, then you are mistaken. Experts and major bloggers have a different opinion. They urge you to pay a lot of attention to Instagram page designs. Moreover, photo and video content are some elements of a personal brand. It also conveys a person's mood, his life priorities, feelings, and allows you to follow progress and development.
Why is Instagram Profile Design so important? 
Creates a positive first impression

— if you pay attention to the design of profile, this creates a favorable image; 

Desire to subscribe

— if your profile is beautifully and stylishly designed, then people will follow the updates; 

Appearance

— the more attractive the profile, the more pleasant it is for the user to look at; 

Personal brand

— Instagram page designs can become your business card. So, subscribers can recognize yours among competitors.
Now we have found out why it is so important to pay attention to the design of the profile. Let's go directly to the analysis of the parts responsible for the appearance of Instagram.
Main Principles to Design Your Instagram Page
When promoting your business on Instagram, you need to hook the user at a glance. If a picture doesn't catch a user, he is unlikely to read about the wonderful properties of your products and follow the links. 
The first thing to remember is that you write not for yourself but for your subscribers. Therefore, it is important to focus not only on your preferences but also on popular topics. If you cannot work out the whole content, change at least the top nine images (it is people who look at them first).
There are several parameters that help to create a quality design:
#1 Harmonious colors 
Peony Instagram Puzzle
Here all posts should have a color combination and have the same colors. To do this, use a limited number of filters (one or two).
Where to find the filters?
Modern Photographer Instagram Social Media
This type of design involves the use of alternating publications, for example, photographs and pictures with text, photographs with different colors, or a selection of photographs in a strict order. It looks unusual and interesting. 
Types of placement of publications in the form of a grid:
Diagonal; 

Row by row;

Tiles;

Columns;

Borders;

Squares;

Puzzles.
To make your Instagram profile visually appealing, you can use the UNUM mobile app. The program allows you to plan the appearance of your page by moving photos in places.
# 3 Collages
Fashion Minimlist Instagram Templates 
Combine several elements in one photo. Apply color frames for the photo. Experiment with arranging objects in images. If you sell clothes or accessories — photograph them on models.
Instagram Layout Designs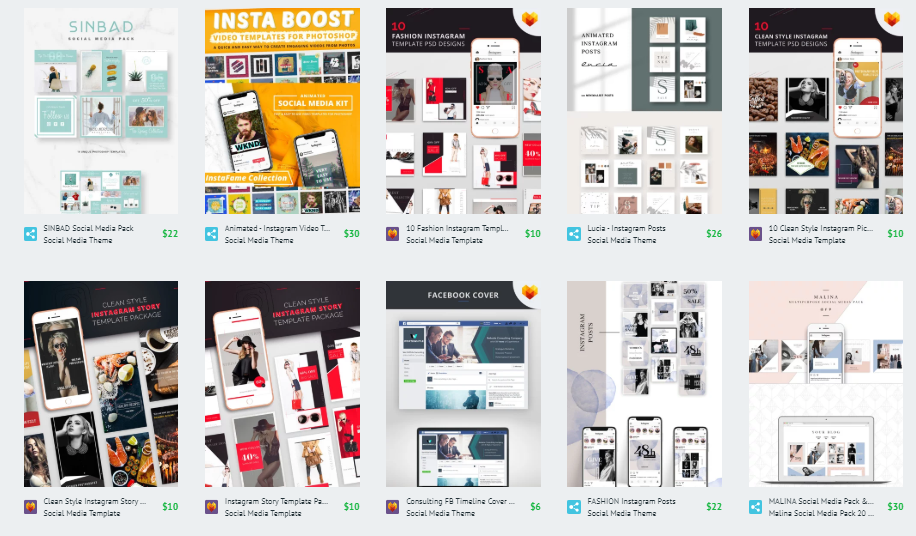 If you have to publish content often, you can get tired of coming up with a new design every time. When creativity turns into a routine, the result suffers. But social media templates can help here.
There are ready-to-use Instagram post design sets for online stores, bloggers, photographers, etc. With them it remains only to add frames and backgrounds, replace fonts and filters, and a beautiful post is ready. There are many Instagram layout designs where you can find animated posts and templates for stories too. 
HOW TO USE TEMPLATES:
Download a social media template.

Add to Adobe Photoshop.

Add your text and/or photos.

If necessary, change the background, style, etc.

Download the finished file and publish it to the feed or stories.
Instagram Design Trends
Next, I'll tell you how to use your Instagram trends to make your profile a fascinating account and attract the right audience.
Trend 1. Color blocks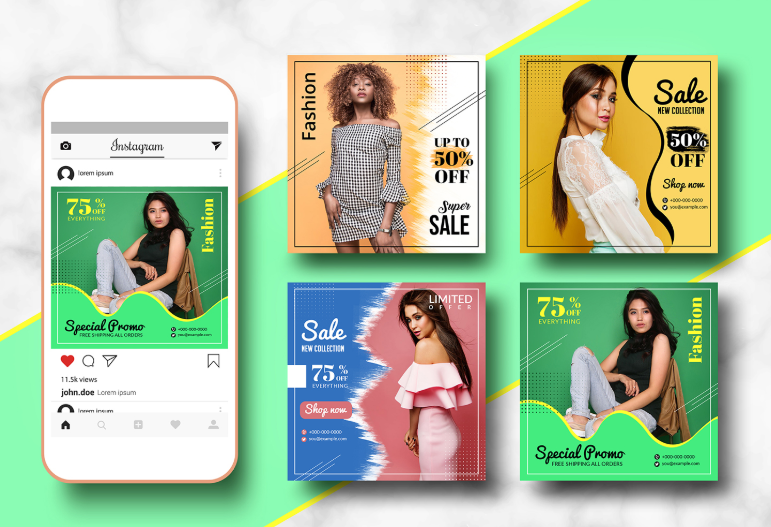 Fashion Sale Instagram Banner
Alternating blocks consisting of photographs in shades of the same color is still a trend. The combination of contrasting colors is especially effective here. Also, the design with a smooth transition from color to color, which creates a gradient effect, is no less attractive.
Trend 2. Video Content
Short videos in 15 seconds will make it possible to announce the event and talk about new products.
Long videos, for example, in IGTV, are ideal for a webinar or a detailed presentation of a product. For the greatest comfort, it is now possible to record vertical videos.
Trend 3. One style
Vennon – Pop Art Instagram Stories
Such profiles look stylish and attractive. It can also be black-and-white, pop-art, and other styles.
One style is one of the Instagram trends that is suitable for selling fashion items, presenting design services and other companies where attention to detail, unobtrusiveness, and delicacy are important.
These two tools will allow you to find a color solution: 
Trend 4. Animation posts
ANIMATED Instagram Posts
Wise SMM experts have noticed that users want to interact with animated posts more. Unlike other Instagram design trends, this one is more active and enthusiastic. It is like an easy game where you need to "click" and something interesting will happen 🙂 
Trend 5. Real colors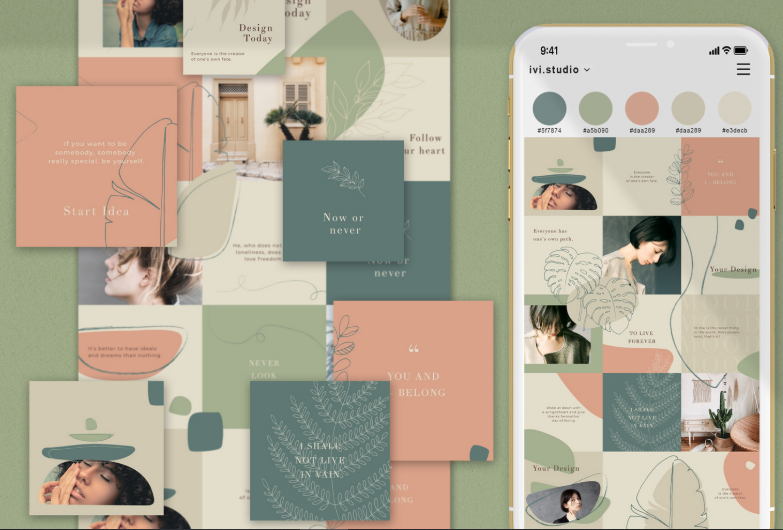 Melissa Social Media
Now lifestyle photos are a trend. It means minimum processing and natural light. Use juicy colors and the right daylight. So, no filter is necessary.