By now everyone is well aware of the benefits of live streaming and how it has helped various brands and organizations to boost its pan presence. It has not only helped brands to expand their horizon but helped them to engage the audience interactively. An incline of a large number of audiences towards a specific brand has been recorded who used live streaming as their digital marketing strategy.
Periscope was the first app that introduced live broadcasts on periscope for the first time which quickly became the trend. A large variety of social media platforms like Youtube, Facebook, Instagram, etc. walked in the same footsteps and started offering live streaming solutions for brands to leverage. If the current dynamics are to be checked a battle has been on between various platforms to serve the best live streaming solutions. 
Engaging audiences globally, boosting the pan presence of the brand, expanding the reach, etc. are some of the common live streaming merits that help any brand to grow exponentially well. Live streaming allows audiences to tune in live at the time of the webcast and leave their valuable suggestions.
It allows brands and audiences to interact with each other through real-time commenting. The most loved comments are pinned at the top by the broadcaster which acts as influencer thereby attracting more audiences. Live streaming has helped brands and customers to understand each other in the most effective way out. Valuable suggestions by customers are taken into consideration by the brand to make the brand more effective and purposeful for its set of target audiences.
Some marketers are still not aware of the right usage of live streaming and lack behind the competition in the digital race. In this article, we have shared a quick guide to how to live webcast on youtube, facebook and live stream on periscope.
How To Live Broadcast On Periscope Live?
Periscope is the first app that introduced periscope live video streaming solutions way back in 2014 which later become the marketing trend. Periscope is well integrated with twitter and is later purchased by the same in 2015. It allows live broadcasts on periscope to be accessed by twitter followers of the specific brand as well thereby reaching a wider and more niche audience base. Once the live stream on periscope gets over, it stays for a 24-hour timeline giving an opportunity to the audience who missed the live broadcast on periscope due to hectic schedules or urgencies. But, commenting during live streaming is only enabled during live webcast and not in the saved versions. Periscope live streaming solutions allow any brand to expand its reach around the world.


Here are the steps to live stream on periscope:
Download the app and create an account if you don't have one. It's simple and quick. You can simply install the app on your smartphone and you are all set. Creating the twitter account is the next step in the process.

Forgiving your viewers a better viewing experience you can invest in a high quality enhanced camera. A professional video camera will make your live stream on periscope look professional. It can be easily connected with your smartphone or laptop from which you are planning to stream live through HDMI IN. You can even opt for an external microphone for better sound quality thereby enhancing the proficiency of live stream and making it look more professional.

Now you need to create an event right away. If the event is new you simply have to create and select.

Add a catchy title to your video content which gives your audience an insight into what you serve. Write a short video description with the right keywords and hashtags. It will make your video appear in the search results.

Now it's time to select the multiple platforms to share your periscope live stream. Go to the settings page and select the multiple platforms. You simply need to tap on the "Add" button which is placed under the "GO LIVE" button.

Change your privacy settings as per your choice. Private settings allow a specific set of audiences to tune in at the time of live broadcast on periscope whereas public settings allow anyone to access the live stream on periscope.

Grant all the necessary permissions and hit the "Go live" button and reach millions across the globe.

The market is full of periscope live webcasting service providers, consulting one can make your brand's big event gain more clicks and likes.
How To Broadcast Live Video Stream On Facebook Live?
Facebook is one of the most popular platforms that is known by one and all. When a brand plans to use facebook online streaming services it makes it easy for them to reach an ample amount of audiences around the globe. A large number of online users are found on facebook irrespective of age and gender. Facebook allows brands to share the Facebook live stream on the website thereby resulting in attracting more traffic to the brand's website. Live broadcast services for facebook allow any brand to Live stream their brand event thereby engaging more audiences.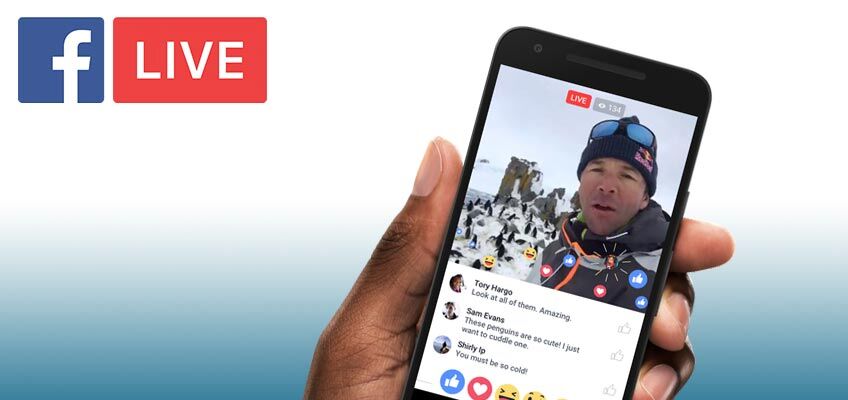 Live video streaming on facebook help brand to boost real-time interactions through comments. One can share behind the scenes insights to give a quick view of the organization or share the brand journey through live video streaming on facebook. Facebook online streaming services are used by brands for product demos, launches, brand events and so on.

Here are the steps to start live video streaming on Facebook:
Make a facebook page of your brand and click on create live streaming for your small business and brand event.

You can adjust the account settings by going to the settings. If you keep your account settings to the public, it will allow more viewers to view your live video streaming on Facebook other than just your followers. The private setting allows only a specific set of audiences to view the live stream thereby restricting access for others.

Tap on the camera icon placed on the left side of the search bar.

Grant permissions to access your camera and microphone before you broadcast live on facebook.

Add a catchy and concise description of your facebook live stream to give a brief insight into your video content.

Click on the "Start Live Video" button to start the live broadcast.

Facebook online streaming allows you to interact with your audience in real-time through comments.

To end your

live video streaming on facebook simply

click on the "Finish" button.

Live broadcast services for facebook allow you to

save your broadcast video to your camera roll which can later be shared on other social media platforms to expand the brand's presence and attract more audiences.
How To Live Webcast On Youtube Live?
To walk with the current trends youtube worked on its algorithms and started offering youtube video streaming solutions and entered the battle of live streaming social networks. It helps brands to reach potential target audience around the globe as youtube has millions of active users worldwide.


Here are the steps to live webcast on youtube:
If you have your channel with 100 plus subscribers you are all set to live webcast on youtube. If not create a channel by logging in to your company's youtube account. Then click on the creator Studio button.

Click on a live streaming option from the menu displayed on the left-hand side.

Review the Live Streaming Checklist as it will help you to set up for your live webcast on youtube.

Add details of an event that you are streaming live on youtube.

Interact with audiences during youtube live stream events through chat boxes.

Set the privacy settings option to the public for getting a larger audience base worldwide.