How to Make Your Customers more Loyal (And Engagement on Social Media More Exciting)
Social media is one of the best ways to build relationships with your audience. It allows you to approach them on a personal level and have genuine one-on-one conversations.
As a brand, building relationships with your audience is the single most important thing if you want to drive sales.
Why?
Because relationships build trust and trust drive sales.
If your audience doesn't trust you, they won't buy from you.
Social media is the ultimate customer interaction tool for many reasons, and one of them is that you can extract information from their profiles in order to provide them a better service and make it look like you know them better. Thus making them feel safe in your hands, and feel like you've known each other for a long time.
By simply taking a glance at someone's social media profile, you can learn a whole lot. This is something you have no possibility of doing when handling them as customer service errands through email or phone.
But there's one catch with customer interaction on social media. If used improperly, it can make you boring and dull. And as a brand, this is the last thing you want.



You want to be fun and engaging so that they return and you can impact and remind them of your business over and over again – until they buy from you.
So how can you make your customer interaction more fun and engaging, and how can you present yourself as a brand that is fun to interact with?
How can you engage with them better, faster, and more authentically?
In this article, that's exactly what I'm going to tell you.
Let's dig in!
1. Questions
This is one of the best ways to get your audience engaged and join in on the conversation.
When you ask a question, you expect a response, and therefore, people feel obligated to answer it.
There are two types of questions you should ask. And as someone who wants to get the best results possible, you should, of course, use both!
Questions in captions
The first type of questions are the ones that you include in the caption/on the image of your post. The great thing about asking questions in your post is that you get people to start engaging with your post. In other words, it encourages them to make the first step of interaction with you.
It is easier to engage with your audience if they took the first step because otherwise, you need to actively go out and look for people, and really, you have no idea in who have any interest in actually engaging with you. You don't want to approach people who are going to get angry if you contact them.
That's why including questions in your captions are very effective because it gives you the opportunity to jump in and continue the conversation.
This brings us to the next point!
Questions during the interaction
When you've reeled some people in by asking questions in your caption, or received comments and messages by people for other reasons, it is time to start interacting with them.
To clarify something that is vital (and hopefully obvious), you should never ignore a customer message/interaction. Of course, there are always exceptions, but the general rule is that you should respond to them all. If you would want to do the opposite of this article's purpose, then don't respond to a single message you receive from your audience.
But I am telling you, it's going to hurt you, a lot.
The difference between asking questions in your caption versus asking questions to them personally is that the questions you ask in your captions are broader.
What do I mean?
Well, the questions in themselves don't necessarily have to be broader by nature, but since you ask the question to all of your followers, people won't feel as obligated to answer. Many will think "they didn't ask me anyway".
When you ask a question directly to them in the interaction, it will be a completely different story, though. Because then, you ask a question directly to them personally, and only them. If someone asks you a question in real life, would you turn the other way and ignore them?
I hope not.
This means that the number of people (percentage wise) who will respond to the question you ask in your caption is far less than the percentage of people who will respond when they receive a question only directed to them.
The response rate will, in that case, be close to 100 percent.
The whole idea of asking questions to people personally is to get them more engaged in your brand. Ultimately, you'll also be able to build a better relationship with them to the point where they are loyal supporters and fans of your brand.
This is a position you want to have since loyal fans will go out and promote your brand completely for free.
2. Emojis
Emojis is a great way to include some personality in your interaction and to make it more fun.
The emojis you choose reflect your brand's personality, and they allow you to say more by saying less.
After all, an emoji is an image, and an image says more than a thousand words, right?
First off, using emojis to respond to your customers is the single fastest way to respond to their messages. Many times, emojis is all you need to show them that you have seen and that you acknowledge their comment/message, but it's important to know that you cannot simply start using emojis for all messages you receive from your audience.
Many times, you also need text, but when you do, why not include one or two emojis as well to present yourself as more human and to avoid being seen as a heartless chatbot?
In case you're unfamiliar with emojis, they have a huge advantage in marketing. Emojis is like a completely new language, and as with any new language, it takes time to master. Not as long as learning a regular language of course, because the language of emojis is universal, but it still contains a few pitfalls and rules to be aware off.
To get the most out of your interactions with emojis, I highly recommend that you take a look at the article How to take advantage of the power of emojis in social media marketing because it is important that you know how they work before you start throwing them all over the place. Plus, that way you'll ensure you get the most out of them.
When emojis were new and only consisted of a few smileys, not a lot of people were using them. Therefore, you had to be cautious with them, because people were unfamiliar with them and a bit afraid as well. Today, the case is completely different.
In fact, 92% of Online Consumers Use Emojis. This means that you can feel quite safe in using them – no matter who your target audience is.
When writing and responding to people from your audience, it is difficult to convey emotions, but with emojis, you can do just that. By including a simple smiley, you can show that you're happy when replying to their message, thus coming off as more inviting.
3. Personality
When engaging with your audience, it is vital that you include personality and show that you're human. No-one wants to talk to a soulless robot!
People want to have real, genuine conversations, and if they don't get that, you risk losing them and them going to your competitors.
This is also why automated responses are dangerous. Now, am I saying that you shouldn't use them? Absolutely not. Automated responses can be a great complement to your real human interactions when you aren't online or don't have the time to respond, but you should never only use automated responses. You should always jump in and take over the conversation in order to be able to show your true personality.
Something you want to also try to stay away from is making mistakes like Asos
….Or Domino's:
It's impossible to build relationships with someone if they are completely emotionless. Think about it:
How can you build a strong relationship with someone if they're not showing a single sign of emotion or empathy?
It's impossible!
Studies from brands like Forrester and The Corporate Executive Board and Google have shown the importance of building strong emotional connections with your customers.
In order to do this, you need to first show your own personality in every message you send, but you also need to get to know your target audience in order to send messages that better resonate with the people you are chatting with.
You don't want to use a sassy brand voice like Wendy's if your target audience consists of people that are 65 years old+ because they probably won't resonate with it.
4. Images
Images are great for empowering your message and making it more appealing and engaging.
After all, the brain resonates a lot better with images than it does with text. This is also the reason why emojis work so well.
Images are especially great if you want to show something quick and easy, for example, if your customer is struggling to do something.
It is also great when you have a limited amount of space, like Twitters 280 character limit.
5. Videos
What's even better than images?
Video!
If an image results in the statistics above, what about a vide that is filmed with 60 frames per seconds?
It's self-explanatory. In theory, that would mean that a 1-second video is 60 times more powerful than an image. Of course, this isn't the case, however, it is still many times more powerful than a single image.
It is far easier showing something using video, and it is far easier to convey your brand's personality using it.
Just look at Dollar shave club's video. There's a reason that it went viral. It resonated with their audience and was spot on in all other aspects of customer engagement.
6. Provide value
As a brand, you should always strive towards providing value.
Entrepreneur Gary Vaynerchuk even wrote a book on this subject called "Jab, Jab, Jab, Right Hook".
What does it mean? It means that you need to provide value (jab) time and time over, and then ask for a sale.
You cannot just approach your customers and ask them for a sale.
Think about it:
How likely are you to buy something if someone approaches you in town? Not very likely, right?
The best part is that you can provide value to your customer interactions on social media.
The content you provide your audience with social media needs to be genuinely useful to your customers. You cannot lead with products and then hope to drive sales. That's conversely. In order for your social media engagement strategy to bee a good one, it needs to be meaningful and actually give something to your audience.
For Dollar shave club, entertainment and a good laugh was their value proposition. And it worked extremely well!
Take a look at this quote from Vaynerchuk beautifully presented by Quotefancy:
It's the truth!
If you follow the rule of always providing value to your audience instead of driving sales, it will pay off ten-fold in the long run.
Essentially, what you're doing is that you're exchanging your customers' attention for attention. And when you have their attention, you can impact them over and over until they're ready to buy from you.
7. Build a community
Having a community as a brand is extremely valuable for brands. Instead of making your customers see you as just another brand, they feel closely connected to your brand, and ultimately, they become strongly connected to it. This means that they'll engage with you more, and they're going to actively promote the movement they're in.
Instead of just interacting with them one-on-one, you give them an opportunity to have a dialogue with other customers to share experiences and ideas.
Look at entrepreneur Andy Frisella's brand 1st Phorm's movement called Legion of boom. As a result, the customers of his supplement brand regularly share posts of them using the products on social media because they feel like they're part of something greater than just a brand.
They're part of a movement.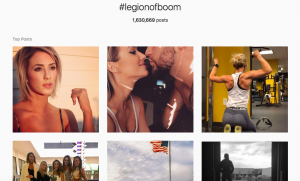 It encourages their customers to show their training journey and how they become the best version of themselves.
Social media expert Mohan Sawhney says the following about building a community as a brand:
"When customers engage with you on social media, you can leverage their loyalty to your brand. Many of them will be the evangelists that will help spread the word."
8. Be prepared to interact and always be "on"
Social media is open 24 hours, 7 days a week, all year, and this makes it vital for brands to be always online and ready to have a dialogue with your customers.
An important part of making your brand more appealing to interact with is to have quick responses.
People expect brands to respond within 4 hours, but unfortunately, the reality generally looks a bit different.
If you're taking too much time, there's a risk that your customers will go elsewhere. Possibly even go to your competitors, and that is something you want to prevent from happening. You want your customers to only want to be within your community and don't feel like they have any reasons to go elsewhere.
To do this, you need to make sure you're always ready to interact, but also make sure that you're staying relevant to your customers.
Customers have a short attention span and an even more limited patience, and by interacting with them whenever the opportunity comes around the corner, you can clench onto them and give them zero reasons to leave.
Marketing works best when customers have a genuine relationship with the brand, just like when you have a great friendship with a person. If you have built a strong relationship with someone, they wouldn't want to risk it by going to someone else, thus making them highly loyal to you.
Conclusion
Engaging with your audience on social media is so much more than just responding to your customers.
In order to leave a long-lasting impression so they don't forget you, you need to have a clear strategy and tactic on how you're going to deal with the messages you receive – as well as encourage people to chat with you.
The single most effective strategy for driving sales is to build relationships because relationships build trust and trust drive sales. In order to stand out from the crowd, and to break through the extremely tough competition, you need to be unique, and interact with your customers in a way that makes them have no interest in ever interacting with another brand again.