What is the best thing about social media in your opinion? I guess it's the fact that people have the choice and listen to you only if they want to.
What could this mean? That the visitors are either interested in your products/services or they just want to hear what you have to say. You are not pushing your messages to them. The technique has nothing in common with television, radio or newspaper ads.
The main question now is how to grow the number of your social media followers and engage with them.
Would you like to boost your influence? Then, you need to nurture your followers. One way to reach this is by claiming yourself an expert in your business. You do not have to know social media like the back of your hands for that.  
However, you need to know that social media influence is not a one-time thing. Do you grow plants? Growing your social media influence is similar to the process. A plant needs a lot of care, water, fertilizer, weeding, and cutting. Social media also needs your constant attention. Just like you can't grow your plant overnight, you can't build social media influence in a few days. It takes time.
I am going to give you 10 simple, water-tight tips following which you will be able to build your social media influence. Almost all of them are generic and can be used by anyone who wants to improve their social media influence.
Get to know people
If you want to add new followers and make the old ones stay, take your time to know more about people. It's not complicated, sometimes it's enough to ask them how their day was.
Note that you'll need followers to become popular on social media. So, it's time to start building your squady. Add your friends, add your industry peers, add people interested in your offer.
Run a blog, leave comments to other people's posts, try to be easily accessible to your followers. I am talking about real interactions with them, not just posting what you did or are going to do.
Track the trends
You need to pay attention to what people are talking about. Do you think you can contribute on that topic? Don't hesitate, just do it. Keeping conversations on topics that are popular in your niche is an excellent way to reach out to people and add followers.
I use Ahrefs Content Explorer tool to quickly find the most shared content in my niche.
This tool will find the most shared and the most "linked to" content on any topic across the web in an instant.
You can narrow down your search for the popular content applying various filters. For instance: publish date, number of social shares, language, word count, and so on.
Besides, you can see the social share graphs that show content performance on different social networks over time.
The tool has a comfy "Who tweeted" feature that will help you find influencers if you are going to run an outreach campaign.
Carry out contests, highlight events, and post news
People have a natural inclination for communication. Some people call it empathy. They want to celebrate holidays with you, get involved in what you do, etc. What you can do is carry out contests and regular events. Encourage the users to get involved. Don't be shy to share the latest company developments or your life events with them.
Hashtags will help you to build contacts
Use keywords and hashtags as they are popular tools to reach out to people on social media sites. Make sure that you take full advantage of them. Note how other people use hashtags and learn new ways of doing that. Be shrewd and you'll be OK.
Beyond any doubt, you should post original content. But never forget that other people also have curious things to share. Curate the posts and share them on your page but don't overburden your followers with posts. Be creative, yet careful about what you post.
Promote something you are good at
There is nothing bad in being a generalist. You have the freedom of posting anything you wish. But this model is not suitable for those who are running niche businesses. Are you one of them? Then, you cannot afford to be a generalist. You need to find some specific topics that are relevant to what you do and create posts on that. If you manage to become an expert on a subject, eventually people will start to trust you.
It's recommended to use social media measurement sites
You surely want to know how your social media activities are going, don't you? You can check this out regularly by signing up with social media measurement websites like Klout or Kred. They are pretty easy to use. Once you have signed up, you will get insightful reports on what you are doing right and what is not working.
Ahrefs Site Explorer can display you the pages which perform the best on social media either on your or any other site.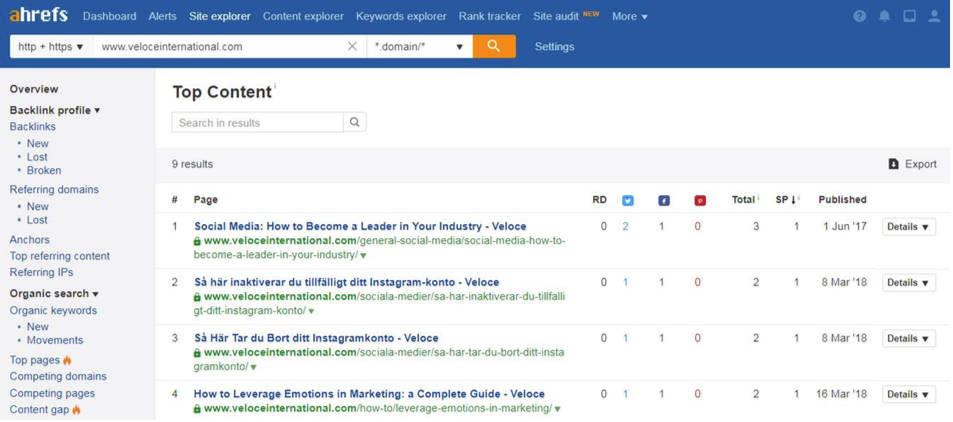 Want advice? Ask your audience
If you have just launched a new product or service, you would probably be happy if somebody wants to make valuable inputs on a specific issue. Why not ask your followers to share their thoughts? People like to demonstrate how smart they are and share advice. Apart from the inputs, you'll increase your engagement with your followers and add more people to your community using this tactic.
Mention influencers in your posts
When you deservedly praise posts written by other people on your wall or note high influencers names, it positively affects your social media authority as well. If you are doing this on Twitter, add @ before the influencer's name. Add + on Facebook and Google+ in front of the name. This will increase your social influence.
Cultivate relationships with your niche influencers
You surely understand that you are not the only person working in your niche. There are many others and some of them might be more influential than you. You need to maintain connections with these people. Being in friendly relations with you, they may mention you in their posts or share your content.
Personally, I use Ahrefs Content Explorer tool to find influencers in my niche, to figure out what content is hot in my industry, who is writing it, and who's sharing it.
Connect not only online but offline and through other channels
Don't limit your conversations with the audience to social media only. You can conduct a podcast, for example, or host chats on Google Hangout. There are plenty of other ways to connect with people. You can take part in radio interviews, post videos on YouTube, etc. All these efforts will help you boost your social media influence.
Want to know more ways to increase your social media influence? Take a look at what awesome things do other people do and try to adjust those techniques so that they worked to your social media influence improvement.
Over to you
Well, these were my 10 simple tips for building your influence on social media. Which of them do you use or going to try? Which of them do you consider the most efficient ones? Please share your thoughts/questions/experience in the comments.
Cheers & best of luck with your social media marketing campaigns!    
About the author
Helga Moreno is a passionate content creator and marketer at Ahrefs bold enough to believe that if there's a book that she wants to read, but it hasn't been written yet, then she must write it herself.