6 Smart Ways to Increase Organic Reach on Facebook
Struggling to grow your Facebook page in the pace you would like it to? Feeling the effects of Facebook's new news feed algorithm?
While many people are discouraged by slow growth and struggle with achieving the results they initially hoped for on Facebook, some are finding smart solutions and tricks to getting the most out of Facebook.
Just know that if your engagement on Facebook is declining, you're not alone. This is a common issue that many marketers and brands are struggling with everyday, even the professionals.
In this article, I'll therefore supply you with X Smart Ways to Increase Organic Reach on Facebook
1. Share content at non-peak times
The first point might be eyebrow-raising for many that have learnt that it is best to post at peak times to get the best results and this was true back when the competition was smaller on Facebook. But now, it is normally the opposite.
If you post your content at non-peak times, your content is more likely to stand out because your content don't have to fight for feed space. Shortly summarized, the competition of "feed space" among the recipients is lower.
Peak and non-peak times on Facebook are considered to be:
Peak: 6:00 a.m. to 3:00 p.m.
Non-peak: 10:00 p.m. to 3:00 a.m.
This is of course not written in stone and the peak times can vary. To know your peak times, you can go to the Facebook insights page and learn more.
2. Post personal behind-the-scenes content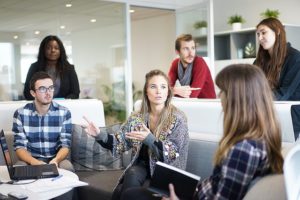 Posting personal content of you and your team helps create genuine connections between you and your audience.
This helps evoke feelings amongst the viewer which ultimately makes them more loyal to your brand and content, and maybe they'll even start sharing it with their friends- giving you a better reach and bigger organic growth.
Getting your followers to share your content with their friends is one of the single most effective ways to increase organic growth on Facebook so if you succeed with this, you are more likely to grow organically on Facebook as well.
3. Ask questions
Questions are great! Especially if they are targeted and engaging. The questions you are asking should be relevant to your audience and be easy to answer.
Facebook's algorithm takes this into consideration when deciding what people see in their feed because if they're recently commented and answered on a question from you on one of your posts, there's a bigger chance that your new posts will show up in their feed.
4. Don't promote too much
Making every single one of your posts into marketing posts with photos of products won't help you increase your organic growth. Only the opposite.
Your main goal should be listening to your audience. 80% of the content you share should be social and if it's not, people won't hesitate to click the "unlike" button on your page. After all, it's only a click away…
Don't build your Facebook page on promoting your products to the max, instead, focus on bringing value to your followers and starting conversations with you and you can be sure to increase your organic reach quite rapidly.
5. Post videos
The use of videos on Facebook has grown rapidly. Facebook has averaged +1 billion video views every day since June 2014 and the amount of videos being posted has grown by 360%(!!)
With the insights tool, you can get lots of info on how your post is performing to see what works well and what doesn't.
6. Don't overuse hashtags
Hashtags have existed on Facebook since 2013 but studies have found that posts that are using more than two hashtags receive less engagement.
Once particular study by Edge Rank Checker found that hashtags are reducing the organic reach on the pages they measured.
Try experimenting with hashtags and measure your posts success. Find the ultimate amount of hashtags for your page and stick to that.