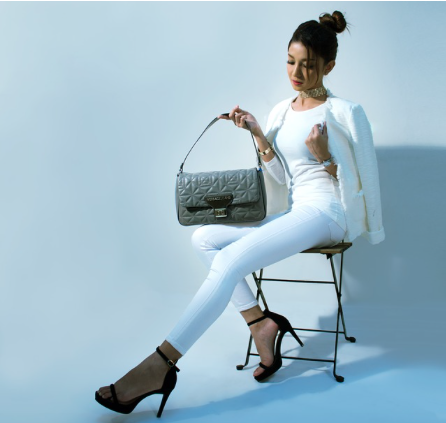 Do you have an eye for the latest fashion trends? Or even better, do you consider yourself a fashion trendsetter?
Do you look at the latest winter fashion offerings and feel you could've done a better job designing the latest pieces? Or are you so into fashion that you've already begun developing your own business?
If you answered yes to any of the questions above, you definitely fit the bill for an upcoming fashion designer. But getting into the design is much more than creating new clothing. You'll have to learn how to run a business if you're ever going to succeed where so many others have failed.
Azazie is an excellent example of a startup fashion business achieving massive success. You should pay attention to their website to get some excellent tips and ideas for your potential new business. Whether you decide to design wedding dresses, bridesmaid gowns, or something else entirely, learning from those who have succeeded before you is always a great way to figure out how to launch your own company.
With that in mind, we'll take a look at some exciting tips to help you develop a fashion business in 2019. Please use this information to the best of your ability whenever you're ready to get started.
Tip #1: Developing Your Own Fashion Niche
Attempting to target the entire fashion world is a surefire way to fail in this industry. Instead, you need to focus on developing your own fashion niche.
Like Azazie, the company mentioned above, you may decide to sell online wedding accessories and apparel. Or you might prefer to enter into the customized clothing niche.
Your options are limitless so focus on an area that excites you. Pick one where you believe you can thrive.
Most important of all, if you plan to really make it in the fashion industry, you're going to have to stand out amongst the crowd. Certain designers use specific signatures to bring them fame and fortune.
As an example, maybe you'd like to stand out socially by developing a production process that's economically responsible. This could make you famous and let the world know that you and your company are consciously creating products that they can feel good about.
Or maybe you prefer to excel in another area like creating interesting and exciting tote bags. Or maybe you're more into customized T-shirts. No matter what niche you decide to go into, just make sure you understand it from every angle before launching your business.
Tip #2: Get Intimately Acquainted with Your Target Audience
Most brand-new startups fail for one reason in particular. Care to take a guess what that is? They have no clue who their potential customer is. And it's a shame because this is exactly who you need to know if you're ever going to succeed selling fashion apparel.
As an example, if you're selling designer tote bags, who is your likely buyer? What are their favorite movies? Where do they spend their downtime? Will you find them in a dive bar or an expensive nightclub?
Think about your target market and create fashionable designs according to their tastes. This is the only way you'll ever succeed in this industry. So make every effort to get intimately acquainted with your target audience as soon as possible to achieve lasting success.
Tip #3: Learn Everything You Can about Social Media Marketing
In the fashion business, creating amazing designs is only one key to success. Being able to market those designs and get them in front of your target audience is also incredibly important. And social media is a great way to expand your reach and get your designs in front of your target clientele.
As you should know, every fashion business needs an online presence. This will help you get to know, like, and share your fashion designs with a wide portion of your audience. They are going to search for designs like yours online, so make sure your social media presence exists so they can easily find you.
Final Thoughts
As you've just discovered, developing a fashion business in 2019 is definitely going to be a major challenge for you and your staff. But it's a challenge worth taking because you'll be on top of the world when you break through the obstacles in your path and finally find yourself on the road to success.
Your dreams aren't going to get handed to you on a silver platter. You have to be willing to work hard to achieve them. So begin your fashion business today and enjoy the many wonderful successes life has to offer you in the near future.