How would you spy on somebody's messages? You could get to their mobile phone genuinely and read their messages. Too bad, this strategy is a little too risky. On the off chance that they see you, it could demolish your relationship with them. Additionally, it's not beneficial for the long haul.
The best option is to utilize a spy app to secretly view someone's message. These tracking apps are secretive and made for monitoring without getting caught. When you introduce a covert app, you can read somebody's instant messages without using the software.
Further, you can get to spy apps distantly from your internet browser. You don't have to be close to the objective mobile phone. Accordingly, spy apps are the ideal device for monitoring somebody's messages over weeks or months.
In this guide, we bring you five ways to read somebody's text messages without software and getting caught. All the apps highlighted here are client confirmed and dependable:
Cocospy is a mobile phone checking app with an incredible instant message monitor. A million+ people in 190 nations around the globe utilize the app. Worldwide stages, for example, Forbes, CNET, BBC, and TheGuardian, have included it. 
Cocospy makes it to the head of our rundown since it offers incredible highlights and is ultra-cautious. It helps that the app is client screened. Cocospy runs on both Android and iOS mobile phones and tablets.
You needn't bother with any exceptional abilities to utilize the app. Perhaps the best part is its secrecy mode. The client will never know it's there. You can utilize the app to monitor the client's messages without stress. 
Cocospy's iOS variant is a program based app. That implies you don't have to download or introduce it on the objective gadget. Additionally, rather than working with the gadget legitimately, Cocospy works with its connected iCloud account. 
As you don't have to introduce Cocospy on the objective iPhone and as it works with the connected iCloud account, the iPhone client can't identify it! You can monitor their messages from your PC or cell phone distantly.  
Top Features Of Cocospy To Rely On.
Here are a few features of Cocospy that can help you with the tracking process:
Keep An Eye On The Upcoming Messages
Cocospy permits you to monitor the client's messages and iMessage from your internet browser. You get regular updates, and you can even synchronize the messages progressively. Each text is joined by a period and date stamp.
Check Contacts
Who's messaging the mobile phone possessor? Cocospy permits you to know that. You can get subtleties like names, occupations, show pictures, addresses, email locations, and significantly more. 
Recover Erased Messages
What if the client has erased an instant message? You'll, despite everything, have the option to understand it. Cocospy backs up instant messages to your private record continuously. This permits you to monitor all messages, even the erased ones. 
View Media Documents
Is the client sending or accepting photographs, recordings, and sound documents? You can see them with Cocospy. In case it is something vital. You can also download them. 
Setting Cocospy On An iPhone Device.
Setting up Cocospy is exceptionally basic. You'll have the option to keep an eye on the objective's instant messages surprisingly fast. Keep a PC or cell phone prepared for downloading. In case you are setting up Cocospy on an iOS gadget, you'll need the iCloud subtleties. Follow these means to set up Cocospy:
Get a Cocospy account. You'll require your email ID to join. 

Buy a Cocospy month to month plan. You can keep an eye on a solitary gadget with Cocospy Premium. In case you need to monitor instant messages on numerous gadgets on the double, you'll need the Family or Corporate rendition. 

Check your email for the introduction guidelines. What you have to do first is picking your objective stage: iOS or Android. After that, adhere to the on-screen directions.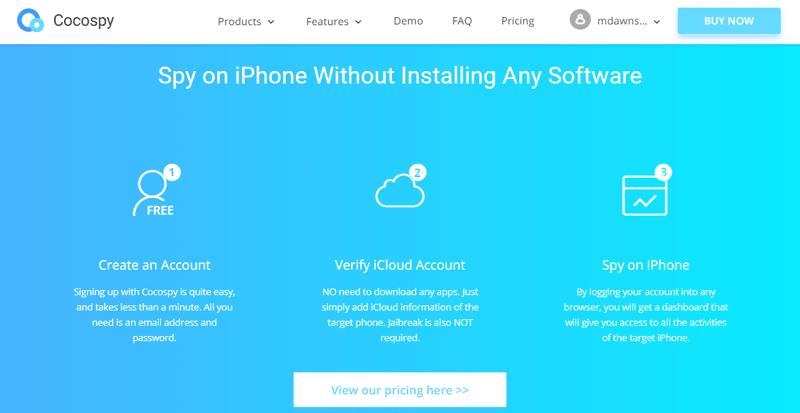 In case you need to get Cocospy working with an iPhone, enter the objective's iCloud credentials in the structure field on your screen. 
At that point, hang tight for 5 minutes until Cocospy adjusts with the gadget. 
Setting Up Cocospy On Android Device
When you need to set it up on an Android gadget, you'll have to get to the target phone for 5 minutes. 
 You'll need to download and introduce a 2 MB app on the objective gadget. At that point, stow away the app. Hold up 5 minutes until the app matches up with the gadget.

Make a personal Cocospy account.

Provide the Gmail ID and password of the target person you are spying on. After you wait for a little while. You will see that the target account is synched.
Congrats! You have set up Cocospy effectively. You are currently prepared to keep an eye on their messages. 
Sign in to the Cocospy dashboard from your PC or cell phone. This gives you a diagram of the mobile phone action. To monitor their messages (or iMessage), search for the "Messages" (or "iMessage") alternative in the board on the left.
The second app we have for you is called Spyic. It's number 2 on our rundown of the best content covert apps. It has an excellent reputation and offers dependable highlights. It's additionally simple to set up, also a light on the wallet. 
Endless guardians and bosses use Spyic to screen their Android and iOS gadgets. The app is regularly highlighted on news sources web-based, including some well-known ones like The Huffington Post and The New York Times. 
The third spot on our rundown goes to Spyier. The Spyier is a notable covert app for Android and iOS. It accompanies a smart instant message monitoring component. Aside from tracking instant messages, the app additionally offers a full scope of mobile phone tracking highlights. 
Here is a portion of the Spyier features: 
You can install Spyier and get to it from your internet browser. 

Spyier is a real app that is utilized by incalculable individuals around the world. 

Spyier is a ground-breaking instant message monitor.

Minspy 
On the number 4 spot, we have Minspy. This is a top app that is known for its online network tracking support. You can utilize Minspy to monitor somebody's messages too. 
The app has the following features:
Minspy will work with target Android and iOS gadgets.

It monitors somebody's messages distantly.

It makes screen captures of somebody's messages.

Spyine 
Spyine permits you to monitor somebody's instant messages without contacting their mobile phone. You simply need to set up the app. It works with both Android and iOS stages. 
Spyine offers extraordinary highlights:
Spyine permits you to monitor messages and iMessage.

The app shows you the objective's media records and online networking actions. 

Spyine is budget-friendly

Spyine is a dependable app, yet its lofty asking value makes it difficult to suggest.
The Bottom Line 
We have enlisted in five different ways you can spy on someone's text messages without software. This rundown will save you time as well as energy. Cocospy out of all these ways is our preferred technique because the app is very trustworthy and user-friendly. We chose our favorite spying app, now it's time for you to choose yours.