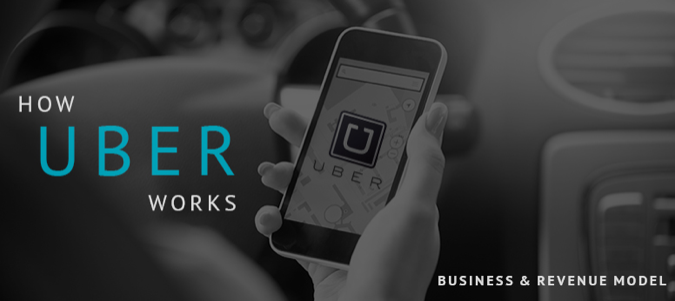 Uber is a popular on-demand transportation service that brought a revolution in the taxi industry across the globe. How did they do it? And what we can learn from the Uber business model? As it turns out there is a large amount of data being collected, produced and visualized behind the scenes- powering the efficient company and impacting transportation revolution as a whole. Let's take a closer look into how Uber work does and what made it reach there. 
What is Uber and how does it work?
Uber is a taxi booking application that offers on-demand services to the users who are in need of it. Uber doesn't own cabs, but it simply connects taxi drivers and customers through their mobile application, allowing users to book a cab with a tap. 
Currently Uber operates in over 200 cities covering 55 countries. It provides an easy, fast and more comfortable way of connecting both buyers and sellers. Uber earns from the commission paid by each party in return. This decade-old year company was started by Travis Kalanick and Garrett Camp at a time when it was quite difficult to hire normal taxis in peak hours and outrageous pricing patterns solely decided by drivers.  
Booking a ride from Uber is defined by its simplicity- Open the Uber app, set up your pickup location, know the estimate, request a car, start your ride. Pay with a button click using convenient payment methods. 
However, there is a great deal of work going on to make all of this happened in a smooth way. Add to the fact that most of these are out of Uber's control with increased traffic jams, uncooperative drivers, poor transportation infrastructure of a city, etc. Despite these setbacks, the brand has changed the way transportation happens and is set to bring in more changes as the services come to more cities. 
What happens behind the scene?
Uber maintains a huge database of taxi drivers and as soon as a user requests a cab, Uber's algorithm starts working. In 20 seconds or less, it finds you a driver who is nearby your location. In the background, Uber collects and stores data for each trip take- yes, even when the driver has no passengers. All these data are securely stored and retrieved to predict supply and demand deciding the fare (including the surge price). 
Uber not only collects the information about the vehicle and the location of a driver, but it also monitors their speed and acceleration to ensure passengers are having a safe journey. 
Uber Business model
What worked for Uber is its effective business model, read to explore more about Uber business model. 
Cab drivers
Anyone with a car and a valid driving license can apply to be an Uber cab driver. On successfully completing the screening, the driver is enlisted in Uber's drivers list. This is an excellent way to earn a steady income for anyone who owns a car without any additional investment.
Passengers
Users can down the Uber app, register and start using the app right away. When they need a cab, they can call a taxi immediately using the app. You can see the fare estimate and track the taxi on your smartphone as it approaches. This service isn't just convenient for passengers, but also allows them to enjoy a low-cost comfortable riding experience. 
Fare and payment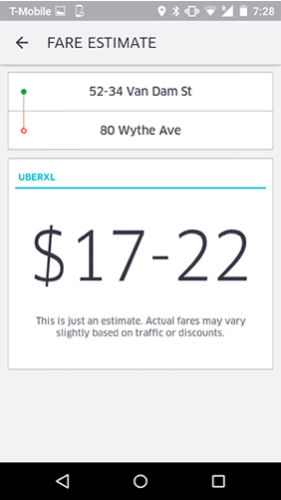 Uber automatically calculates the fares based on the distance, available drivers and the demand at a given time. Fares rise during peak hours, and during normal times you can enjoy flat rates.  Uber makes it easy for passengers to pay through online payment methods like credit cards, mobile wallets, etc. The fare is based on the car type as well and the payment is processed by secure payment gateways. 
Dividing the profits
Uber generally divides the fare, which is generally, 75% to the driver and 25% to Uber. Even with a 25% deduction, cab drivers earn much more than normal taxi services. 
In some cities, the percentage is different due to the competition from similar services. 
Revenue Model Uber Follows- How Uber Makes Money
The cash collected from each ride is the primary source of revenue for any cab service. However, Uber's revenue model is based on various different factors. The main source of income is through a passenger's trip commission. When it gives 75% of the total fare to drivers, 25 % goes to its share. The company at the time charges 1.5X-3X or even more when the demand arises. 
The cancellation fee generated whenever a passenger cancels the ride from their side without any genuine reason, the amount goes to Uber. Uber's revenue model is as unique as its innovative business model and is as follows.
Different cab types
What makes Uber special is, it is not limited to a particular type of cars or to a certain segment of passengers. There is UBER X, Uber SUV, and Uber black and Uber taxi for those who look for cost-effective solutions. 
Surge pricing technology
The surge pricing technology works this way- Higher the demand, higher the price. The pricing algorithm of Uber automatically detects situations of high demand clubbed with low supply and hikes the price. The price hike depends on the scale of the shortage of drivers available in a particular location. The high prices are also to make drivers accept the ride. Uber has also got a patent for surge pricing verification. 
Other Uber services
Uber has come a long way from just offering cab booking service. Uber now offers helicopters, Boats and other on-demand services. Currently, it is testing on an on-demand staffing service called Uber works. 
They have a motorcycle pick-up service in Paris, delivery service in San Francisco, and many more, but these services are limited to a few cities. 
Promotional partnerships
Due to its vast user base, Uber attracts partnership offers from big brands that look for implementing new marketing strategies. The Uber business model generates revenue from promotional partnerships. In the past, Uber has partnered with Spotify, Hilton, BMW, Pepsi, etc. as a part of their marketing campaigns. Such collaborations would result in a win-win situation for all.
Passengers benefit from offers and free trips offered as a part of these campaigns.
Uber gets money from brands for partnership.
The brand collaborating with Uber gets an opportunity to reach to a huge number of audiences.

 
Key Points to Adopt Uber Business Model for a Similar Business
The success of over has provoked numerous businesses to step into on-demand economy. Here are certain aspects to get inspired from Uber-success story if you would like to create a similar business model.
Choose a niche- Think about the common issues that exist. Find an innovative solution to disturb the existing model through modern technological infrastructure. That's exactly what Uber did.

 

Leverage the infinite scope of the internet to grow your new business.
Treat your initial users as kings. They are extremely important for your business growth.

 

Opt for less ownership model- Uber doesn't even own any cabs, but still offers over 1 million rides a day through a partner network.

 

Expand step by step- Don't try to build a full-fledged business model initially Build a basic framework and add to it.

 

Publicize maximum- In the initial days when it started out, Uber approached corporates and brands to expand their customer base and it actually worked.

 
Conclusion
Back in 2009, Uber started out small, but after the monumental success in San Francisco, they expanded themselves to different countries and cities. There is no doubt that Uber brought a revolution not just as a cab service, but as a milestone business model. Many start-ups have already made similar apps like Uber using Uber clone script, and you can also launch yours in various industry verticals as you have a clear vision about how Uber become an epic pioneer in its field.