Top 10 Accounts With The Most Followers on Instagram
The top accounts on Instagram have quite the follower count. While some are struggling to reach 100K followers, others are growing that number each day.
Not quite the surprise, right?
Instagram strategically places suggestions of recommended accounts that you should follow, and of course, Instagram always places themselves there. Their massive follower count isn't necessarily because they are sharing the most content, but because they are getting the most exposure.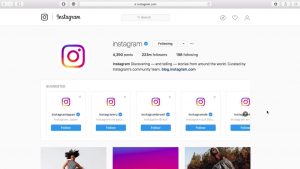 They built the platform and they have full power over it. If they wanted, they could make everyone follow them by default and give them no option to unfollow them. However, that would make Instagram look like a dictator.
Selena Gomez is the second most followed account on Instagram, but she is the most followed account that belongs to a person. As you can see, the numbers in followers differs quite a lot from the first and second place, because Gomez doesn't have the leverage Instagram has.
Al top three accounts are from the USA, and the accounts in second and third place both belong to females who are musicians and actresses. While there doesn't have to be a correlation, it could potentially indicate what type of celebrities have the biggest interest from the public.
4. Christiano Ronaldo – @Cristiano
On the fourth place, we have the first male on the list of the top 10 most-followed accounts on Instagram. Cristiano Ronaldo is one of the most famous football players in the world, and that can be reflected in the number of followers he has on Instagram.
Instagram currently holds the place as the fifth most followed account and person on Instagram. What's more, Beyoncé also holds the current record of the most liked photo on Instagram which is her pregnancy announcement. Her post has been able to accumulate over 11 million likes
In 2015, Swift was the most followed account on Instagram, but as you can see, a lot has changed since then. This is proof that the list of the top 10 accounts will not look like this forever. Chances are that they only look like this for a short period of time.
Kim Kardashian is the most followed person in the Kardashian family. Maybe it is because she is the most famous among them, and maybe it is because she is highly active on the platform. More likely, it's a mixture of both.
Following closely behind her sister is Kylie Jenner in 8th place. Kylie is regularly sharing posts on Instagram – both daring bikini pictures and stylish outfits.
9. Dwayne Johnson – @TheRock
The rock is an actor and professional wrestler. On his Instagram, he shares motivational videos where he brings his audience behind the scenes and into his life.
In 2014, Justin Bieber was the most followed account on Instagram, but in 2014, Instagram ran the "purge" which removed all the fake accounts on the platform, making people (including celebrities) lose a ton of followers. But some more than others. After the purge, Kim Kardashian, who lost fewer followers than Bieber, stepped in and grabbed second place.
Conclusion
What is interesting to see is that all accounts (except one) are accounts belonging to celebrity personalities. There are no accounts in the top 10 that belongs to someone who has built their fame on social media like an influencer.
For the people on this list, it has been the other way around where they have first built their fame and then hopped on different social media platforms – having their fans following closely behind.
What's also interesting to note is that among the top 11 most followed Instagram accounts are 3 Kardashians. If you look at the top 22 most followed Instagram accounts, there are 5 Kardashians. This just shows the huge empire the Kardashians currently has.