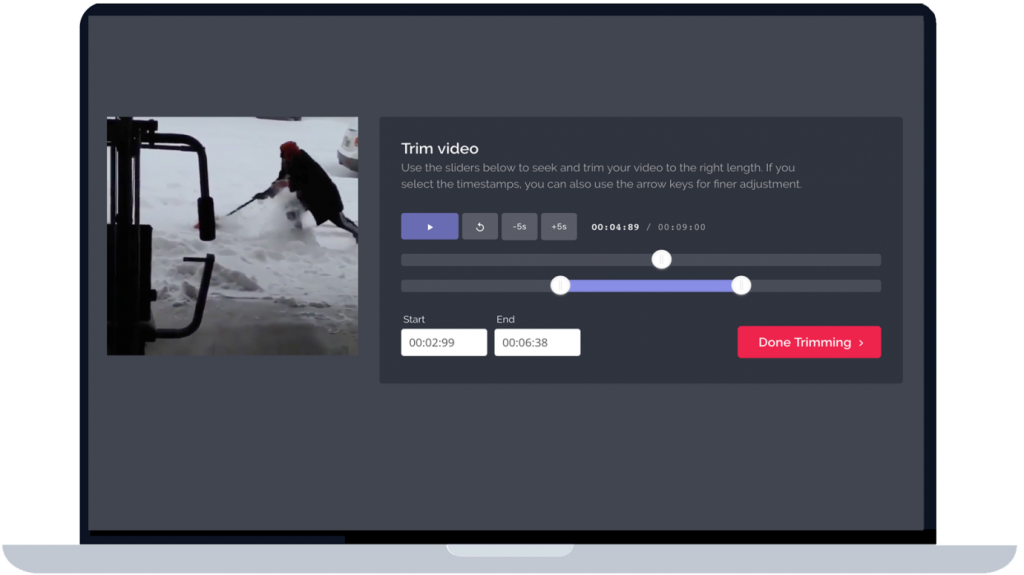 It's a rare person who has never used video maker tools. Now that social media websites are making massive inroads into our lives, more and more users choose to try their hand at making and editing videos. It's not necessary to hire professional video editors and videographers to produce high-quality content. Moreover, you don't need to invest in expensive equipment to produce a video clip or make a slideshow. 
Currently, the online video editing market is overflowing with offers. There are plenty of video editing tools that allow you to make any changes to your video right in your browsers without the need to install software. And Fastreel by Movavi is no exception. In today's post, we're going to tell you how to get the most out of Fastreel and turn your videos into visual art masterpieces. 
Create Videos
To make an eye-catching video with Fastreel, you need to upload your movie or photos by selecting the 'Add Your Files' option. Next, select the transition type, set the length of display time for your slides, add audio files either from your own collection or Fastreel free built-in library, and select 'Continue.' 
Note that you'll need to repeat the same procedure to make a slideshow.
To save the new video, tweak the required export settings, and hit 'Download.'
Compress Videos
To compress a video, you need to choose an appropriate compression level and select the 'Continue' option. In about a minute, the program will notify you of having compressed your video.
Cut Videos
There are times when you may need to trim your video or clip some fragments out of it. That's when Fastreel online video cutter comes in handy. All you need to do is select the section you want to cut out by moving the red markers to the required point. Then, click the scissors icon to trim your footage to the desired length. 
Hit the trash can icon to dispose of the unnecessary parts of your video. 
Click the familiar 'Continue' and 'Download' button to get the output video. 
Crop Videos
To crop a video with this software, specify the desired dimensions and aspect ratio. View the end result using the preview feature not to delete important parts of your video. 
Once you're done cropping, click 'Continue' and 'Download.'
Change the Video Speed
You can also speed up or slow down your footage. To do this, choose the desired speed among the 8 speed modes available and select the 'Play' option. By doing so, you'll be out to check out your output video and decide whether you're content with its quality. 
After that, you may click 'Download' to save the new file. 
Merge Videos
Online video merger is an excellent tool wherewith you can quickly combine several video files in a couple of clicks. Add transitions and select the desired style from the drop-down menu. Then, choose 'Continue' to start the merger process. Hit 'Download' to enjoy your new video. 
Mute Videos
Also this online video editor can help you remove audio from your footage without detracting from the original video quality. 
Open the video file you want to silence and choose the desired resolution quality (high or low). At this point, the app will start removing the audio track from the uploaded file. 
When the process is finished, click 'Download.'
Resize Videos
Want to resize your footage online? It's not a problem. this program can scale various video formats and thus help your video products fit different frames, devices, and platforms.
After uploading your video file, select the required aspect ratio. You can also choose whether to keep the original canvas or trim your video. Click 'Continue' and then select the 'Download' option to save and get the resized version of your video file.
Why Use Fastreel?
So, what sets the Fastreel online editing tool from its competitors? Are there any drawbacks to this video editor? Let's see. 
Pros
No need to install cumbersome software

 

Plenty of useful editing features

 

Extensive collection of

 

intro, outro, advertisement, birthday, and graduation templates

 

Intuitive interface
Free built-in music library
Cons
Cannot upload files exceeding 500 MB
Only one output format (MP4) available
Limited number of input formats (MP4 for video; MP3 for audio; JPEG, PNG, and GIF for images)
If you're looking to create truly unique videos that can come a long way towards helping you win over new customers, followers, or subscribers, it's high time you started using Fastreel.