Grenada is an island country in the Caribbean. The tropical climate and beautiful landscapes provide the attention of tourists almost all year round. However, tourism is not the only source of external financial inflows. The local government established a comfortable banking environment for offshore business in 1996. They created an investment program, which was improved and relaunched in 2013, to show that they are interested in foreign investors.
Benefits of Grenada citizenship
Nowadays, the Grenada passport is considered one of the most popular in the Caribbean Basin due to a large number of advantages. Businessmen, investors, managers, bitcoin enthusiasts are interested in local citizenship due to favorable tax conditions. The country doesn't have a gift, capital gain, inheritance or world income tax. Besides, residents of the country can apply for an E-2 visa (only a limited number of countries have a special agreement with the US in order to apply for this type of visa) by purchasing/establishing a business in the US.
Being a citizen of Grenada is also beneficial for these reasons:
visa-free travel to 144+ countries, including China and the Schengen countries;
long-term visas for up to 10 years to the US and Canada;
benefits from the fact that Grenada is in the Commonwealth of Nations;
favorable conditions of Grenada CBI;
opportunity to return the investment under certain circumstances.
The government of Grenada also issues a local passport to the whole family of the one who applies. All participants of the program should have no criminal records and bans to visit the USA, EU countries and Canada. The process of gaining second citizenship is entirely confidential.
How to make Grenada citizenship by investment?
The process of gaining the second passport in Grenada by investment lasts from 4 to 7 months. Delays are also possible. Visiting the country is not necessary as everything should be done via special agent. You can't apply for citizenship online or in person. You can choose one of the available investment methods:
Donation to the local fund. The minimum cost is $150,000 for 1 person and $200,000 is for a family of four.

Purchase of real estate for $350,000 or for $220,000 (this option has special conditions). You must choose from a list of government-accepted projects. The program allows participants to sell the item after 4 years. Other Caribbean countries offer similar conditions but the owning period is 5-7 years.
Before you apply, you must prepare all necessary documents (Migronis experts can send you a check-list) and arrange notarization. All papers must be translated into English. The process of obtaining a Grenada passport is not complicated but requires scrupulousness and some legal knowledge. But you don't need to spend a lot of time studying Grenada CBI program rules as such professionals as Migronis will take care of everything.
The company has extensive experience in submitting cases to the Grenada CBI Unit. The company provides assistance at each step and even after you get your passport. They have their own qualified specialist in Grenada. To find out more about Grenada CBI program visit their website migronis-citizenship.com/grenada . There you'll learn the details of the process and be able to calculate the amount of money you'll need for participation.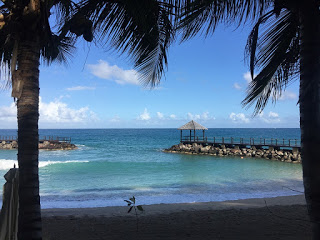 All you need to know about Grenada
English is the official language in Grenada but local residents also speak West Indian French. The capital is St. George's. The country is considered to be part of the Commonwealth of Nations and is governed by Queen Elizabeth II.
Tourists prefer local resort areas such as Grand Anse and Morne Rouge which consist of endless beaches and cozy hotels. This is a great place for those who love privacy, not only for vacation but also for life. The island is full of diverse locations, including rainforests, waterfalls, mountain ranges, and beautiful bays.
The economic situation in Grenada is stable and is maintained mainly due to tourism and service sector. Agriculture is also important. Bananas, citrus fruits, cocoa, sugar cane, and textile products are the main export goods.