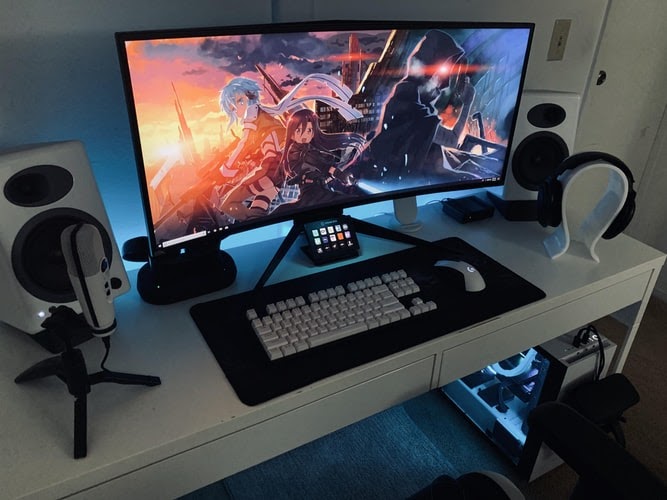 You enjoy gaming, and you consider yourself fairly proficient. However, no matter how much fun you have playing, you cannot help but wonder: could your gaming experience be enhanced somehow?
In response to this question, our answer is a resounding 'Yes!' As a matter of fact, there are many gadgets out there that can help you take your gaming to the next level. All of the necessary components, such as a computer HDMI cable, may seem unnecessary but are still equally important to custom gaming controllers.
Together with everything else in between, all of these possess the ability to enhance your gaming experience. So whether you're shopping for yourself or gifting them to a friend, we've selected 6 of the best gaming gadgets available today. Learn more and get ready for an exciting new gaming experience!
It is important to have a comfortable experience whether you are using a console or a computer. Therefore, you should invest in a gaming chair that is appropriate for your setup. The right kind of PC chair can prevent you from suffering from aches and pains during hours of gaming. Your chair should support your back and allow you to rest your feet on the ground, as well as have sides where your arms are kept at (or near) right angles.
Similarly, console gaming chairs may provide you with the ability to position yourself to view your television without straining your neck while still maintaining a comfortable sitting position. Additionally, they feature in-built surround sound speakers that can enhance your enjoyment of multiplayer games.
The majority of gamers believe it is worth the investment. Standard mousepads are great for regular applications, but hardcore gamers require better tracking and control. Although a regular mouse pad may not be bad, a high-end model provides better tracking and less friction for greater precision. The fun part is that you can customize your own playmat to suit your preferences. In addition to deciding the size of the mat, you can also print custom images on the mat for added aesthetic appeal.
A gaming mouse is a must-have gadget for those who prefer to play games on a PC. You will not have to be concerned about wrist pain even after extended gaming sessions since this gaming mouse has been ergonomically designed for maximum comfort.
In combination with a larger custom mouse pad, the structure of the mouse allows it to move quickly, so you can respond promptly to any challenges that may arise. In addition, you can customize the buttons based on the type of game that you are playing. By doing so, you are always guaranteed to be playing at your best and that your gaming experience will never be mediocre.
Although standard gaming console controllers operate quite well, is that really what you are looking for when it comes to gameplay? Custom controllers allow you to customize everything from the color scheme and design to the buttons and joysticks, enabling you to create a customized device tailored uniquely to your gaming needs. When you purchase a high-quality custom controller, you will wonder why you were ever without one!
As soon as you upgrade your graphics driver, your games will appear better than ever. With graphics drivers, your game will experience the high-quality graphics and smooth gameplay you desire. You will experience improved performance, faster loading times, and improved graphics. You may find that a new graphics driver answers your problem if your game is running slowly or the graphics are becoming shoddy.
If you have not yet purchased a gaming headset, when will you do so? With this device, you can experience gaming in a new way, in ways that you never imagined.
With the immersive sound system, you will interact with your friends quickly and easily in multiplayer games. You will also be able to hear everything around you, making it feel like you are in the game. In addition, some gaming headsets offer a microphone that can be turned up and down to accommodate solo and multiplayer games.
During the past few years, gaming has experienced rapid expansion, and the need for high-tech gaming peripherals has also increased along with the development of new and advanced games.
There is fierce competition among manufacturers of gaming peripherals to provide the best performance. The items listed above are some of the most important gaming peripherals that will enhance your gaming experience considerably, so we recommend investing in any or all of them.