Social Media Marketing Made Simple for Beginners: How To Do Social Media Marketing
Social media marketing has exploded in popularity over the last couple of years.
What was only a few years ago something considered to be a fad by many people has not become an important part of even the largest corporates' marketing strategy.
And when looking at the statistics about social media, it's no surprise that the money brands spend on traditional display ads is decreasing at a rapid pace.
In fact:
As a result, the money that used to go to traditional advertising is instead being put on social media marketing – that is now more popular than it has ever been. And it doesn't look like this trend is slowing down anytime soon.



I could go on forever about the statistics of social media marketing, but instead, let's focus on how you can start using social media marketing and succeed, establish your own social media presence, and build a social media presence that drives revenue and generates results.
However, if you want to dig into more statistics, here you go: 51 Powerful Social media And Marketing Statistics You Need to Know.
You probably know how big social media is, and frankly, that's probably the main reason to why you are here.
When over 3.028 billion people are active social media, it is no longer a fad. It is here to stay. Especially when you consider the fact that the Earth's  population is estimated to be 7.524 billion people.
And for brands, social media is no longer a choice. Sure, it's a choice, but behind that choice also lies "Do you want to win or lose? And do you want your competitors to surpass you?"
I think the choice is quite clear. And luckily for you, that's probably also the reason for why you are here!
And to you, I give a warm welcome!
When you're digging into a new area without any background knowledge, it is important that it is first made simple so it doesn't get too overwhelming. Therefore, in this article, social media marketing is made simple.
Let's not let your competitors surpass you anymore and waste any time. Social media is a quickly evolving landscape so that's why I suggest that we jump right in.
Hold on tight, because I promise you, you'll learn a lot and by the end of this article, you'll know the ins and outs of social media marketing and how to succeed with it.
What is social media marketing?
Let's start with the obvious.
What is social media marketing, really?
You probably have an idea of what it means, but can you define it? And what does it mean, really?
Well, according to Wikipedia's definition, "Social media marketing is the use of social media platforms and websites to promote a product or service."
And that's true, absolutely, but there's much more to it than that!
According to Margaret Rouse from Whatis, "Social media marketing, also known as SMM, is a form of Internet marketing that utilizes social networking websites as a marketing tool. The goal of SMM is to produce content that users will share with their social network to help a company increase brand exposure and broaden customer reach. "
Now we're starting to get to the core of social media marketing. Social media marketing, is in its purest form, as all other successful marketing about providing value to your audience.
You cannot simply create a social media account and wait for the results to start rolling in. It just doesn't work that way.
Instead, you need to produce and provide your audience with content that brings them value, that impacts them, and that makes them want to come back for more. In other words, engaging content.
There's more…
You need to do this consistently time and time over in order for it to have any real effect.
Social platforms
You're probably already familiar with the most popular social media platforms – even if you are new to social media marketing and social media as a whole.
Facebook, Instagram, Snapchat, and  Twitter…
But are these all?
God no!
There are hundreds and hundreds of social media platforms at your disposal. The only challenge is deciding are suitable for your brand because obviously, you cannot use them all. An important key to succeeding with social media is not stretching yourself too thin. What's more, every year, new social media platforms appear, while a similar number of platforms more or less disappear.
But no matter if you're planning on using other, less well-known social platforms with fewer users, it is strongly recommended that you establish a presence on one or two of the most common and popular ones because that's where the majority of your users will look for you.
Just look at Coca-Cola. In 2014, it spent $3.499 billion on advertising but despite this, they're not using every single social platform they can find. Now, obviously, the majority of this budget did not go towards social media marketing, but still, they invested more money than most of us can ever imagine doing, in it.
Most of their focus goes towards Facebook:
(surprise)
Instagram:
YouTube
And Twitter:
As well as a few other social platforms.
When deciding platforms to focus on, you want to ask yourself a few questions. All social media platforms aren't created equal, and your choice of platforms should reflect what kind of objectives you have and what type of content you plan on sharing.
Who is your target audience?
All social platforms have different demographics, and obviously, you don't want to be using a platform where your target audience isn't to be found. That would be a waste of efforts and resources.
Pinterest, for example, has user based that consists mainly of women. in fact, 81% of Pinterest users are females So if you are a brand who sells underwear for men, for example, it probably isn't a very good idea to use that platform.
What is your objective?
Different platforms are great for achieving different goals, as seen in the visual above.
Facebook is, as you can see, good for building strong relationships, and if your goal is to build strong relationships with your audience, then Facebook is a platform you want to use!
What content will you focus on?
More correctly, what type of content are you good at creating? Because those two things should be the same. You don't want to be doing something you're bad at.
Most platforms focus on one type of content. Instagram, for example, is almost solely focusing on photos, but they also support videos. It's not possible to share a post on Instagram without a visual. Therefore, if you're not very good at creating visual content, then maybe you should focus on a platform that is dedicated towards written content instead.
YouTube is a platform that is solely focused on video so if you can create kick-ass videos, then do that!
Terms and phrases
If you're new to social media, the vocabulary can be a little intimidating. I know when I first started, I had no idea what people were talking about when using different words I had never heard of and had no clue to what they meant.
For me, it was like learning a completely different language, but by learning the most common words and phrases, you'll have a great foundation to stand on and you'll come a long way.
Let's focus on some words that you actually do need to know:
Engagement
This is a word you'll come across often on social media. The term engagement refers to the interactions you receive on your social media posts. It can be a like, a share, or a comment.
The better engagement you have, the more engaged your followers are in your content, thus showing that you've done a good job appealing to your audience as well as targeting relevant people. In reality, follower count means nothing unless your audience is engaged with your brand and the content you share. If you have 100K followers but receive zero engagement, there is literally no point of having them because they don't do anything for your brand.
Content
This is not the most complicated term on social media. The word content refers to everything you share on your social media account. It can be written content in the form of a short Tweet, it can be visual content in the form of a video on YouTube, or it can be an image on your Instagram.In other words, everything that people share on social media – including you.
The type of content that is most common on social media is visual content and written content.
Social platform
A social platform, also known as a social network is a "web-based technology that enables the development, deployment, and management of social media solutions and services."
Social media services, such as Facebook, Instagram, and Pinterest are all social media platforms.
Hashtag
Hashtags have quickly gained popularity from first being introduced on Twitter in 2007. Hashtags offer a way for you to sort your posts into different categories with the help of different keywords with a # symbol in front of it, allowing other people to find your post – leading to more visibility.
Hashtags are now part of many of the top social platforms such as Twitter, Facebook, Instagram, Vine and many more.
More resources for hashtags:
User-Generated-Content (UGC)
User-generated-content is exactly what it sounds like – content that is created by users rather than by the brand. UGC can be anything from a customer review to a photo of a customer who is using your products. In marketing, UGC holds a great power due to the fact that it is genuine and authentic, created by customers without an agenda, and this is why UGC is such an amazing type of content that you can implement into your social media content strategy.
Algorithm
An algorithm is something that decides something for us. It is a computer that is developed to perform a certain function. In social media, the word algorithm refers to the way content is presented in our news feed on various platforms.
Because so much content is being shared, it is impossible for us to see everything, and therefore, many of the top social platforms (Facebook and Instagram being two of them) have developed algorithms that present content in your feed based on a variety of different factors. The word that describes this type of algorithm is relevance. These algorithms are developed to present you the content that it thinks that you will find most relevant.
As someone who uses social media marketing, you need to understand how the different algorithms work so you can get them to work in your favor.
Related: The Complete Guide To Instagram's Algorithm Feed (Everything You Need To Know).
What content should you share?
This is a common question that is being asked by amateurs as well as experienced marketers that use social media marketing.
A common misconception and mistake are that you should use social media for promotional content. You're using social media for marketing your business, so why wouldn't you want to crap every drop of marketing juice from it?
And at first, it might seem like a wise approach but the only problem is that it isn't the way social media works.
This brings us back to what talked about earlier in this article: providing value.
Brands that have got it all wrong are bashing out promotional post after promotional post because, in theory, that's how you get the best results. But things are different with social media.
There's a reason for why display ads have lost power. People have started to develop what is so-called banner blindness. This means that you're consciously or unconsciously ignoring banner-like information while browsing websites.
According to Infolinks, the average user in the US sees 5,709 ads per quarter. The result of this There's a reason that the click-through rate of overall ads has been continuously decreasing from 44% on the first banner ad to less than .06%
That's not all:
Eventually, people will get tired of you showing your ads down their throats every single day. People can sniff promotion from miles away on social media and if they do, they quickly run the other way. Things are different with social media. Generating great marketing results isn't about posting as many promotional posts as possible. It's about building a community, building relationships with your audience, and most importantly, establishing trust.
If you follow social media marketing's main rule of providing value, you'll soon notice that you'll generate far greater results than you'll ever be able to do with your ads.
Luckily, social media is, in general not yet as infested as other places like websites with banner ads which means that its users will be far more responsive to them, but really, the key to generating great results from your marketing, apart from providing value with your content is to integrate your promotional messages in a discreet and seamless way with the rest of your content that isn't promotive. The type of content that instead, you guessed it! Provides value.
The beauty of social media is that you can come around the huge issue with the ever decreasing efficiency of banner ads with a strong social media strategy, and more importantly – a strong content strategy.
Okay, so I've made it quite clear that promotive posts aren't the way to go. Does this mean that you shouldn't post promotional content at all?
Of course not.
Instead, the 80/20 rule is often spoken about. This means that 80% of the content you share on social media should bring value to your audience and 20% of the content you share can be promotional content.
Of course, the best is if you can mix the two and provide value with content that is also promotional, but that's something that is very difficult to do, and since this is a beginner's guide, I'll save that for some other time.
Content that brings value
There isn't just one type of content that brings value. What one audience might consider being valuable for them might be completely irrelevant to another audience, and this is also the reason why it is important that you know your target audience and optimize your content for the people you are actually trying to reach, so that it is as appealing, engaging, and interesting as it can be to them.
The most common ways that brands bring value with the content they share are:
Humoristic content
This type of content brings value in the sense that it makes your audience laugh.
Adjacent content
This is content that is related to your industry. If you area brand within the fashion industry, there's a great chance that the people who are following you are interested in everything around it such as trends, events, or industry news.
How to's and tips and tricks
Teaching people something is extremely valuable. When you do, people are more likely to remember you because they will be thankful for what you taught them. There's a reason to why brands like The Keto Box are so appreciated on their social media because they regularly share recipes on how to make different types of food. And since they are a business that is in the food industry, and the guides teach their audience how to make food, it is content that their audience cares about, thus resonating well with their potential customers.
How often should you post?
This is another question that is often being asked.
Want to have the boring answer? It depends.
But we don't satisfy with that.
The numbers of posts you should share depends mostly on the social media platforms you are using, but also on a  few other factors as well, such as your target audience and the type of content you share.
This is how many posts you should share on some of the most popular platforms, according to Buffer:

Obviously, this is just an estimate, and the ideal number will differ between brands. My best advice is that you experience and use these numbers as a starting point in order to find your ideal number of posts.
Before you get a hand of it, sharing these many posts can be overwhelming – especially if you are active on a lot of social platforms. This is also one reason to why I said that you shouldn't stretch yourself thin, previously. You'd rather generate great results on a few platforms than average results on many.
Whether you share one or three posts per day, I leave completely up to you. However, the most important part is that you are consistent and share posts regularly.
Social media is "always on" which means you have to be, too!
You can't afford to skip a week of posting because when you finally come back, people will have forgotten about you, and it will be harder to get to the position that you were when you didn't post.
Sounds tough?
Sorry to tell you but anything worthwhile is hard. Luckily, your job can be simplified a lot with the help of a clear social media strategy. By having one, you'll save both time and effort.
And as kind, as I am, I'll tell you exactly how to develop one.
Developing a social media strategy
It is recommended that all brands using social media for marketing have a social media strategy in place.
A social media strategy works like an instruction that tells you what you want to achieve, and how you should do to achieve it.
Think of it as a blueprint for building a house. You might be able to build a house without it, but it will take more time and the outcome won't be as great.
In other words, you're not reaching your full potential and get the best results. The same goes for social media marketing.
A good social media strategy contains these parts:
What are your goals?
Identify your target audience
Develop a customer persona
Decide on your brand personality
How will you measure success?
Who will create your content?
How often will you share content?
Let's break them down one by one. These steps and questions are all vital for social media success and that's also the reason why having a social media strategy is so crucial! In fact, when you've followed all of these steps and written it down you have the recipe for a successful social media marketing. All you need then is to implement them and put them into practice and learn a few tricks to boost your results.
That's it!
It doesn't have to be more complicated than it actually is.
What are your goals?
When you've set goals, you'll be able to see if you've actually reached them when the time limit for them has been reached. What's more, when you have goals, you know in which direction you should go and what needs to be done to get there, and as a result, that's what you'll do. If you're using social media without having any goals, there's a chance that you'll put your efforts into the wrong things, spread your efforts instead of focusing on one or two main things. There's also a risk that your team pulls in different directions- preventing you from coming anywhere.
When you have goals, you know what needs to be done, and you know when you have achieved them. End of story.
Where does your target audience spend time on social media?
I've already spoken about this question when it comes to choosing platforms to use, however, it is also important to ask once you've chosen platforms. Just because you use a platform that you know your target audience is to be found on doesn't mean that you'll reach them. Therefore, knowing how you are going to reach your target audience on that platform, in particular, is a necessity.
First and foremost, it is with the help of your content that you'll reach and appeal to your audience, but in order to do so, you first need to know where they spend their time, and where you can find them.
Develop a customer persona
As a marketer, you probably already have your customer persona well in place by now, and that saves you a bit of time.
If not, take a few minutes to define your ideal customer. Defining your target audience is not just important for social media marketing but in marketing and as a business in general.
Susan Chritton of Dummies.com once wrote:
"Think about the game of darts: You have to aim in order to hit the board"
Only through an understanding who your customer is can you truly convert and increase your sales."
Here are three reasons that you should define your target audience, presented by CoSchedule: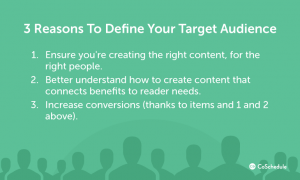 Ask yourself:
How Old Are They?
Where Do They Live?
How Do You Promote Your Product To Those Individuals
Where Do They Get Their Information? i.e. Social Media, News, etc
Which Type of Content Works Best?
By doing this, you'll be able to share more relevant content which your audience will find more appealing
Here are some more resources for developing and improving your social media strategy:
Measuring results
As a marketer, you want to be able to evaluate the results of your marketing efforts. This includes social media.
It is often spoken about that it is difficult to measure the results of social media marketing, but this is only true if you don't know how to do it (surprise).
When you measure the results of your social media efforts, you want to start by measuring the results of your main objective with social media. Have you achieved your goal? How well have you achieved it?
Secondly, you also want to measure your by-goals, and lastly, you also want to measure your overall performance of your social media.
Why?
Because social media marketing tends to generate results outside of your main objectives, and if you don't measure the other ones as well, you won't be able to fully understand really, how beneficial social media has been for you. Otherwise, you risk giving credit to something completely different just because you didn't see that social media was the real hero.
With your social media marketing efforts, you'll be able to generate both qualitative and quantitative results.
Because quantitative generally are easier to measure, let's dig right into them!
Quantitative results
Website visitors
Website visitors is a great example of a quantitative metric that can be easily measured. Many social platforms have integrated analytics that allows you to see exactly how many people have clicked through to that social media page to your website. Otherwise, you can use Google Analytics to see where your referral traffic comes from and then see how effective your different social media pages are at driving traffic – and which is generating the most traffic to your website.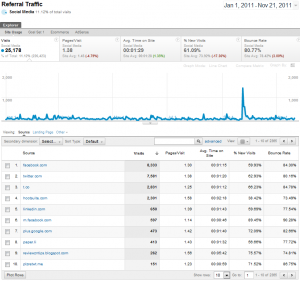 Simple, right?
Followers
Followers don't mean everything in the world. On social media, your goal is to have as many engaged followers as possible, but if you had to choose, you'd be better of having fewer, more engaged followers than more, unengaged followers.
Unfortunately, some brands put a lot of focus in this metric in the belief that followers are what will decide if you're successful or not, but this is far from the truth.
Moreover, other brands emphasize growing followers when starting out on social media because they want to surpass their competitors or whatnot. And this is completely fine! I am not saying that having the goal of growing lots of followers is wrong.
In fact, having lots of followers is great because it allows you to reach more people and impact them over and over with your posts, and get them to convert. but the thing is that if your followers aren't in reality interested in what you share, you will never be able to convert them, and they won't do anything for your brand, except for making you look a tiny notch more popular, because many people see follower count as a clear sign of popularity. Even though it might not necessarily be the case.
But you need to realize that what will have the biggest effect on how well you perform on social media is the quality of your followers. Not the quantity.
Another reason that brands use this metric when evaluating results is that it is easy to measure! Just take a quick glance at your follower count and you're all done.
The bottom line is that if your follower count isn't tied to something meaningful, it's just a number. But still, it can easily be measured and evaluated as a quantitative metric.
Engagement
I've talked about the meaning of the world engagement in a social media context, and now, it is time to evaluate the results of it.
This is probably the most important metric when it comes to evaluating your results. As I just talked about, follower count means nothing if your audience isn't engaged, and that's why measuring how engaged your audience is, is so important. The engagement metric gives you a sense of how well your audience is responding to your content.
You can begin by looking at:
The number of comments you average on your posts
The average number of likes you average on your posts
The average number of shares you receive on your posts (if shares is supported on the platform you are using)
The metrics above are good, but you want to be able to measure the quality of the engagement of your audience, and therefore, you need to dig deeper in their interactions and look at the qualitative results.
Qualitative results
Qualitative results are notoriously known to be a lot more difficult to measure than quantitative, and this is also the reason why many marketers shy away from them.
However, metrics that are qualitative are almost more important than quantitative.
Why?
Because what will ultimately affect if you are able to convert your followers and social media fans into customers is how well you impact them, and how engaged and interested in your brand you can get them.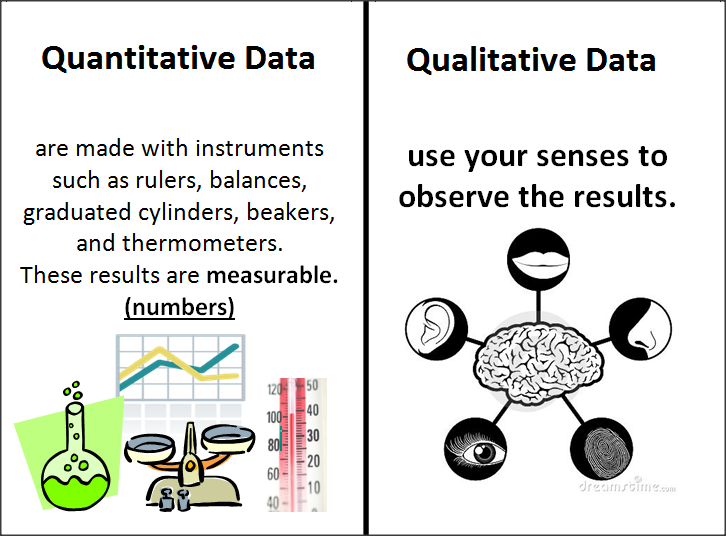 Engagement
To see how engaged your audience is in your brand, and to understand the quality of your  engagement, look at the following:
The nature of their comments. What do they say? Do they show that the person is engaged with your brand?
The messages you receive. Are they messages from interested customers? Are people eager to learn more about your brand?
Brand influence
This is a tricky but not impossible metric to measure. As a brand, you obviously want to find your brand and community's influence, and how many people are talking about your brand on social media.
If you have succeeded in impacting your audience, people will have started talking about your brand. Often times, these conversations circulate around a branded hashtag (most often your brand's name), which can help you find the conversations.
On Twitter, for example, you can search for Tweets that include a certain keyword, and this allows you to find Tweets that include a keyword related to your business but doesn't necessarily include a hashtag.
This brings me to my next point: sentiment because these two are integrated with each other.
Sentiment
Sentiment focuses on the tone of the conversations that are taking place around your brand. Instead of looking at the people who are talking about your brand on social media, you try to understand what they are saying, and from that, you extract key information in order to improve as a brand. What's more, you can also take appropriate action and respond to the people who need responding.
You can look at the sentiment of the conversations to understand what people think about your brand and your brand's social media efforts.
A quick search for the hashtag #CocaCola shows me tons of posts that have been shared using that hashtag, and if Coca-Cola would take the time to go through all of them, I promise you that they would get a lot of valuable information and key insights into what their audience thinks.
Conversations and competitors
By using the right tools, you can extract valuable information from virtually any platform to understand what people are talking about and the conversations that are taking place around your competitors, yourself, and your industry. Doing this can tell you, for example, what type of brands they look up to and like the most – in other words, the competitors of yours that are the biggest threats. When you know this, you can spy on them to get a better understanding of what they are doing well.
Think about…
When evaluating results from social media, you want to ask yourself the questions "What is this good for?" and "Why?".
This should be done early on, already when setting your objectives, but it is good to ask yourself that question a second time when evaluating the results because that will allow you to fully understand how the marketing results are helping your brand. Having lots of followers is for example completely worthless, right?
It is the things that having lots of followers entitles that is the real benefit of having them.
And this goes for any type of marketing efforts, really, but most importantly for all types of results on social media.
So you want more traffic?
-Why do you want a bunch of people to visit your website?
Ahh, I see, to get them to buy from you!
(Sorry for talking to myself but I hope you get the point).
Conclusion
There is no secret that there is a lot to know about social media marketing, and when just starting out, it can be extremely overwhelming. Social media is difficult both for beginners and experts, but especially for those who are starting out because there is so much to take in at once.
Just know that social media is a quickly evolving landscape, and once you've got a hang of the foundation of social media marketing, you need to regularly stay updated with the industry news, because what was effective and worked well yesterday might damage your brand tomorrow.
All of the information was the things you need to know to get started with social media, but in order to continue building on your knowledge and evolve to an expert, you are more than welcome to visit this blog! I regularly update it with everything you need to know about social media and social media marketing – one article at a time.
Are you just starting out with social media marketing or are you hungry for more knowledge?
What do you think is the hardest part to do and the easiest part to do in this article?
Let me know in the comment section below!