Want to improve better results on social media?
Are you constantly looking at your competitors and think about how you can outrun them?
Social media is a tremendous marketing tool, but unless you're using it in the right way, it won't do any good for you.
In order to achieve the incredible statistics that social media has proven to be able to generate, you need to follow the true and tested methods of generating great results.
In this article, we're looking at 3 simple tricks you can use to get ahead of your competition.
Build relationships
Building relationships with your audience are the single most important thing to driving sales. Because when you build relationships, they establish trust in you, and when they trust you, they are far more likely to buy from you.
Think about it: If you don't trust a brand, will you buy from it?
I'd be surprised if you would.
I am astonished by the fact that so many brands are completely ignoring this tremendous and vital opportunity. What's most surprising is that this goes both for multimillion dollar companies as well as small start-ups.
If you want to reach success on social media, you need to put great effort into engaging and building relationships with your audience. And the truth is that it's actually not that difficult. You just need to dedicate yourself to doing it regularly.
Building relationships with your audience include all aspects of customer interactions. This means disgruntled customers, questions, complaints, and requests. You should respond to all of it!
Because if you don't, they'll go to your competitors, or, if they are really angry, talk crap about your brand.
And obviously, you don't want that.
First off, the single and most obvious thing you need to do is respond to the people who are commenting on your posts. Brands often receive questions and other messages from potential customers, yet still, relatively few are responding to them. The number of responses to comments should be 100%. Not 90, not 86!
In fact, 80% of Customer Service Inquiries Go Unanswered on Social Media.
And it's a bit sad because when you don't respond, you lose a highly important lead that could have been converted into a sale.
If I ask you: do you want to drive more sales?
Of course, you do! Then respond to the comments you receive from your audience. Apart from the fact that you can drive direct sales from it, it also gives you an opportunity for you to build your relationships with them.
Let's take a look at an industry giant like American Airlines and how they deal with their comments on Instagram, because surely, they must have realized the importance of responding to their customer, plus, have the resources for it.
Right?
Well, I can tell you that the majority of their comments go unanswered.
Apart from responding to comments, you want to hop into conversations whenever suitable. If you see people talking about a subject related to your niche and brand. Not only will this help you build relationships with them and make you more human, but it can also help you present yourself as an authority in your industry.
Remember that it is the personal touch that builds relationships and helps fans feel connected to a community.
2. Build a community around your brand
A part of this is engaging and interacting with your audience on a regular basis, but the truth is that there is so much to it than that.
When you build a community around your brand, you create a place for your target audience to spend time and interact with like-minded people who have something in common. Having a loyal following can mean the difference between a growing loyal following base and fading into the social media noise.
Having a loyal tribe on social media helps people stay connected and remain interested in your brand, and that's exactly what building a community does.
There are many ways in which you can start building your community, but at its core, it's about showing your audience that you care and that you're a brand that greatly values your audience.
Here are a few ways to start building your social community:
Listen to your audience
If people aren't feeling like you are listening to them, they'll say screw this and go somewhere else. You need to show them that you care about them because if you don't listen and care, it doesn't matter if they're loyal. Eventually, they'll get tired.
The key to getting to know someone is by listening to them. It's crucial that people feel like they're part of the bigger picture. Therefore, you need to give them opportunities to share their opinions.
When you start listening to your audience, not only will they feel heard, but you'll also start noticing that you can extract quite valuable information about what they are saying.
A way to turn it up a notch and make them more engaged is to incorporate what they are saying and doing in your marketing and overall strategy. You can, for example, run a campaign where you present one brand advocate and loyal supporter's testimonial every single day. That way, they'll feel appreciated and listened to.
Give back to your fans
Giving back is one of the best ways to show appreciation to your audience. And when you show that you appreciate them, they'll keep coming back to your brand.
Awesome, right?
A part of giving back can be to use the method mentioned above where you showcase their work. You can also provide incentives to your most loyal supporters that are working as free advocated of your brand.
Some brands present the month's most loyal social media supporters on their website or create a post where they are showcasing them.
Remember that this is also a way that helps humanize your brand.
Giving back doesn't have to be that complicated either. A simple way to give back is by responding to their messages quickly, explicitly telling them how much you appreciate their support, and thanking them
Because it will be greatly appreciated.
Find your brand advocates
An important part of building your community is identifying the individuals who are already working as brand advocates for you. Moreover, recruiting new members to your social community is also an important part.
By now, you probably have a few loyal brand advocates on social media. These are the individuals who engage with every single post you share, comment, send messages, and share your posts. When you've identified your brand advocates, you should reach out to them and show your gratitude to them. Once you've done so, you should ask them to invite their friends to your community.
And considering the fact that 92% of people trust peer recommendations, this is a recommendation that you as a brand get that is extremely valuable.
Bonus tip:
If you don't want to reach out to your most loyal brand advocates and ask them to invite their friends, you can reach out to potential customers of yours and let them know about your community.
3. Study your competition
Now, you might be thinking "why should I study my competition if I want to outrun them?" but the truth is that looking at your competitors is extremely valuable. That way, you can learn about all the strategies they are using, which works well, which works less well, what campaigns they've done and how they've performed.
Now, first off, if you see them doing something that isn't performing well, or even worse, doing something that causes a social media storm, you can learn from that and prevent it from happening you. As you know, social media storms can be extremely harmful, and if they happen to you, it can be difficult to recover after them.
Just look at how damaging the social media storm against United Airlines when a video was spread on the internet showing a manned that got dragged off a United airplane due to overbooking.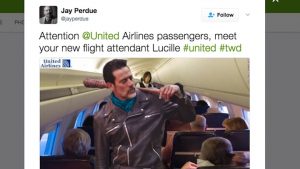 Now to the main benefit of looking at your competitors.
Obviously, if you look at your competitors and straight up copy their strategies, you will never outrun them. That way, you'll just end up being a knock-off, and nothing is as good as the real deal, right?
Therefore, the best way is to look at your competitor's strategies and then ask yourself how you can improve the strategies they are using. By doing this, you can extract the best parts of their strategies and improve upon them.
If you're just looking at your competitor and what they are doing, without actually doing anything about it, you'll just stand there and go nowhere, while your competitor reaches success through trial and error.
Conclusion
Social media is a tremendous marketing tool for brands, but you'll only be able to get the most out of it if you know how to use it properly.
By learning and implementing the strategies that your competitors aren't using them, you are able to surpass them without them even knowing.