Google Search Console is a free service that Google offers to help you control and maintain your site's presence in Google's search results. You do not need to sign up for the Search Console to include your site in Google search results. However, by registering, you will better understand how your site appears on Google and optimize its ranking in the search results.
Why Use Search Console?
Google search console monitor your site's performance in Google search results.
It helps you with the following matters:
Make sure Google can access your content.
Submit new content to crawl and delete content that you do not want to see in the search results.
Create content that offers visually appealing search results, and ensure ongoing tracking.
Check the maintenance of your site without disturbing its ranking in the search results.
Control and fix malware or spam issues to keep your site safe.
See how Google and the world view your site in Google Search:
Which queries did your site display in the search results?
Have some queries brought more traffic to your site than others?
Are your product prices and your company's contact information or events highlighted in the rich search results?
Which sites have links to your website?
Is your mobile site well ranked in search results for mobile users?
Who is the Search Console for?
To anyone with a website. Whether you are a generalist or specialist, neophyte or expert; Search Console can help you.
Business delegate
Even if you do not think you know how to use webmaster tools, I advise you to learn about them and learn the basics. You may have a webmaster or a marketer to help you set up your site in Search Console. In this case, you can work together to ensure access and control of all reports on your website. In addition, it is interesting to learn as much as you can about how your site ranks in search results so you can make important business decisions about your site.
SEO specialist or marketing specialist
If you're looking for online marketing, Search Console helps you control your website traffic, optimize your ranking, and make informed decisions about viewing search results for your site. You can use Search Console information to help you make technical decisions about your website and perform in-depth marketing analytics while leveraging other Google tools such as Google Analytics, Search Trends, and AdWords.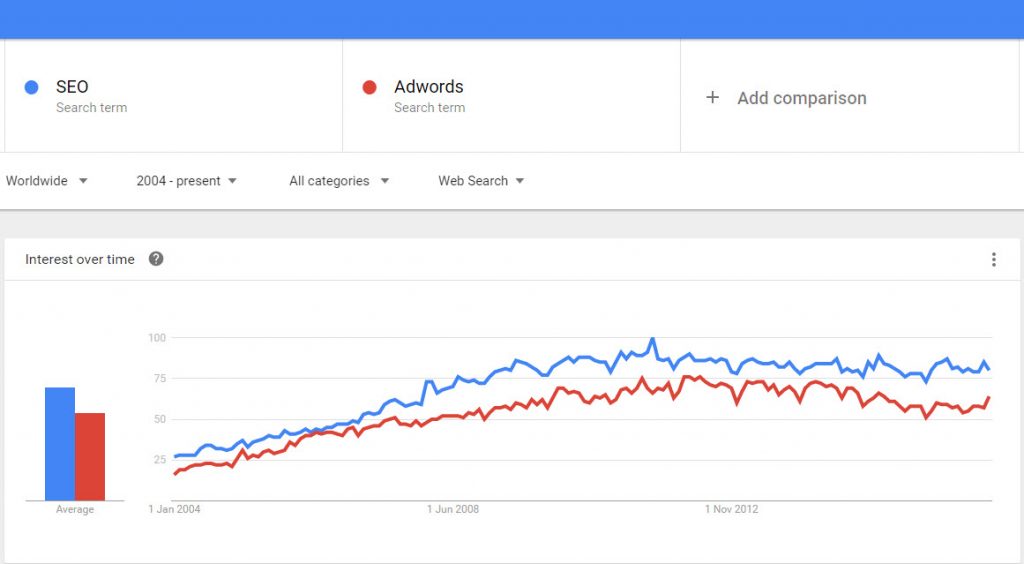 Site Administrator
As a site administrator, you care about the proper functioning of the site. Search Console allows you to easily troubleshoot server errors, site loading errors, or security issues such as hacking or the presence of malware. You can also use them to ensure that your maintenance or adjustments do not affect your site's ranking in the search results.
Web Developer
If you create the markup or code for your site, Search Console helps you control and troubleshoot common markup problems, including structured ones, errors in the data.
Application Developer
if you have an application and want to know how mobile users will find your app using Google search. Search Console can help you integrate your application seamlessly into the world of websites.
Are You Present On Google?
Inclusion in Google's search results is simple and free. You do not even have to send Google to your site. Google is a fully automated search engine that uses so-called "crawlers" to regularly crawl the web and search for sites to include in Google's index. Most of the sites in Google's results were not submitted manually but were automatically detected and added by Google robots as they crawled the web.
Is My Site On Google?
To determine if your site is currently included in the Google index, run a search by entering the URL of the site preceded by the "site:" operator. For example, for the Wikipedia website, you should type in google "site: wikipedia.org".
My site is not present on Google
Although billions of pages are explored, it is impossible to take all sites into account. When robots cannot find a site, it's usually for one of the following reasons:
The number of websites with links to your site is insufficient.
You've just uploaded a new site, and Google has not had time to explore it yet.
The site design does not allow Google to properly explore the content.
Google to encounter an error while trying to crawl your site.
How to make my site or my mobile application appear on Google?
Google has set some guidelines that will help you design an easily explorable website by crawlers. Google can not guarantee that the crawler will detect a particular site, but these guidelines should increase your chances of seeing your site included in search results.
If you want your mobile app to be on Google, make sure to implement application indexing in your app.
You can use Google Search Console for your website that will help you send your content and control your ranking in Google Search. If you want, Search Console can even send you alerts if it detects critical issues on your site or mobile app.
How Google Search Works?
When you perform a Google search, a list of results from all four corners of the Web is displayed almost instantly. How does Google find the pages that match your query, and determine the order of the search results?
We can simply imagine the Web search as the consultation of a gigantic book, whose very large index allows to know the exact location of each element. When you do a Google search, Google's programs check its index to show you the most relevant search results.
There are three key processes for the search results are:
Exploration: Does Google know your site? Can it find you?
Indexation: Can it index your site?
Dissemination: Does the site contain useful and quality content
Exploration
While crawling, Googlebot detects new or updated pages to add to the Google index.
Google uses an impressive number of computers to explore billions of web pages. The program responsible for the exploration is called Googlebot (also referred to as "robot" or "spider"). The process of Googlebot is based on algorithms. These computer programs determine the areas to explore, the frequency of exploration and the number of pages to be extracted from each site.
At first, the URLs of the Web pages included in a list generated during previous exploration processes are explored. Added to these URLs are sitemap data provided by webmasters. The links on each page of the sites that Googlebot accesses are detected and added to the list of pages to explore. New sites, existing site changes, and non-functional links are listed and used to update the Google index.
Google does not accept payments to visit a site more frequently, and it separates any Google search activity from the AdWords sales department.
Indexing
Each of the crawled pages is processed to compile a large index listing all words encountered and their location on each page. Google also processes information included in content tags and key attributes, including "Title" tags and alt attributes. Many types of content can be processed, but not all. For example, it can not crawl content from rich media files or dynamic pages.
Dissemination of Results
When a user types in a request, Google's computers look for matching pages in the index and return the most relevant results by Google. More than 200 factors are taken into account when calculating the relevance of a page, one of them being the PageRank ranking. PageRank evaluates the importance of a page based on links from other sites and referring to that page.
In other words, any links that appear on other sites and that link to one of your pages are taken into account to establish the PageRank ranking of your site. All links are not equivalent: Google strives to identify spam links and other practices that affect the quality of search results. The best links are those that provide the quality to your content.
To get a favorable ranking in the search results, it is important that your site is correctly explored and indexed by Google. The Webmaster Guidelines lists some best practices to help you avoid common mistakes and improve your site's ranking.
Google features such as spelling suggestions and autocomplete have been designed to save user's time by displaying search terms, common misspellings, and popular queries. Like google.com search results, keywords used by these features are automatically created by crawlers and search algorithms. These predictions are only displayed when Google thinks they can save the user time. If a site ranks well for a given keyword, this means that Google has determined, through an algorithm, that its content is relevant to the search of the user.
Frequently Asked Questions From Webmasters
This point provides answers to the questions that are most frequently asked about natural research.
How Can I Make People Refer To My Site?
The solution to encourage the consultation of your site is to offer an original and eye-catching content, which Internet users will want to reference. Pay particular attention to the quality of your content. Indeed, Google effectively detects artificial links that do not comply with these Guidelines to webmasters. For example, they may be links that come from link exchange systems, paid links or generated automatically. Therefore, any use of such systems will do more harm than good.
Impact On Domain Name Performance In Search Results
The goal of Google is to provide Internet users with the best possible results, as well as the most relevant, regardless of the top-level domain. If the Google system determines that the best result is a page of a new generic Top-Level Domain (gTLD).
Can a Competitor Penalize The Ranking of My Site In The Search Results?
Google makes every effort to ensure that competitors can not change the ranking of other sites. If you have concerns about a site that references your web pages, it suggests contacting the webmaster of the site concerned. Google compiles and organizes the information published on the Web, but does not manage the content of the pages that are published.
What techniques can cause you to apply a manual action because of spam on my site in the search results?
The goal of Google is to provide Internet users with results as relevant as possible for each request. Sometimes, webmasters unknowingly or deliberately use techniques to fool the system. For example, a site may contain hidden text or links, or use cloaking techniques or misleading redirects. The Webmaster Guidelines Quality Guidelines describes some illegal practices that may result in a manual action.
I made a few changes to bring my site into compliance with webmaster guidelines. How can I make sure that my site is compliant with these?
Submit a request for reconsideration. The reconsideration process can take several weeks. Unfortunately, Google can not, to date, respond individually to each request for reconsideration. If you sent your reconsideration request several weeks ago and have not noticed any change in the performance of your site, it probably means that it still violates webmaster guidelines or that its ranking is simply not live up to your expectations.
Why are not my pictures showing on Google Image Search?
In general, you can improve the ranking of your images in search results by providing Google with as much information as possible about them. To do this, specify detailed file names and alt text, or submit a sitemap for images.
Why are not my videos showing in Google search?
You can help Google find and index your videos by creating and sending a video sitemap. This sitemap allows you to report videos on your site and Google may not have detected. With it, you can also provide useful information about your videos, such as the title or duration of the video.
Article written by the guest writer nadeem.