Creating a fun and engaging space for your child can make all the difference in the overall mood of a room. From bright wall decals to delightful storage solutions, there are different ways to create a kid-friendly bedroom that gets their imagination going.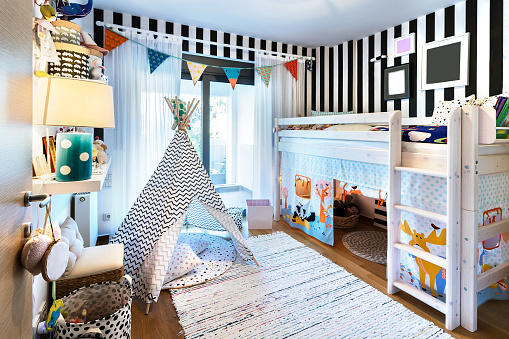 Consider these 8 decor tips when designing a kid's room – you'll be sure to create the perfect cozy, creative hideaway where they can explore and express themselves!
1) Choose a Theme
Looking to give your little one's room some color and vibrancy? Choosing a theme is the perfect way to give their room an individual style while also creating a space that reflects their unique personality and interests.
Let them be your inspiration when it comes to ideas. If they're into sports, find some sporting memorabilia pieces.  If they're into mermaids and unicorns, find decorative pieces with those elements. And if they love princesses, go for a fairy-tale theme filled with pinks, purples, and sparkles. See here for a collection of princess beds to get started.
You can also use colors to bring all the elements together. DIY projects like painting onto furniture or wallpapering are great ways to create something special without breaking the bank!
2) Keep Comfort in Mind
Making sure that little ones feel at home in their new space starts with small details and can really transform the space. Add soft blankets, fluffy pillows, and plush toys that induce a sense of warmth and create inviting textures. Don't forget to incorporate breathable curtains – these will come in handy for long afternoon naps or those late summer mornings when sleep isn't ready to give way!
3) Incorporate Fun Elements
Designing a kid's room is an opportunity for creativity! Make it inviting and inspiring by incorporating fun elements like wall art that adds a splash of color and character.
Complement this with an inviting area rug in cheerful hues or joyfully patterned to bring the room to life. You can also use decals of their favorite superheroes to create a playful scene or accentuate things like the bed, dresser, and toy box. Allow them to participate in the process to express themselves as they make their sanctuary!
4) Invest in Multi-Purpose Furniture
Unleash your inner designer and create a modular children's room that grows with them! Invest in furniture with multiple functions, such as beds with drawers for extra clothing and toy storage or desk/bed combinations that transform as your child's needs change.
A multi-purpose bed can start as a crib for a newborn. Then you can convert it into a toddler bed and eventually into a full-size bed when they're older.
5) Choose Durable Materials
You need to pick out things that can stand up to the rigors of childhood. Not only should your choice of materials last longer and withstand more wear and tear than adult spaces, but they must also be able to take on all the bumps, spilling, and playing of a toddler.
Rubber flooring and baseboards may seem unusual, but they can protect your walls from scuff marks! Add padding where necessary, like on furniture and bedding, while keeping in mind your child's style preferences.
6) Create a Personal Space
If you have enough space in your kid's room, create a personal area for them to retreat and give them freedom of expression and creativity. This personal corner can also provide an extra spot for activities such as reading or art projects. Make sure to fill it with plenty of blank paper for fun art projects, comfy pillows that make for great snuggling spots, and maybe even some bean bags for gaming!
7) Illuminate
A kid's room should be a peaceful oasis, but it can become magical with good lighting. Natural lighting is always the most energy-efficient choice, but don't forget to consider incorporating sought-after lamps or fanciful LED lights into the design. Add a few stylish accent lamps to up the fun factor as they learn to read or play games while creating a relaxing environment in their room. For added drama, look for LED lights with switchable color choices.
8) Use Wall Space Wisely
Decorate your kid's room with a functional flair for storage options on your walls. Mounted bins and shelves make for a fun, modern look that also serves their organizational needs.
Add bright and colorful hooks to spice up the design while having items on display – they're perfect for hanging anything from bags to jackets. Make these elements unique by using whimsical shapes like stars or hearts to add an extra touch of whimsy and creativity. Creative wall solutions will give your child's room personality and bring a smile to their face whenever they enter.