The marketing landscape has become completely revolutionized with the birth of the internet.
The way humans can communicate on has completely changed, and this also creates new preconditions for communicating with your customers and target audience as a company.
Unless you've been living under a rock for the last decades, you know that the internet has greatly revolutionized the way most companies communicate and market themselves.
The traditional communication mediums such as television, radio, and print still exist and are still used by companies, but the fact is that more and more companies are abandoning the traditional mediums in favor for digital alternatives, known as digital marketing.
And it's not that traditional marketing doesn't work, it's just that it is ineffective. Traditional marketing methods give little information about who has seen your ads and their demographics. Online marketing, on the other hand, is normally able to offer rich and detailed information about your campaign, who saw it, what actions they took, and how they were impacted by it.
As a company operating in a digital world, this customer data is extremely valuable for improving your marketing results and for understanding what works and what doesn't.
But with online marketing, things are changing extremely rapidly. In order to stay on top of the latest marketing trends, and the marketing methods that work the best, you need to be constantly updated, but at the same time experiment and execute on these strategies in order to understand whether they work well or not.
In this article, we will be sharing 5 Digital Marketing Tactics Every Business Should use in 2019. These are some of the most "modern", but also most effective online marketing strategies when you look at the results they are able to generate. So let's see what they are.
1.Social media organic marketing
You have hardly missed out on social media marketing and what it is.
With the introduction of the internet came new ways to interact and communicate with people, and the main way we communicate on the internet is with social media.
Social media has become the current state of the internet since, as of the latest research, there are 3.48 billion using social media. That's an increase of 9% from last year. Furthermore, 45% of the total world population are using social networks.
If you want to reach people, social media is the way to go. Many people spend an ungodly time on social media, so if you are not leveraging social media marketing in your marketing strategy, you are missing out on valuable opportunities to reach and engage with your audience.
As a company, you need to be where your target audience is spending the most time, and in this digital society, social media is where it is at.
And in case you are not convinced yet, here are two social media marketing statistics that prove just how effective it is as a marketing tool:
Over half of the people on social media interact with brands more than once a month.
Over 88% of all companies are now marketing on social media. If you aren't then, now is the time to get started.
Now, with social media, there are endless of opportunities to market your brand, but what we mean with "organic" marketing is unpaid marketing via the top social media channels that your target audience is using. The reason is simple. Your target audience expects you to be on social media, and far too many brands don't even have a presence on these platforms.
Start by setting up accounts on the most important social media platforms and then start posting regularly.
Next, make sure you respond to every single message that your customers send you. Furthermore, you can also arrange campaigns such as giveaways and contests in order to engage your audience and make them become aware of your existence.
And lastly:
If you don't even have social media accounts on the most important platforms and are creating content for them on a regular basis, you have not even laid the foundation for a social media presence, and are thus missing out on reach and engaging with your audience.
Think about it: reaching your target audience back in the days was both inefficient and time-and money-consuming. But with the help of social media, you can reach and communicate with thousands of your customers at the same time, and you are still not using it!
2.PPC Marketing
PPC marketing, also known as pay per click marketing, is yet another marketing method you want to leverage in today's digital landscape.
And the reason is simple, really. It has proven to generate a high ROI.
And what is particularly good about PPC marketing is the fact that you only pay when your audience takes action – clicks. With traditional marketing, such as newspaper print, you pay for every single person who reads the newspaper, regardless if they are even relevant to your brand or not.
PPC marketing is essentially a way of buying visits to your site, rather than attempting to "earn" those visits organically.
Now, if you're not very experienced with PPC marketing, it can take some time before you get a hold of it and get it right. This is why, it can be good to hire a PPC Agency – both in order to learn, but also because it will prevent you from wasting money with poor targeting and with poorly performing ads.
The most popular and common PPC advertising channel is, of course, Google Adwords, which means that you pay for having your ad displayed on Google when specific people search for specific keywords that you have targeted in your campaign.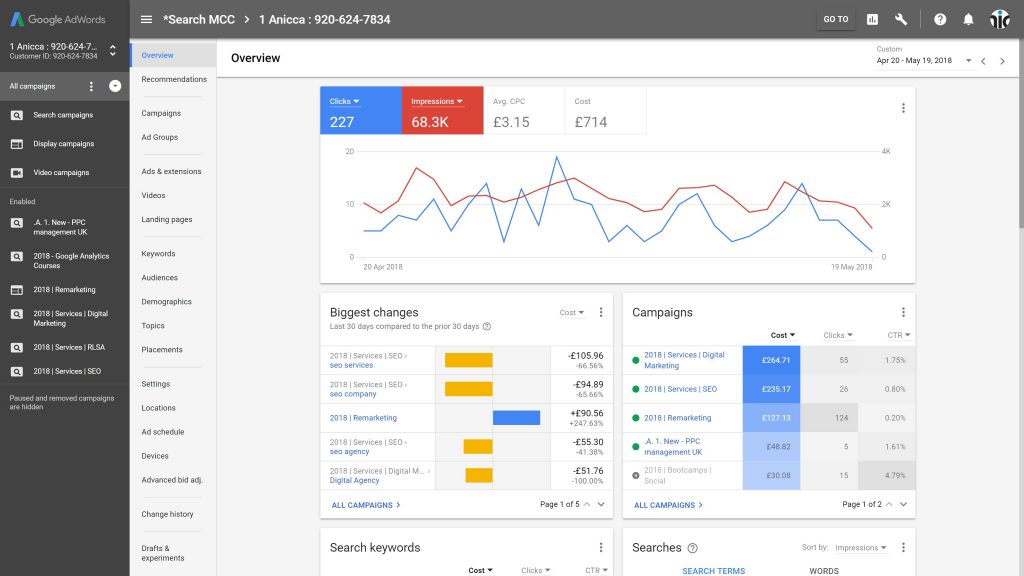 Again, who you reach with your ad is completely predicated on how you set up your ad and targeting, and this is also what makes PPC so effective in terms of ROI, as it ensures that you only reach people who are truly relevant to your company. Because frankly, there is no point in reaching people who will never buy from you with your ads. Great PPC targeting ensures that you avoid doing so.
"When PPC is working correctly, the fee is trivial, because the visit is worth more than what you pay for it. In other words, if we pay $3 for a click, but the click results in a $300 sale, then we've made a hefty profit."
If doing it correctly, PPC will prove to be extremely effective, as you are virtually "buying customers", since you already know what they are after based on their Google search. If you are wondering where to start, Google Ads is a great start. It is the largest search engine in the world, so you can expect that most of your potential customers are searching there for products and companies like your own. If you don't really know where to start, it can be good to take help from a Google Ads Agency that is specifically focused and experienced in Google ads.
3.Influencer marketing
Influencer marketing is considered one of the latest social media marketing "trends", despite the fact that it has existed for quite some time.
Influencer marketing has exploded in the last couple of years as a result of social media and the accessibility of it.
Back in the days, the only people you looked up to were celebrities in the form of actors, leaders, and other highly influential people. Part of the reason for this is that these were the few people who could community with the world.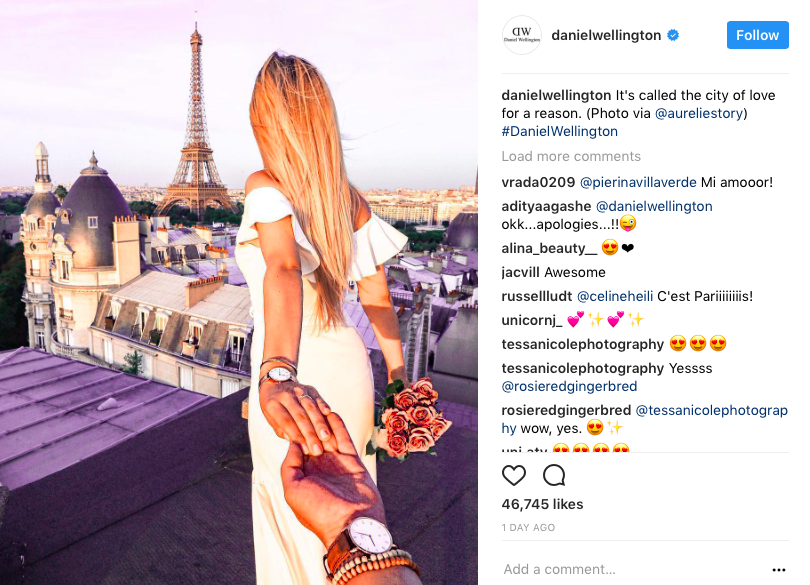 However, with the internet and social media, the infrastructure looks completely different, and this has allowed virtually anyone to become a thought leader and influencer within their industry.
The main reason why influencer marketing has proven to be so effective when it comes to promoting brands and products is that people trust social media influencers.
In fact, 92% of people trust peer recommendations. Naturally, you would trust the recommendation from someone you regard as an industry leader and expert rather than a recommendation from a celebrity.
Influencer marketing allows businesses to communicate with their target audience effectively by using a third-party person who people look up to and respect. This removes friction as people are always skeptical about listening to the recommendations of brands themselves. They would much rather hear it from someone they look up to and respect.
Today, social media is one of the most effective ways to communicate with and to reach your target audience. But standing out from the crowd and gaining traction can be a difficult thing. This is where influencers come in handy as they already have the attention of your target audience. You just need to work with them to have them spread your message.
4.Facebook & Instagram ads
Facebook and Instagram ads offer some of the most effective advertising today.
One reason is that Facebook has so much data and information about its users that you as an advertiser can take advantage of. This allows you to laser target your advertisements in order to only reach (and pay to reach) the people who are truly relevant to your company.
This is very different from traditional display ads where you have little control over who sees your advertisement, but also very little information about who saw your advertisement.
With Instagram and Facebook ads you are not only able to laser target your ads, but you are also able to get rid and detailed data about how they performed in order to improve them.
A typical American Facebook user clicks on 8 Facebook ads per month.
7 million businesses use paid advertising on Facebook.
Half of Generation Z and 42% or Millenials says social media is the most relevant ad channel.
Snapchat's collection ads had double the return on ad spend of other Snap ad formats in Q4 2018.
Twitter ad recall is 60% higher for brands with consistent logo placement.
Promoted Tweets with videos save 50% on cost per engagement.
5.Content marketing
Content marketing is quite a wide topic, and more or less lays the foundation to all of the other marketing methods mentioned above.
It is through content that you communicate with your audience, and today, there's more competition on the internet than ever before, as there is more content being created than ever. This means that it is simply not enough to create content anymore. In order to stand out, you need to create high-quality content in large volumes.
Let's have a look at some content marketing statistics:
Content marketing should play the central role in your digital marketing strategy, and because there are so many different types of content that you can create, it is thus very important that you share this content across different platforms to reach the people you hope to reach.
Have you implemented these five digital marketing methods? Let us know in the comments why/why not, and what strategies you use in order to succeed.