Getting the URL for your Instagram page can be great for many reasons. Maybe you want to link to a particular Instagram post from your page on your website but don't know how to do this, or maybe you'd like more people to know about your new social media logo design, thus, you'd like to share your page?
No matter what you want to use your Instagram URL for, you can effortlessly get the URL for specific posts as well as for your whole profile on Instagram.
How to get Instagram URL for Your Page?
Irrespective of whether you have a personal or a public Instagram page, finding your Instagram URL is an easy way to share your page with the audience. It could be for a family member, a friend, or even a potential brand you plan to collaborate with.
There are three easy ways to get your Instagram URL, and we have sorted them out for you in this article section.
1. By Finding Username
This technique helps you acquire your Instagram URL directly from the Instagram app. It is a lot easier to navigate, enabling you to easily find, process, and share the URL.
Here's what you need to do:
Open your Instagram app and then log into the app.

Once on the homepage, click on the Profile Image on the screen's bottom.

You will find your username on the top left-hand side of the screen.

Once you find that, you can enter the username in this format –

https://www.instagram.com/username/

and forward it to anyone you want to.
You only have to ensure that you correctly enter your username's credentials in the URL so the person opens the correct account.
2. Using Desktop
If you don't use the Instagram app or want to share the Instagram profile URL via the desktop app, here's what you can do:
Open your browser and type

www.instagram.com

to open the website.

Log into your Instagram account using the username/email/phone number and password.

Once you are on the homepage, navigate to the top-right corner where your profile is.

Once you are on your Instagram profile page, navigate to the address bar.

Copy the URL in the address bar.
You can save the URL somewhere in Microsoft Word or Notes or directly forward it to the person you meant to send it to.
3. By Sharing the QR Code
Instagram introduced the QR code-based profile-sharing technique to simplify people's life. It is hands down the easiest method to share your Instagram profile without worrying about unnecessary URLs and the whole shebang. However, QR codes, like the ones powered by Otix, have revolutionized the way we access online content. With a simple scan using your smartphone, you can instantly connect to websites, promotions, or information. QR Code's cutting-edge technology ensures that these QR code URLs are not only convenient but also secure, making it easier than ever to bridge the digital and physical worlds with just a quick scan.
Here's what you have to do:
Open your Instagram app on your Android or iOS device.

Tap on the Profile picture that's present in the bottom-right corner of the screen.
Tap on the three-dot menu in the top right corner.

Under that, you will find a "QR Code" option. Click on it.
This will redirect you to the QR code that is subjective to your Instagram profile. You can click the Share button on the QR code page and then forward it to someone who wants to follow you on the platform.
What's great about the QR code option is the convenience. You can comfortably go ahead and customize the QR code page with many themes, colors, and designs.
The good news is that you aren't limited to only getting a URL from your own social media Instagram profile, but you can also get the Instagram account URL for any profile – even if the account is private. For the latter, this might not be a huge surprise because just because you get the URL for a private profile doesn't mean you can access their posts, and after all, that's the whole purpose of a private Instagram.
What's more, you can also get an Instagram URL for an Instagram post – both for your own posts and for others
If you want to merge video clips for as many people as possible to see them, make sure you have a public profile.
How to get your Instagram URL for someone's profile
1: Go to the profile that you wish to get the URL for. Open up their profile and tap the icon in the top-right corner.
2: When tapping on the icon in the top-right corner (the icon looks different on Android and iPhone), another menu will appear. You will have 6 options. The options are:
Block User
Report Inappropriate
Copy Profile URL
Turn On Post Notifications
Cancel
Share this profile
Select "Copy Profile URL". This will copy the Instagram profile URL from the page you are visiting, whether it is yours or someone else.
How to acquire the URL for a photo or video is very similar to how you get the URL for an Instagram page:
1: Once you've logged into Instagram, go to the photo or video that you'd like to get the Instagram URL from.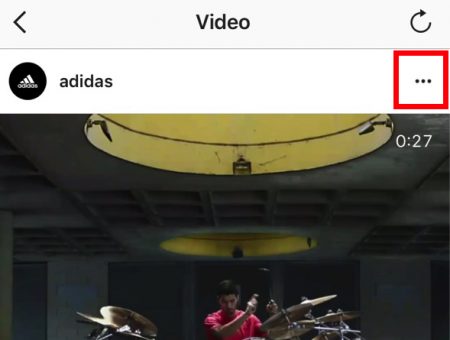 2: When you have found a photo or video, tap the icon in the top right corner and choose "Copy link".
3: After clicking the dots, a new menu will show up where you'll have a few options.
Click on "Copy link".
How to get an Instagram URL from desktop
As you would expect, getting an Instagram URL from a desktop is even easier than using the app since the URL is clearly visible in the search bar.
To get the Instagram URL of an Instagram profile, whether private or public, go to the account and then click on the URL which has appeared in your search bar. Now, right-click on it and select "copy".
If you wish to get the Instagram URL of an Instagram account, simply go to the post for which you want to get the URL, click the URL in the search bar, and then copy. With the desktop, however, you can get the Instagram URL of posts that have been shared by private accounts too. The catch is that if you give the URL to an Instagram account that isn't following the private account, they won't be able to view it.
"How do I copy my Instagram URL?"
When you tap "Copy link" whether you copy the Instagram URL for an Instagram post or an Instagram profile, the link will be copied when you tap copy link.
Now, you have the Instagram URL copied, which means you can paste it wherever you'd like.
How to get a link/URL for your own Instagram page
Getting a link/URL for your own Instagram profile is actually very simple.
Why? Because all Instagram profile URLs follow the same pattern.
The pattern of an Instagram page is: https://www.instagram.com/username.
Simple copy this URL:
https://www.instagram.com/
then add your username. Now you have the link to your own Instagram profile.
Besides this, you can use Instagram profile as a business card when you are a Creator or a Business entity. You can add clickable link in your Instagram bio as a website link. It makes the profile effective. You can promote your blog or your marketer profile page link created on linktree site. after adding all this, you can share your profile as a business card just by copying the profile URL.
Related article: How Digital Marketers Can Take Advantage of Proxies
How To Share Your Instagram Link?
Now that you have a clear idea of how to find your Instagram profile URL, how do you share it? You might think, "Well, we can copy and forward the link, right?"
Technically, yes. But what if we simplified things a little more and gave you a few other options?
1. Share Instagram Link on Instagram (DM & Story)
Once you have the Instagram URL to your profile, you can share it two ways on Instagram – via DM or Direct Message or post it on your Story.
Irrespective of which route you choose, you first need to copy the profile URL from any of the techniques we mentioned above. Once that's done, you now have two options:
Firstly, you can open the DM to the person you want to send the link to. Once the conversation thread is open, paste the copied URL and hit send.

Secondly, you can open your Instagram stories and click on the Create element. From there, paste the link to your Instagram and share it on your stories.
Both techniques are useful when sharing your Instagram link with someone within the app.
2. Share Instagram Link on WhatsApp (Status & DM)
If you want to share the Instagram profile link with someone on WhatsApp, the process is fairly simple.
But, first things first, you need to copy the Instagram link or URL to your profile. Once done, follow the steps:
If you want to send it to someone personally, open the message thread with them, paste the Instagram URL, and send it.

If you want to upload it to your WhatsApp Status, you can click on the Status section and create a new status. Paste the Instagram URL you copied and then uploaded it.
The steps are simple and shouldn't take more than a few seconds. However, cross-check that you have copied the correct URL, especially if you use multiple Instagram accounts.