Social media has proven to be one of the best ways to communicate with many people simultaneously in this era.
But with the increased usage of social media also comes increased competition for standing out and being heard.
If you are looking for new marketing methods that allow you to cut through the noise, stand out from the crowd, and win over your competitors, you are at the right place.
In this article, we will go through 6 effective influencer marketing strategies that will help you succeed with influencer marketing and dominate within your industry.
This means leveraging the power of social media and using a tool which allows you to stand out from the crowd and reach your target audience.
What is influencer marketing?
Let's just briefly cover the foundations of influencer marketing.
Influencer marketing is a relatively modern marketing method – at least in today's shape and forms where everything is centered around social media. Earlier forms of influencer marketing were the use of celebrities and industry leaders in marketing campaigns.
Today, influencer marketing means that brands work together with influential people in their niche and industry who have a large following on social media. These influencers have a large and devoted audience of fans who look up to the individual and listen to their recommendations. As such, these influencers have already won the trust of their fans on social media, and then brands can leverage that and use the influencers as amplifiers to spread their brand messages.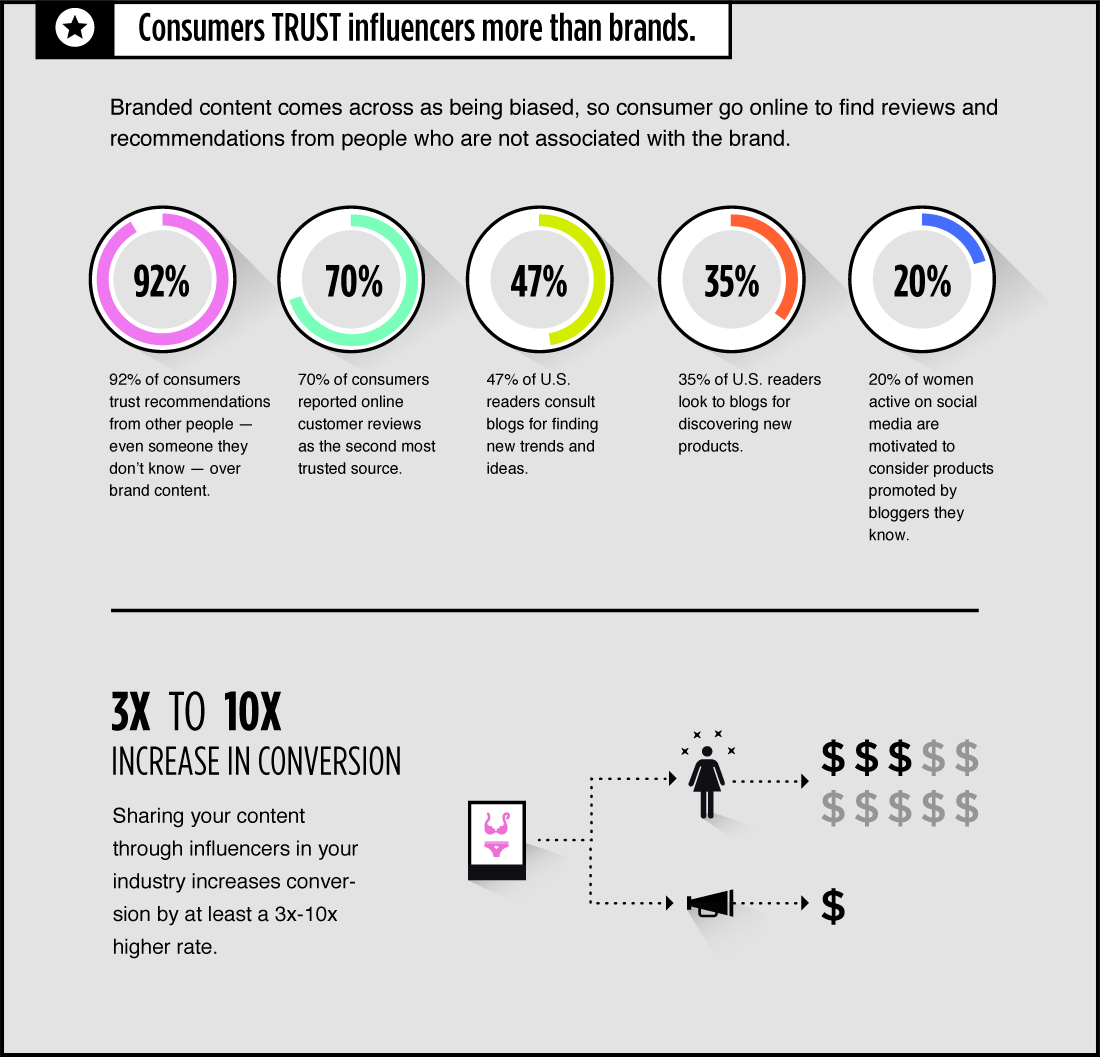 Influencer marketing has grown rapidly in popularity over the last couple of years because of the high ROI it has proven to be able to generate. One of the things that allow influencer marketing to generate such incredible results is that it is extremely targeted.
If you work with an influencer in your niche, then ultimately you will reach your target audience when you work with that influencer. Furthermore, the influencer has a level of trust and a strong relationship with its audience which translates into the audience and fans trusting the words and recommendations of the influencer.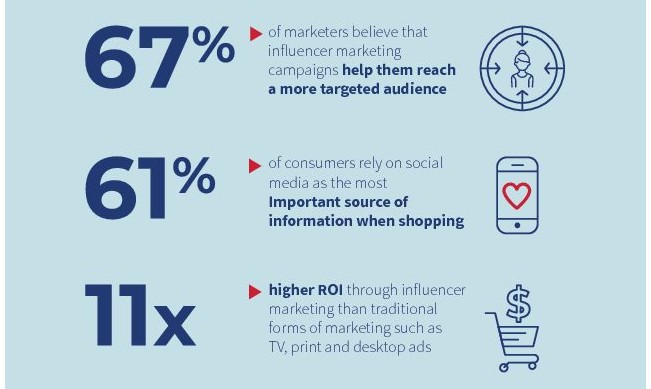 The bottom line?
When you work with a social media influencer, you get instant access to their audience. Furthermore, you also leverage that person's trust, which means that ultimately people will trust the information that is being communicated a lot more.
How to win over Your Competitors With Influencer Marketing
1. Find the PERFECT influencers
I cannot emphasize this enough, simply because it is the single most important thing in influencer marketing.
If your competitors are using influencer marketing as well, it can complicate things slightly, especially if your industry is small.
The reason is that it can be difficult to find good and suitable influencers which your competitors are not already working with, because most influencers don't want to market two similar products at the same time because it harms their credibility.
The key to great influencer marketing results is finding the most relevant and suitable influencers for your brand, though. And finding influencers who have an engaged and devoted audience. This is quite self-explanatory since it means that you will ultimately reach your target audience better.
With the help of influencer platforms like VeloceNetwork, you can filter through thousands of influencers based on your brand's needs. You can choose between social media platforms, gender, age, country and followers to be sure that you find the perfect match for your business and run an extremely targeted influencer marketing campaign. Free of charge of course.
Influencer marketing has exploded in popularity in a ton of niches, but the most important part is that you find influencers who are in your own niche. One niche that has started using influencers in recent times is online casinos. Of course, niches like these may be more difficult to find influencers for, but if you cannot find an influencer who isn't in your specific niche, ask yourself who your target audience follows on social media, and then go out and look for these individuals, asking them for a partnership.
2. Measure results
This does not only go for influencer marketing but rather for all types of marketing efforts. If you are used to social media, you should know that measuring results is key when it comes to improving your results.
When you have run a campaign together with an influencer, ask the influencer to send over the statistics of the post to see the results it generated.
Measuring the results is really important for future campaigns as it will help you get a better understanding of what you can expect when it comes results. But also help you understand what content works well and what doesn't so that you can improve your future influencer campaigns.
If you never measure any results, it will be difficult to know how well it performed. Always improving is really the key to success and a lot of people aren't measuring results so this can be a good way for you to leverage your competitors.
3. Build genuine connections
Influencers are great individuals to build relationships with as it can translate into mutually-benefiting relationships and trust in the future. You can get help from them, and they can get a good brand partner to work with.
And the fact is that building a strong relationship with your influencers helps you get better results from it in the long run. If an influencer is generating great results, you'll want to continue working with that person. If the connection between you isn't very good, the influencer might get a better offer and choose that instead. Ultimately, if you focus on building an influencer relationship, they will become more loyal to your company. If you don't, they will be more sensitive to offers from other companies.
By building connections with them, you are offering something more than just a payment for the marketing. You're also giving each other value which will go a long way.
You will also get better results from having built genuine connections with an influencer because if you trust each other, the influencer might offer to lower the prices for promotion. Plus, what they say and how they promote your business will come off as more authentic and thoughtful.
4. Make the partnership mutual
This might not be completely aligned with how you can leverage influencer marketing but it's still important enough to bring up as it can affect how successful your campaign is. Many brands are trying to take advantage of every influencer they work with in order to get the most out of their marketing budgets, but this strategy is not a very good long-term strategy.
Like most things, you want the influencer relationship to be a mutually win-win relationship. Otherwise, the influencer will eventually grow tired of the partnership and decide to look for something else.
A partnership between influencer and brand should be mutually beneficial.
An influencer can sense when they are being taken advantage of and as a result of that, they might do a bad job until the campaign is over. If you are doing this, the influencer won't want to continue working with you, and the result is that you will have to spend time and resources finding new influencers, which is a time-consuming process in itself.
5. Don't be too pushy when trying to sell
Whether it is you who write the captions and provide the influencer with all of the content for the campaign, or the influencer who is doing all the work, you have to make sure that you are not too pushy in your promotion.
In other words, you don't want to make your campaign too promotional, as it will only come off as inauthentic in the end.
I see this a lot of times where brands have partnered up with influencers and their campaign just gives a sense of desperation.
But the result is of course that their campaigns end up generating poor results as people can sense the desperation in the campaigns. No one likes being sold to, so that's why it is far better to focus on providing value in your campaigns rather than simply cold-selling. Also, try to really engage with the influencer's audience and all the comments they receive.
If you make your campaign feel more "relaxed" and authentic, you'll immediately generate much better results.
6. Be consistent
Consistency is key for most marketing efforts. It's simply not enough to do something once and then hope for the results to start rolling on.
Influencer marketing is just like any other marketing method, and this also means that you need to be consistent. By only running one single marketing campaign, you will never reach your full potential.
By being consistent with your influencer marketing efforts, you remind people of your brand time and time over which will not only help build brand awareness but also increase the chances of selling more products. Furthermore, it will allow you to establish your presence better, but also reach your target audience time and time over to the point where they actually decide to buy from you.
A consistent hashtag will allow your audience to recognize your campaign, making them more likely to engage with it. Consistency is what builds trust and keeps the communication going between a brand and its audience.