You might have started your influencer marketing campaign but want to optimize it to generate better results.
Or, maybe you are completely new to influencer marketing and want to generate immediate results so you can assure that it is actually working for your brand. No matter what the scenario is, these essential tips of a successful influencer marketing campaign will help you improve your results.
As there are many factors that play a part in how successful your influencer marketing campaign becomes, there are quite a few ways you can optimize and improve your influencer marketing campaigns to generate better and more immediate results.
While the influencer marketing statistics prove just how effective it is as a marketing strategy, it's important to remember that it is just like any other marketing effort. If you don't know how to execute influencer marketing effectively, you won't generate very good results, either. Simple.
This is why, in this article, we'll present our top tips for generating better and faster results on social media, and ultimately protecting yourself from wasting money.
1. Identify the right influencer
I simply cannot emphasize this enough. I would even argue that this is the single most important part of a successful influencer marketing strategy. That's also the reason why it is listed as the first point.
You have to choose your influencer wisely because the influencers you partner with have a huge influence on how successful (or unsuccessful) your influencer marketing campaign becomes.
When you are partnering with an influencer, you are relying on their audience. And if their audience is not relevant to your brand, and they don't align with your company, then you are not going to generate very good results. Makes sense, right?
In order for your campaign to be successful, you need to make sure you work with an influencer who aligns with your brand and has an audience which also happens to be your target audience.
Firstly, make sure that they are individuals that actually would use your products. If you can't see the influencer using your products, their followers will sense it. As a result, the campaign and recommendation will come off as inauthentic.
Another thing you should have in mind when choosing influencer to work with is that their message aligns well with yours. Do you speak the same language?
If so, there's a big chance your campaign will be a huge success!
Just make sure that the influencer is in the same industry as you, is relevant to your brand, and has an engaged audience, and you will run a successful campaign
2. Quality over quantity
A mistake that a lot of brands are committing is only looking at how many followers an influencer has. This is a bad idea.
Why? Well, here are some of the reasons:
Their follower count may be high but their engagement may be very low, which means that their reach actually won't be as big as you are expecting
They might have bought fake followers
Their followers might be irrelevant and not targeted ones
The bottom line is that what is most important is engagement. How engaged is their audience? Because ultimately, how engaged their followers are will affect how people consume the content they put out. Obviously, as a brand, you want the audience to be super engaged in the posts that the influencer shares because this will allow the posts to impact them on a much deeper level.
Plus, it doesn't matter how many followers an influencer has if none of them even sees the post.
Instead of looking at their follower number, you should instead look at things such as their engagement and the quality of their comments.
Looking at the comments of the influencer's post can tell a lot about their followers.
If the comments they are receiving are genuine and personal, then the influencer has a big impact on its followers.
If the comments are only positive phrases such as "nice" or "I love your feed", that can indicate that the influencer is buying fake comments, the influencer isn't making a big impact on its followers or that random accounts actually like what they are doing.
It can also mean that the accounts that are making these comments want to spread awareness of their pages.
So in conclusion, look for quality comments/engagement rather than just looking at the follower count.
If you really want to generate great results with influencer marketing, you should make VeloceNetwork a part of your strategy. And don't worry – it's free!
The Veloce Network is a directory with thousands of social media influencers. All are hand-picked to ensure they have the highest possible engagement and an authentic audience.
In the directory, you can filter the influencers based on your needs, so you can be sure to get the most out of your influencer marketing budget by reaching your targeted audience.
Finding suitable influencers can be a real struggle but by joining Veloce Network, you don't have to do any of that – saving you both time and energy.
Simply filter the influencers based on your preferred criteria such as platform, demographics, niche and much more. We also offer an influencer list service where you define which types of influencers you are looking for, and then we present you with a list of influencers who matches those criteria. Marketers have identified finding suitable influencers as the most challenging part of influencer marketing, yet at the same time, it is the most important. With the Veloce service, you get the best of both worlds.
4. Focus on building long-time relationships
This is actually an important one that will help you to generate better results.  You should always enter an influencer partnership with the approach of starting a long-term relationship.
Never see an influencer as a one-time partnership. Instead, see an influencer as a long-time partner that can help build your brand in a cost-effective way. Because this is how you truly succeed with influencer marketing.
If an influencer proves to be a great fit for your brand and is generating great results, there is no reason why you should quit the partnership you have started with them. Instead, you should plan a more frequent and consistent posting schedule. When you focus on building a long-term partnership with an influencer instead of just a one-time campaign, you will get much better results in the long-term. First off, the influencer feels more like an ambassador that consistently spread the word about your business. Not only does this make them more trustworthy and authentic, but it also makes them more engaged to want to perform well. Also, the longer the partnerships you have with influencers, the better prices they will offer.
And who knows, maybe you will build a relationship that is so good that they start working with your brand more in-depth or in any other way they can provide value for your brand.
If you are using influencers as a one-time use product, you might be missing out on some very valuable opportunities for building your brand and making new contacts.
5. Ask the influencer to include powerful call-to-action
You probably already know the power of good call to actions, yet still, far from everyone leverage them in their influencer marketing campaigns. Normally, it is the influencer who writes the caption and text, but that does not mean you don't have anything to say about the text that the influencer writes.
The goal is to get people to take action, and using a call to action is a great way to do that. But if you give the influencer directives on what they are going to write in their campaign captions, just make sure that the influencer's followers are not able to understand that those words don't come from the influencer. Because it needs to be authentic at all times. Otherwise, the campaign loses authenticity.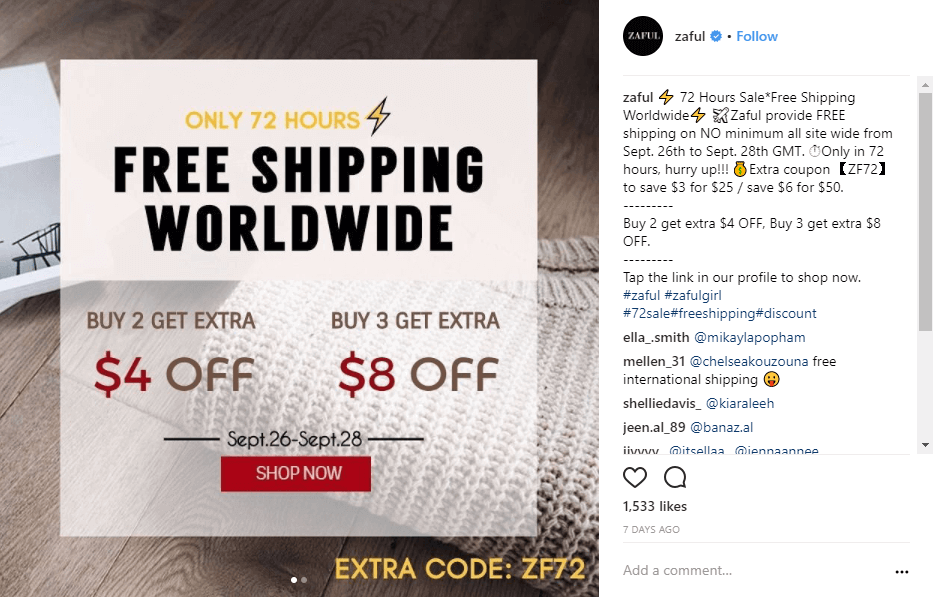 Some simple calls to action that are fun and engaging but not promotive are things like asking people to comment below, tag someone, or just say yes. By asking the influencer's followers for simple actions such as the ones mentioned above, you engage the audience and also make them stop for a second and watch the post carefully.
This is especially important on Facebook. That kind of engagement and those kind of comments are driving Facebook algorithms. Comments drive the post to have more visibility.
Conclusion
These 5 tips should be able to generate quick and effective results from your influencer marketing campaigns. They are sure to help you improve your influencer marketing results as long as you implement them into your strategy.
If you want to make your influencer marketing campaigns successful, make sure you aren't too promotive, are choosing the right influencers, giving the influencer full control (as the influencer knows best what their followers want) and lastly, including killer call-to-action.
Make sure you are reaching your target audience and that you are staying authentic at all times and you will succeed.