The Ultimate Guide To Social Media Branding: Branding Made Simple
Do you have a consistent and coherent brand image on social media?
Having a cohesive and coherent brand message on social media is vital for success because it can ultimately lead to more business, more followers, and more opportunities for your brand.
Just look at the largest and most successful brands on social media: Coca-Cola, Nike, Adidas, Gucci, Louis Vuitton, and many more. They are all examples of brands who have put great thought into their branding on social media – as well as outside of it.
Branding on social media is important for many reasons. First off, it allows your brand to be instantly recognized, no matter where people find you. The whole idea of a branding strategy is to present yourself as a brand that your audience can resonate with, and build a personality that aligns with your core values, as well as your target audiences'. In other words, you build an image for your brand on social media that present your brand in the best possible light.
In this post, I'm going to help you build a brand on social media that looks professional, cohesive, and appealing.
Set up your username
When building your brand – whether it be your personal or your company's brand, you need to think about the username you are going to have across all your social platforms.



Ideally, you should have your brand's name as username across all your social platforms, but for different reasons, that might not be possible.
To the largest extent, you should avoid unnecessary dots, underscores, abbreviations, and numbers, because most of the time,  that will only complicate the process for the people looking for you on social media to find you.
When deciding your username, you want to ask yourself this simple question:
"What will people search for when looking for our brand?"
What that is, that's what you should set your username to.
If people are looking for Adidas on social media, chances are, they're going to search for just that. And this is also the reason why Adidas has their username set to "Adidas" across all their social platforms:
https://www.facebook.com/adidas/
https://www.instagram.com/adidas/
https://www.pinterest.com/adidas/
https://twitter.com/adidas
https://www.youtube.com/adidas
Having a consistent username across your social media accounts is important not only because it allows people to find you easier. It is also helpful because it allows people get reminded of your brand name, thus increasing brand awareness.
If you can't get access to the username you want to have for all your accounts on one platform, you can still include your name in your profile description. This allows people to find your profile by searching for your brand name even though your username isn't the same.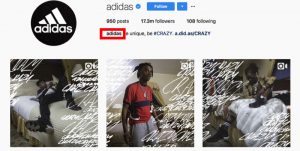 Describe your business
When people come to your profile, they should, in a matter of seconds be able to know what you do.
Your bio is a limited space, and therefore you need to keep your bio short and concise. Of course, doing this can be a challenge, because well, cramming lots of information in a few sentences is a tricky task.
To help you get an idea of the most important parts you should include, make sure your bio answers these questions:
What do you do?
Why should people follow you? (What is your value proposition?)
Who you are
Apart from this, it doesn't hurt if you sprinkle your bio with a touch of personality. This will give the people who visit your page an idea of who you are by reading between the lines.
Here's a cheat sheet from Unbounce to get started about some of the different social media platform's bios.
When you're done writing, make sure you've answered the three question above, and ask yourself if people will know who you are and what you do after reading your bio.
Link to your website
If you're not linking to your website in your social media bios, you're missing out on tremendous opportunities.
Your social media can only tell your audience so much, and therefore, leading people to your website is a great way to provide them with more information. Moreover, It can also lead to more business and that's something you don't say no to!
When I am scrolling through social media, I often come across brands who don't take advantage of the huge potential the website link in your bio has. Some people link to another social media account of theirs, others don't link to anything, and others link to something completely unrelated to their business (believe it or not).
If you don't have a website, I'd strongly recommend you to get one. But until then, linking to another social media account of yours will work as a temporary solution.
Be careful with link shorteners
Heck, stay away from them completely when linking to a website in your bio. There's nothing wrong with shortened links such as But.ly, but when including a link in your bio, don't use a shortened link which people won't know where they'll be taken if they click it.
When people first come across your page, they'll be a little curious but cautious at the same time. And why wouldn't they! They don't know you. Would you follow a stranger that you don't know to a destination you don't know?
That's exactly what you do when you click a shortened link which you don't know where it leads to.
Spammers, scammers, hackers, and other people can easily shorten a URL and hide where it really leads to. If you want to get people to click through to your website, just include your full URL, because you'll come off as more authentic.
Think about your profile picture
Just like your username, you want to have the same profile picture across all social platforms. This allows people to quickly identify your brand's page, but also build brand awareness and start associating your brand with your logo.
If you're building your personal brand, you should, of course, have a profile of yourself. Having a high-quality picture of your face (not some photo taken in the mirror with the flash turned on) will make you come off as more trustworthy and more approachable.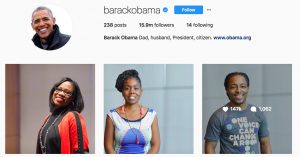 In other words, people will know who they're interacting with, thus making you more human.
For brands, it's not ideal that you use a profile picture that is something else than your logo because you risk coming off as unprofessional, and you're missing out on the advantages that using the logo as your profile picture has.
Think about cover photos
Cover photos are available on some social platforms but not on others. For those that allow it, you should definitely use them. However, see the cover photo as a way to present your brand message and showing your personality rather than using it for promotional causes. This will make your profile more appealing right from the word go.
What content should you share?
An important part of your branding strategy is how the content you share looks. I am obviously talking shapes, theme, format, colors, and other things that can be seen by the eye. This is, of course, a very important part of your content because all of those elements allow you to share content that is consistent and instantly-recognizable as your brand's content.
I've already written an article where I talk about the elements that talks about all of the mentioned things above, in other words, the things that make a consistent visual brand message that you can find here.
But something that is often less emphasized when it comes to content on social media is the type of content you are sharing and how it aligns with your brand and how your audience perceives you. When you share a post, how does it align with the way you want people to view your brand? And even more importantly, how does it align with your followers' interests and what they expect from you.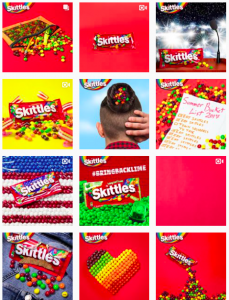 Something that is far more important than colors, shapes, and styles is the actual content itself. Does it align with your industry? Does it align with the content your audience wants to see? It doesn't' matter how visually stunning your posts are if they are completely irrelevant to your followers.
Conclusion
Branding on social media is tremendously important. To establish a strong presence on social media, you need to have worked with the most important branding questions for social media. This allows you to build a presence that everyone can see, and associate with your brand. There are many parts of a social media branding strategy, but it is important that you build from the ground up. In order to build a branding strategy, you need to start with the foundation. You can't start in the wrong end because if you do, the construction will tip over.