15 Effective Ways To Improve Customer Retention With Social Media
Social media has an incredible marketing power. If used strategically and correctly, it can drive tons of sales – but you probably knew that already.
But do you know what's even more important than acquiring new customers?
Getting your existing ones to buy from you again and again – also called customer retention, which means working to get your customers to stay with your brand after their first purchase from you, and then continue to buy from you.
Why is customer retention so important you ask?
Well, I'd even dare to say that customer retention is more valuable than customer acquisition, yes still, many brands are investing millions and millions, and all their resources into acquiring new customers, just to leave their existing ones hanging.
When we look at the statistics related to customer retention, there's no discussion that you need to be using it in all ways you can.
And luckily, social media is an excellent tool for working to improve your customers' retention rate.
Did you know that on average, loyal customers are worth up to 10 times as much as their first purchase?
What's more, the profitability of selling to a new prospect is 5-20%, while the profitability of selling to an existing customer is 60-70%
The bottom line?
Marketers have some evaluation to do because if you work to increase your retention rate at your existing customers it can actually show to be more beneficial than acquiring new customers.
Now, obviously, you shouldn't ignore customer acquisition completely, because if you're not acquiring customers, you won't be able to become returning customers, however, brands and marketers need to realize that the only way to increase revenue isn't to attract more customers.
In fact, a perfectly good way to do so is to increase your retention rate.
In this article, I am digging deep into customer retention on social media and present 15 Effective Ways To Improve Customer Retention With Social Media.
1.Get to know your audience on a personal level
Want to know what the key to better customer relationships is?
Knowing them deeply, personally, and thoroughly.
Because when you do, you'll build a personal connection with each other, and your customer will get a much stronger tie to your brand rather than that they "kinda like your products".
Because if the latter is the case, you probably won't keep them very long.
Why?
Because you only have one value proposition to them. It might be that you offer a good price, good quality, or good design.
But if a competitor of yours lower their price, the customer probably won't stay at your business. Instead, they'll go to your competitor which offers a better value proposition.
The bottom line?
By getting to know your audience as individuals, you are able to build better, more genuine relationships with them, and they become loyal supporters of your brand.
When this happens, they need a bigger reason to abandon your brand and go to someone else rather than that they save a few bucks.
The good news is that most of your competitors don't take the time to get to know their audience, which means that there are great opportunities to snatch ground in your market and increase the retention rate of those customers by making them more loyal.
Getting to know your customers better has more benefits than the one mentioned above.
When you get to know your audience better, you'll have a greater understanding of what sparks their interest, what pain points they have, and what solutions they need.
As a result, you can provide all of that to them, and have an even better value proposition which gets them to stay with you for all eternity.
2. Make your business easy to find on social media
Visibility is crucial for more business -both new customers and old, yet still, it seems like some brands are trying to go under the radar on social media.
Or, they just don't know how to use social media properly.
Because obviously, you don't want to fly under the radar on social media. Instead, you want to be a big fat dot that can be discovered by people from miles away – a brand which stands out from the rest of the crowd and that is easy to find.
First off, you need to be using the social media platforms which your target audience are using. Now obviously, you should jump on every social platform you come across, and I've spoken about t that previously, but the simple reason why you shouldn't do that is that your target audience isn't to be found on every social platform there is.
What's more, when you are trying to juggle your social media presence across a ton of different platform, there's a risk that you'll end up generating average results across all of them rather than incredible results on a few.
And let me tell you, the latter is far more beneficial for you.
So why is being easy to find important for an increase customer retention?
Well, first off, not all people follow a brand before they have become customers.
In fact, many people find a brand, buy something from them, and then get so excited about the brand, and feel like they're part of the family now that they are an owner of the product – and as a result, they start following them.
What does this mean for you?
It means that people who have become customers tend to look up your brand on social media after they have come customers, and when they start following you, it allows you to reach and impact them over and over again, so, therefore, you want to make your social media accounts as visible as possible since it allows people to find your page more easily.
3. Be where your audience spends their time
Obviously, being where your audience is is crucial for being able to reach and interact with them so that they are constantly reminded of your brand and decides to buy from you.
When I am talking about being where your target audience is, I am talking about the social platforms you use, but also other parts of customer interactions.
I just talked about choosing social platforms above, but the key to spending your efforts wisely is choosing the platforms where the majority of your audience spends time.
As a brand, you want to be tremendously easy to find. If your audience has to search like crazy just to find you, there's a big risk that they'll stop the hunt. If they can't find your business in a matter of seconds, they'll probably give up.
Being where your audience spends their time also has another meaning. This means that you should always be close by and ready to help them with any questions or thoughts they might have. You should be like a personal bodyguard that is always following closely behind your customers.
Now obviously, this is more of a metaphor than anything else, because if you would follow your customers where they go on social media, they would either classify you as a stalker or, you wouldn't have time to do anything else.
What you should do, however, is to always be on standby and ready to interact and engage when your customers expect it from you.
The more you are close to your customers, and the more you interact with them, the more they'll have your brand on top of mind, and the more likely they are to buy from you again.
The bottom line is that you shouldn't invest every resource you have to get people to convert and then just let them go their own way and never talk to them again.
That would literally be leaving money on the table because considering how expensive it is to acquire customers, and how profitable returning customers are, you should work like crazy to get them to stick around your business after their purchase and not just leave them by the side of the road.
Sounds reasonable, right?
4.Put great effort into social customer service
Did you know that social media is the new customer service tool?
Well, not completely, however, more and more customers are turning to the brand's social media pages for customer support. In fact, 1 in 3 social media users prefers social media customer care services to telephone or email.
The numbers about social media and customer service are rapidly changing for the better, at least for us social media junkies, but this also means that you need to invest more resources into managing your customer service on social media, as well as being able to respond quickly.
You probably know how crucial customer support, and even more importantly, a good customer support is for your brand.
In fact, According to J.D. Power, 67% of consumers have used a company's social media channel for customer service. According to the Q2 2016 Sprout Social Index, 90 percent of surveyed consumers have also used social media in some way to communicate with a brand.
What's more, 78% of consumers have bailed on a transaction or not made an intended purchase because of a poor service experience.
The thing is, that great customer service as an incredibly positive effect on your customers, while bad customer experience greatly harms your brand.
Did you know that 91% of unhappy customers would never do business with you again?
The bottom line?
If you have made a customer angry and don't do anything about it, the vast majority of them will never do business with you again, and you will have lost them forever.
What's even worse about that is that they'll tell their friends about the bad experience and potentially prevent them from buying from you.
I have some good news too!
If you resolve your customer's complaint in the customer's favor, they'll do business with you 70% of the time. And considering that they have once been angry and disgruntled, that number is actually quite promising.
This means that by providing incredible customer service you can increase the number of customers that buy from you again with 61%. That's quite significantly.
And considering that returning customers spend more on average, you'd be missing out on incredible opportunities if you don't add social media customer service to the mix.
So how can you provide great customer service on social media?
Well, first off, your response time is tremendously important. Great customer service on social media is an art, that you can master with the help of this article.
But there's no doubt that response time is crucial.
In fact, research cited by Jay Baer tells us that 42% of consumers expect a response with 60 minutes.
What's more, a study by SproutSocial found that the rest of the people expect brands to respond within 4 hours, however, the reality is that the average response time of brands on social media is 4 hours.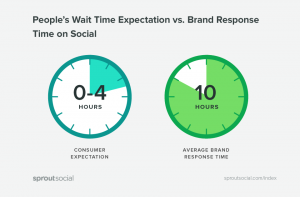 The punchline?
More and more people are taking their customer strive to social media and you want to be there to respond to them.
Your customer service is the difference between a loyal returning customer and a retention rate that skyrockets through the roof, and a customer that abandons your brand and never buys from it again.
If you want to take customer service seriously on social media, you can even create new social accounts that are solely dedicated to customer service so that you separate business and customer service.
At least, that's what brands like H&M and Zara have done on Twitter, and doing so has shown to be extremely beneficial for them, with more happy customers, and as a result an increased customer retention.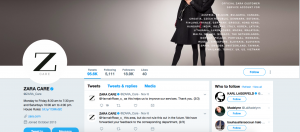 5.Use social listening
Whether you know it or not, people are talking about your brand on social media.
Everywhere, people are talking about brands, and what's even more surprising is that the majority of the brands either don't have a clue that people are talking about them or just don't bother to listen. In fact, an Online Shopping and E-Commerce report found that 39% of U.S. adults have shared their brand experience on social media. What's more,  Approximately 55% of Millennials and 50% of Generation Xers have done so.
What can we learn from this?
Well, there's an incredible amount of testimonials being shared in the big world of social media, and considering how valuable positive testimonials of your brand is, you shouldn't let them go to waste and slowly fade out in the noise of social media.
As a result, social listening should be far up your priority list. By taking the time to actually listen to what your customers have to say, you will be able to learn quite a lot.
Of course, not everything you hear will be positive, but that's a good thing.
Because what happens if you don't do anything about a disgruntled customer?
They'll never willingly do business with you again 91% of the time.
But what happened if you actually solved their problem in their favor?
They'll do business with you 70% of the time!
And this is something worth having in mind.
If you don't use social listening, you'll miss out on a ton of opportunities both to take advantage of the positive testimonials that are being made, but also to make things right again and to solve your disgruntled customers' problems in their favor.
If you don't use social listening, you'll never be able to find what people are saying about your brand, and you'll never be able to act and react based off of that.
The people who write things about your brand on social media – the things you can find by using social listening, are people who are customers of you and write things based off of their own personal experiences.
And since your goal is to increase customer retention, it should be a very high priority of yours to respond to your existing customers and do everything you can to give them a better perception of your brand, and also increase their chances of buying from you again.
The testimonials your customers leave are super effective in marketing because they tend to be a lot more trusted than the own words of the brand.
People are curious to see how real customers are experiencing your products and brand before they buy from you. They want to hear what they think of you, and how your products have helped improve their lives.
As a result, it's not surprising that customer testimonials and case studies are considered the most effective content marketing tactics, identified by 89% and 88%, respectively, of B2B marketers. (2013 B2B Content Marketing Trends Report)
What's more, 90% of respondents who recalled reading online reviews claimed that positive online reviews influenced buying decisions (Dimensional Research)
The bottom line is that testimonials greatly impacts your customers (both future and existing ones), and when your customers are leaving testimonials right in front of your nose, you are missing out on a huge opportunity if you aren't implementing them into your marketing.
6.Use listening tools
Apart from using social listening to identify when your customers are leaving testimonials, your customers and potential customers are talking about a ton of different things – a conversation that you can be a part of.
With a tool like Google Alerts, you can follow and track specific topics, phrases and keywords in order to find conversations that are relevant for you to join.
By joining conversations on social media that your customers are having, you will make sure that you're always on top of their mind, but also present yourself as knowledgeable and a leader in your industry.
You can also monitor things like your brand name and hashtags to ensure that you never miss out on any messages from your customers that might need a response.
Because if you don't respond to your customers that write to you directly, they'll feel like you don't care about them, and there's a risk that they might go to your competitors instead.
7. Engage quickly
As mentioned earlier, the response time is crucial and can be the difference between a lost customer or a loyal customer that buys from you over and over again.
Social media is a fast-paced landscape, and people expect everything to go quickly.
If you don't have the resources to keep up, you have a serious problem.
More people are starting to prefer social media for customer service rather than email or customer support line on the telephone because it allows for instant interaction, plus, they're already on social media, so shooting a message is done in a matter of seconds.
The problem, though, is when you can't provide them with quick responses.
The thing is, you now know how important customer service is, so, therefore, you just got to make it happen.
8.Develop your tone and brand voice
In order to better resonate with your target audience, you need to identify who they are and what personality they have.
For example, if you would target 70+ year-olds, it's not a very good idea to start using slang and a bunch of online abbreviations when talking to them, isn't it?
If you would, you would alienate your audience, and you would create a bigger gap between your brand and customers – potentially even scare away your customers.
And we're not trying to do that, are we?
We're trying to do the opposite, and that means knowing your target audience and using a similar tone and voice to better engage and interact with them.
If your customers resonate well with you, they are far more likely to buy from you again and become returning customers.
9. Show gratitude
Showing gratitude towards your audience is crucial in business because by showing your existing customers that you value them, they are far more likely to buy from you again.
And the truth is: you have a lot to thank your customers and social media audience for.
When they interact with your brand, they choose to spend their time with your brand and nothing else.
And remember that it's time they'll never get back.
The same goes for when they take their time to write testimonials about your brand, and constructive criticism to how you can approve.
Businesses are generally not very good at valuing their time, but doing so will show your audience that they mean a lot to your brand.
And when you show that you respect and appreciate them, they will show that they appreciate and respect your brand.
They'll also be far more likely to want to be a part of your brand because they support what it stands for and the values it has.
One way is to buy from you!
Sometimes, all it takes is a simple "thank you" to show your appreciation.
10. Understand what your audience wants – and give it to them
Now, I've been rambling on quite a lot about the importance of social listening, but the reason to that is because it is a place where a lot of your customers spend time and share ideas and thoughts. As a result, it is the perfect place to engage and interact with them.
By taking the time to listen to what your audience has to say, you can actually learn quite a lot.
This also means what your audience wants, and how you can give it to them.
Social listening is one of the best ways to improve your customer retention on social media, but in order to have any success, you need to actually listen to your audience. The information you extract from your audience can then be evaluated and implemented into your own brand.
Because the thing is that if an existing customer of your says something about your brand, or describes a pain point they have, or discuss how you can improve, they are extremely likely to buy from you if you provide it to them – especially since they'll feel like you've listened to them and valued their opinions and ideas.
11. Identify potential brand advocates
You probably have a few (or a ton) of people who are extremely engaged in your brand.
Maybe a little too excited in some people's eyes, but for a brand, there's no such thing as having too engaged customers.
These are people who interact with every single post you share, share every single post, comment on every post you make, join every contest and gives you tips on how you can improve because they want to see your brand win and be the best it can be.
These people are tremendously valuable to your brand whether you realize it or not.
And unless you're taking advantage of them, you're missing out on an incredible opportunity.
In fact, you can make these people your brand advocates; people who are promoting your brand and telling everyone how awesome you are – without lying and speaking from their own experiences and thoughts.
Brand advocates are often mixed up with influencers, but there are a few significant differences.
First off, influencers are normally only paid for a limited amount of time or a selected number of posts and mentions. Advocates, on the other hands, have already talked about your brand and how awesome it is for a very long time, which means that they essentially don't need anything to continue doing so. They just need to be encouraged by your brand – and of course, be thanked.
If you don't show any appreciation or don't even acknowledge them, they'll eventually get tired and go somewhere else. However, if you give them more value that they have given you, they'll become even more excited about your brand, and they'll want to a continue promoting it.
In terms of value, different people see different things as valuable, so you just need to find what's valuable to them.
It can be a small gift, a coupon code, or even give them the latest inside information.
With brand advocates, you want to achieve two things:
First, you want to show your appreciation by thanking them and providing them with value. That way, they'll become even more engaged in your brand, and they are even more likely to buy from you again.
You also want to engage with them on a regular basis in order to improve and strengthen your relationship with them.
Your second is to improve that relationship further by generously rewarding them for their loyalty. When you do those things, you'll notice that you'll have more brand advocates than you can handle that all promote your brand to their friends, as well as purchase every single product from you loyally.
12. Give away gifts
Giving gifts is a great way to give back to your customers and to make them more loyal and engaged in your brand.
When giving gifts, you don't have to arrange large contests or giveaways, in fact, there are tons of different ways you can give your customers gifts.
First off, you can begin by giving gifts to the people who are loyal supporters of your brand and have been so for a very long time.
Doing this will show them that you truly value them and appreciate their loyalty.
What you are going to give away is completely up to you, but try to think about something that your customers will find valuable.
Obviously, if they are people who regularly buy from you, they might just think that a coupon code for 50% off in your store is the greatest gift ever, but obviously, it's about knowing your audience and what they want.
Make gifts a part of who you are as a brand and a way to give back to your loyal customers. Doing this will encourage more people to become loyal customers of your brand, and thus increasing your customer retention, but it will also give your brand a better and more appealing image and personality.
13. Share valuable information
A great way to make your customers engaged in your brand and to improve your retention rate is to become a go-to source for information in your industry
When you provide valuable information, you give your customers a reason to come back day after day, and each they come back, your brand gets etched more and more into their brand, and as a result, when they are ready to buy, they're more likely to think about your brand.
Social media offers brands a completely new way for brands to establish themselves as authorities in their industries, but in order to do so, you need to have valuable information to share.
This can be anything from industry news to the latest inside information about what is happening behind the scenes. In other words, anything that your audience will care about.
The relationships with your customers will become stronger when people actually rely on your brand to provide them with something. And what's more, when that happens, they'll feel like they aren't the only ones giving, but they'll feel like you are giving them a lot in return as well.
When you establish your brand as a thought leader and go-to source, you are in a great position where your customers will become more loyal, your retention rate will fly through the roof, and you'll have an easier time convincing hesitant potential customers.
The key to driving sales – both from existing customers and potential customers is to give 51% of the relationship and provide them with more value.
Because when you do, they'll feel obligated to give back to you.
14. Give your customers a reason to be loyal
When sitting and planning on how you can improve your retention rate, it's important that you get to the bottom of why your audience should improve, and what you have that would make your existing customers become returning customers.
You must give them a reason.
In other words, if you don't have a value proposition, there's no reason for your customers to be loyal.
And when they don't have a reason to be loyal, they'll go to your competitors if they offer your product at 1 dollar less than you do.
Remember that relationships need to be mutually beneficial because otherwise, they'll never last.
15. Create customer loyalty programs on social
Customer loyalty programs are everywhere – but not as much on social media.
In physical shops though, it seems like almost all businesses have a customer loyalty card.
And if it didn't work, they wouldn't have them, but how can you use that for your social media strategy?
A great way is to offer your customers an "online card" which people can buy every time they buy from you.Every time they buy, they'll get points and rewards, or if you want, gifts when they reached X number of orders etc.
The opportunities are endless, really. Only your imagination sets the limit.
But remember that the goal is to value loyalty because when you do, you'll notice how your customers become more loyal to your brand – simply because they have a reason to be.
Conclusion
Based on the statistics of customer retention, you should put great effort into improving your customer retention
Instead of just hunting new customers all the time, making sure your current ones stay with you can be more valuable and more beneficial for your brand as it is more expensive to acquire new customers than keep your current ones.