How To Create Appealing Social Media Captions That People Will Read
Visual content on social media is something that gets a lot of attention by marketers and content creators – and with all right. But something that's equally important, yet still don't get the attention it deserves is the captions.
Having appealing visual content on social media will help you generate great results, but having appealing captions as well as great visual content will help you dominate your industry.
Are you struggling with coming up with interesting and fun captions when sharing content on social media that gets people going?
If so, continue reading.
Because captions play a vital role on almost all social platforms, I'll give you tips and tricks on How To Create Appealing Social Media Captions That People Will Read – on all social platforms.
What goes into creating a killer caption?
1. Know your audience
The single most important thing to creating appealing captions is knowing your audience. This is just as relevant as another form of marketing where you want to reach your target audience.
Social media is used by all types of people, from men, to women, teenagers, old, and young.
What types of captions you write will affect what people you attract.
For example, depending on what fish you are after when fishing, you will choose different fishing lure.
Right?
The same goes for captions.
In order to attract people in your target audience, you want to write captions that tickle their senses, makes them laugh and gets them engaged.
The better you know your audience, the better will you be able to craft captions that do all of the things above.
Of course, to do so, you need to know them first.
Some questions you can ask that will help you better understand your audience are the following:
What age is your audience?
What gender are they?
What interests do they have?
Will they understand abbreviations?
Will they resonate well with emojis?
2. Know your brand voice
Something you also want to take into consideration when creating captions is "How do I want to portray my company", and what personality do you wish your brand to be recognized for?
Inevitably, everything you write and do will affect how people will view your company.
In short, how people will remember you as.
Think about that.
How do you want people to view your company? Do you want it to be seen as a conservative and boring business, or a business that hops on the latest trends, dares to be bold, and share controversial content.
Knowing the answer to that will let you restrict yourself from writing certain things in your captions when you do not believe they follow your brand's core values.
To make sure that you know what your brand stands for, (and everyone in your team for that matter also), gather your team and let them write a few words that describe your brand.
Hopefully, your team sees the business with the same eyes and pulls in the same direction, because if so, the words that describe your business should be fairly similar.
Apart from LinkedIn, social media don't generally have a very serious tone, so if you are a brand that is of the conservative type, it might be a great opportunity for you to show your fun side with the help of your captions.
Now that we've covered two of the most important points when it comes to what "type" of captions you want to share based on your target audience and brand, let's look at how you can create appealing captions that'll make your audience hold up for a second and read it.
How To Create Appealing Social Media Captions That People Will Read
1. Think about length
Different social platforms have different recommended lengths.
But that's not the only thing that will decide how long your captions should be.
In fact, the biggest deciding factor is: who your target audience is.
Humans, in general, are lazy. Especially teens. (Sorry for the generalization).
Thankfully, we can research some statistics on which demographics read the most.
For example, if a teenager would see a huge chunk of text below a post, also known as your caption, there's a big risk they would be discouraged and scroll past it.
Thankfully, we have statistics to lean on when researching which individuals are reading the most.
Women generally read more than men. About 77 percent of American women read a book in 2015, as opposed to 67 percent of American males.
In addition, the average woman read 14 books over 12 months, while the average man read only 9.
Also, not surprisingly, the average reading time differs across countries as well.
Having these types of things in mind will let you know how long captions you should craft.
There's more…
Lastly, what will also decide how long captions you can write is how passionate your audience is about your industry/subject. For example, people working within the laboratory sector tends to write report after report and are used to read longs texts.
Again, it's about knowing your audience.
National Geographic is a brand that can write long captions and still get away with it because they audience is highly engaged in the subjects they bring up. Also, the captions help add a lot of context to the post they are sharing.
Last but not least…
The last deciding factor in terms of caption length will depend on the social platform you use.
Twitter, for example, only allows a maximum of 140 characters in a Tweet, so really, you don't have much choice there.
Other social platforms that are more visually driven, such as Instagram and Pinterest allows for text, but first and foremost, it's the visual that matters. However, just like National Geographic, a caption can help explain and give context to your post.
In contrast, Ralph Lauren restrict themselves to two or three sentences. This is to present their brand as very simplistic, catchy and a brand that believes in "less is more" – and based on their comments, it works!
People don't want to read a whole block of text from them.
It's obvious that Ralph Lauren knows their target audience very well.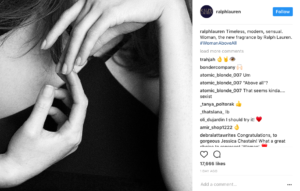 2. Important first
Maybe obvious, maybe not.
Make sure that you include the attention grabbing text in the beginning of your caption because if your caption is longer, it will have a huge effect whether or not people continue to read the rest of your caption.
It's just like the headlines and sub-headings in a blog.
Often times, people will scroll through a blog post before they read it to get an understanding of what it is all about.
Chances are, you did it with this post.
Correct?
So to summarize, see the first few words of your caption as a headline, and make sure they hook the reader to read the rest of the caption.
3. Use emojis – or not
Emojis can be great to draw attention to your post and caption.
However, it can also harm your brand.
Generally, people from Generation Z, the millennial generation, and generation X are the ones who are using emojis the most and understand the purpose and meaning of them.If your target audience is people from the "Baby boomer" generation, using emojis might result in you making the gap between your brand and customers.
If your target audience is people from the "Baby boomer" generation, using emojis might result in you making the gap between your brand and customer bigger, because your target audience simply doesn't understand or resonate with your language.
If you think about some brands who are known to be bold, young, and fun, which comes in mind?
Brands like Red Bull, Coca-cola and H&M are brands who use emojis in almost all their social posts.
That's because it works!
Emojis helps them empower their brand message and present themselves how they want to be seen by their audience.
Also, by using emojis, they can come close to their target audience since they use the same language as them.
4. Proofread and edit
There's not much more that turns off and scares away customers than bad grammar and misspellings.
Nothing is perfect the first time.
In fact, if you haven't made it a habit yet, make it one now.
Always, always, always proofread everything you write, because a simple typo can end up backlashing.
Here's an example of Verizon support getting spelling support. Embarrassing…
5. Use hashtags
You can use hashtags in your captions if you'd like, however, use them sparsely.
In fact, it is recommended that you use hashtags for an increased reach and engagement.
Just look at the statistics below that has measured Instagram engagement based on the number of hashtags used:
There are two places you can place your Instagram hashtags. Of course, all social platforms work differently, so adding a few hashtags in your caption will do the trick.
On Instagram though, you can add hashtags in either your caption or your comment section.
If you want to add hashtags in your caption, you should avoid using more than 2-3. If you do, it will make your caption look spammy and it will be hard to read – leading to many people ignoring it.
You can use a maximum number of 30 hashtags on Instagram on a post, so if you are to use 3 in your caption, you can add 27 in the comment section by simply commenting on your own post once you've shared it.
Once again, Red Bull is a good example. They use hashtags relevant to each and every single post they share, and if they are to use more than 2-3 hashtags, they usually choose shorter tags that takes up less space in the caption.
If you have a branded hashtag, adding that to your bio can help encourage others to use it, thus leading to more visibility and exposure.
6. Ask questions
One of the best ways to get your audience engaged on social media is to ask questions.
End all your captions with a question to get more comments, likes, and shares.
The less advanced of a response your question demands, the more answers you'll get. That's why Yes/No questions are so immensely popular on social media.
Ford takes the opportunity to ask a question that really only can be answered with one response. This makes more people comment on their post, because all they need to say is "me", or "not me".
Not very effort-consuming, right?
That's why a lot of people comment, as a result.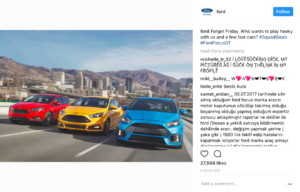 Mercedes asks very open yes/no questions
7. Include links to drive traffic
If you use social media regularly, you have probably come across this. Social media is a tremendous tool for traffic if you know how to use it correctly, and links are one of the ways to do so.
On most social platforms you can share clickable links in your posts, but on Instagram, you can't.
Take advantage of the exposure you get on social media to drive people to your website and get them into your funnel.
You can either include your whole website link or shorten your link.
If the link is long, it might be a good idea to shorten it to make the caption look less spammy.
If you are using Instagram, you need to take a different approach. The most used method to drive people to your website without including a link in your bio (which isn't clickable), is to simply write "link in bio" or "Click the link in our bio to learn more"
The post works as a method of sparking interest, and the caption works as a complement to the post to provide the viewers with further information and context.
8. Share "did you know?" captions
People in your niche are obviously interested in your industry because otherwise, they wouldn't follow you.
A golden rule to social media success is to provide value, and by sharing information and knowledge, you do just that!
Teach your audience about something they don't know about and they will be forever thankful. It can be anything from information about how your products are made, what kind of material you use, or the latest news in your industry!
Conclusion
The single most important part of writing appealing social media captions is actually not the writing itself.
It's about knowing who your target audience is, and what they resonate well with.
Write captions that reflects your brand and how you want it to be seen. Use abbreviations and emojis if suitable to reduce the gap between your audience and your brand, and make sure you always proofread everything you post.
Last but not least, ask engaging questions to get your audience to engage with you, and also, make sure you respond to the comments you get.
Are you using any of these methods of writing captions? Have you found any success in doing so?