How to edit a video for uploading to YouTube/Instagram
Being a part of the millennial generation, there is a list of memories that we want to update on our social media platforms. For instance, the milestones that we achieve, our international/national travel videos and the Saturday night parties. It can be either to share your story to the world, have your own online diary or establish your own professional influencer.
However, sharing a video on Instagram or YouTube isn't exactly the easiest task, especially if it is a high-quality 4K video. Most professional videographers, influencers or avid social media fans shoot videos in 4K quality, especially due to the amazing graphics and attention to detail that comes along with it. Yet, Instagram lacks the support for a 4K video to function, automatically reducing such content to 1080p quality, putting all your efforts into waste in an instant.  Similarly, to upload 4K to YouTube, it can cast you hours and then more often than not, it is a lower quality available due to size constraints.
Is there no other solution?
There definitely is. Many softwares like VideoProc exist to save your hard work, help you get the job done and have your 4K video posted wherever you want, whenever you want. The best part is that these softwares have highly optimized compressor tools that do the difficult work for you, as compared to manually compressing via changing a million settings. So you can edit 4K video without any fear of quality reduction or content loss.
Infact, it is also simple and easy to install VideoProc via their official site. It automatically recognizes your computer requirements and has a step-wise installation guide that needs to be followed. There are a few discount surprises available during special occasions which come with a 30-day money-back guarantee, allowing the genuine software to be accessible and authentic, without any loopholes.
What are the steps to follow?
Most of us are beginners in editing and have recently opted to shoot 4K videos, which is why it is crucial for you to know how to go about applications like VideoProc. Here's a step by step guide to editing a file on VideoProc:
1) Add your 4K video under the video options by directly selecting or by dragging the file. This is your video shot that needs to be edited.
2)      Find multiple options on the screen, be it code change, scale change, cut, crop, brightness and noise reduction, etc. that can be used to edit the video as per need. You can mix and merge sections, add a watermark and stabilize the video. It is an open field.
3)      After finishing all editing touches, press the run button which finalizes the changes made and creates your end video. Feel free to check the quality of this final video and make any other changes, if required before moving on to the final step
4)      Finally, use the final video to post on YouTube or Instagram, without any concerns about quality or upload time and enjoy the magic in front of you.
What are the advantages of using VideoProc?
1) All-round work ethic
VideoProc comes with a complete package of necessary and optimum editing features. From removing fish-eye to changing input/output formats, there is nothing left to the imagination. Video resizing, reshaping, deshaking, speeding adjusting and flipping can be done via VideoProc and a few mouse clicks. Additional options like correcting lens distortion, adding subtitles, extracting audios and video enhancement are available in the standard version of the tool.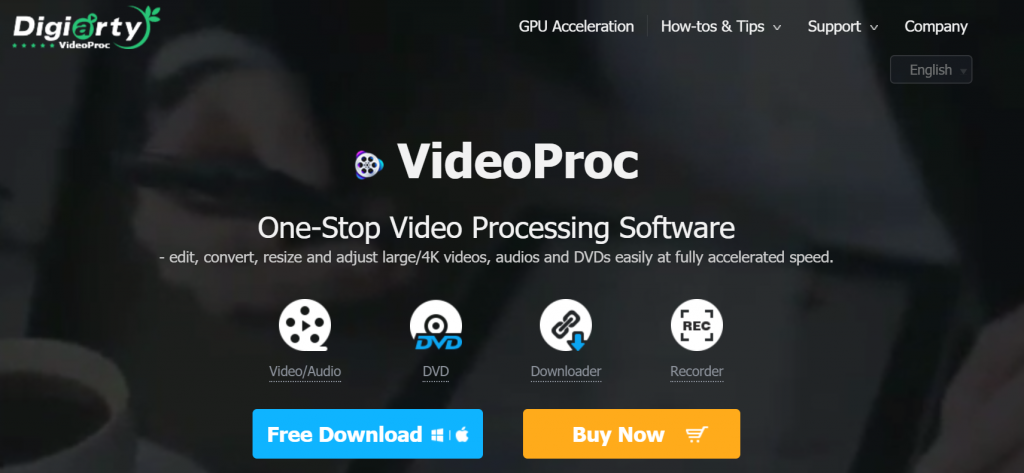 2) Full GPU Acceleration
A full GPU acceleration means that the software does not have any wasteful space usage and is highly up-to-speed with its features. VideoProc uses credible INTEL QSV, AMD and NVIDIA to ensure any selected video is processed 47x times faster than standard options. There is low CPU usage, high-end results and zero compromises on efficiency. This allows your audio or video clip to be edited in the best time length possible. Available for both MAC and Windows, it converts at the speed of light.
3) Experienced editor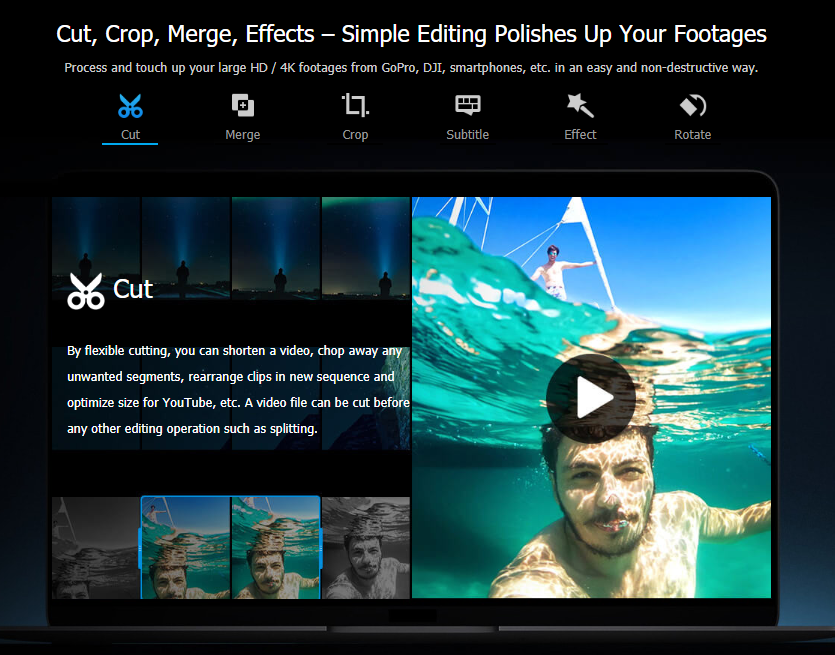 Along with amazing options to edit, VideoProc entirely possesses a huge set of features, long-term accessibility and authenticity. The website is easy to use, the download option is comfortable to work with and the software itself is quite basic to understand. Not just 4K videos, you can edit 3D videos, convert DVDs to any other format and manage GoPro video as well. Its experience comes from the availability of choices and the amount of back end support it gives, right from 370 input codecs to 420 output formats, there are never any issues with the original quality.
Now that you know your way out, feel free to shoot as many videos as you want and post them on social media. Good video content attracts a large number of viewers, adding to your channel marketing plan or simply boosting your network. Find content that matters, keep the videos short and be regular with your posts, without any trouble in integrating, encoding or demultiplexing your latest video shot.
VideoProc isn't a professional editing software that will take hours to learn but it does the job. Editing and uploading 4K videos will never be easier than this. It's a brand that has been working since 2006 to help artists, influencers, and fans come up with sharable content and has a presence in more than 70 countries.