4 Easy Ways To Take Your Social Media Marketing to The Next Level
Social media is a great marketing tool, but today, it is more saturated and competitive than ever. Those who succeed on social media use tactics that most people aren't using, and do the things that other people aren't willing to do or know how to do.
In other words, they use methods that aren't yet saturated and implement them into a competitive social media. The result is that they are able to generate results that their competitors aren't, leaving them wondering how.
To succeed in the competitive marketing world, new approaches are necessary, and unless you have unique and clever ways to stand out, you'll have a hard time finding social media marketing success for your brand.
Therefore, that's exactly what I'll teach you in this article. In this article, I'll present 4 Easy Ways To Take Your Social Media Marketing to The Next Level with the help of strategies that your competitors aren't using.
Sounds interesting?
Good. let's dig in!'
1. Listen and engage
To some, this might be as obvious as one plus one, but surprisingly, it isn't obvious for a lot of people.
Strange, right?
If you are the person who understands the importance of listening and engaging on social media – good for you. If you are the person who understands it and then put it into action – even better!
Social media is called "social" for a reason. And I cannot stress this enough!
You're meant to be social.
But when you go on social media and look at a few brands, you'll quickly see that engaging and listening don't seem to be a part of the majority's plan. Or maybe it is. The thing is just that they aren't executing on it.



Either way, there's no good excuse to not engaging with your audience. You might blame lack of resources, lack of knowledge, or lack of information, but one thing is for sure: the opportunities you are missing out on couldn't care less about the reasons you are not doing it.
If you, on the other hand, make social listening and customer interaction a daily part of your social media work, you'll soon see amazing results from it.
As I mentioned, very few brands are actually executing upon this. Just take the first brands that come to mind. It doesn't matter if it's a large brand or small brand. Both are missing out on customer engagement, even though small businesses puts greater emphasis on customer engagement, and generally perform it better than the large corporates in the industry.
Take Coca-Cola for example. They have a tremendously powerful social media strategy that has been praised several times. But still, they're missing out on valuable opportunities to interact with their audience.
It doesn't have to be a question for you to engage either. It can be a customer complaint or a praise, and anything in between. If someone complains, it's a valuable opportunity for you to make things right. But if you just ignore it, your customer will willingly not do business with you again 90% of the time.
The most common place where brands receive the most customer messages is in the comment sections of their posts. When your customers leave messages there, it is especially important for you to respond, because the messages are displayed for everyone to see, and furthermore, everyone is waiting with eagerly to see how you handle a situation.
For some people, how you handle a disgruntled customer might be the deciding factor on whether they buy from you or not.
Those brands that respond to every single message that they receive from their customers on social media – through private message as well as on their posts deserves a big applause. The fact is that engaging with your audience and responding to every single message of theirs is tough, and it demands a lot of time and resources. But it is also completely worth it, and it generates great results.
This might sound evil, but for you, it's a good thing when your competitors aren't responding to their customer's messages!
Here's why:
When people engage with your competitors over and over, without receiving responses. They'll quickly get angry, and say "screw you" and go somewhere else. That somewhere else might be you.
When they go to you and engage instead, and get met with a warm welcome and a brand that listens and interacts with them, as opposed to the way they got treated by your competitor, it will put your brand in a good light.
I simply cannot stress this enough, but make sure you never ignore a single message from your audience on social media, whether it be a complaint, question, or something completely different.
Komono knows the importance of it, and responds to their customers accordingly.
Social listening and engaging are necessarily not the same as customer service, however, on social media, they're often tied together, which helps you save time and resources by being able to respond in a better way.
2. Find the balance between human and technology
We're quickly evolving into a tech-driven society, but that doesn't mean the human touch as a brand should disappear. It's more of the opposite! As more and more of your competitors are transferring to more automated customer interaction tools, it leaves a hole and opportunity in the market for you to stand out.
Now am I saying that using technology and automated services to interact with your audience is wrong? Absolutely not!
There are plenty of examples of how automated customer service and interaction is super helpful, but I am saying that there is nothing that can replace the human touch. Managing your customers on social media means mastering the balance between human and machine, and figuring out which processes and interactions can be automated versus those that would benefit from a human touch.

Did you know for example that in the last year, 67% of customers hung up the phone out of frustration they could not talk to a real person?
It is humans that bring things to life, and as many of your competitors are completely abandoning it, it gives you the opportunity to come in and have genuine conversations with your audience – and your competitors'
3. Think about your content mix
The general rule for sharing promotional content on social media is 80/20. This means that you should share 80% relevant and shareable posts that bring value to your audience, and 20 percent persuasive, call-to-action posts that promote your products.
Unsurprisingly, far from all brands are following that recipe, even though it is crucial to achieving a sustainable and engaging social media presence. In fact, I can guarantee you that most of your competitors aren't following this rule. And if you think about it, it would make sense to promote more. As a brand, you want to promote your brand as much as possible, and you want to take advantage of all marketing sources you can use. Especially if they're free like social media. So why would you then only post 20 percent promotional content when you could post 100=
Well, the simple truth is that, whether you believe it or not, you promote more by promoting less on social media. And yes, I know, it sounds super weird, but it's true!
When you share less promotional content on social media, the promotional content that you do share will have a bigger impact on your audience. If you are bombarding your audience with promotional content every single day, they'll quickly tune out, and the posts will have less impact on them.
There are of course exceptions when brands succeed in creating content that both promotes the brand and brings value to their audience at the same time. However, achieving this is difficult, and finding a balance that comes off as genuine will demand a lot of trial and error.
Apesnacks, for example, create mouth-watering images of snacks and food that is made using their products, which both give their audience inspiration and helpful tips to tasty recipes and markets their own products as they are part of the recipe.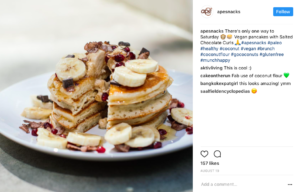 4. Use storytelling
In advertising, storytelling is one of the most powerful tools of persuasion, as it combines an idea with an emotion. Storytelling allows brands to "un-thing" themselves which leads to them being able to speak and captivate their audience with stories.
I could be listing reasons to why you should use storytelling on social media all day, but I'll restrain myself to only listing a few:
The narrative structure of storytelling is the same that our brain uses to configure our thoughts, speech, and even some decisions. This means that storytelling will have a bigger effect on the brain, and the brain will be able to better process information conveyed through it.
When the stories told in storytelling are authentic, well-structured, interesting, and brings out feelings, your story will be able to touch and impact your audience in a better way, tieing your product with a good feeling they had when you told the story to them.
The emotional process that storytelling evokes gets rid of the skepticism that people have against brands because everyone knows that "brands' only goal is to sell more".
The largest brands, and also the biggest leaders in the world have successfully learned storytelling. The reason to why they've learned it, and implement it in everything they do is simple: it adds authenticity, simplicity, universality, authenticity, and emotion, which ultimately will help them convince more people. For brands, it is to purchase from them, and for leaders, it might be to vote for them.
The key to storytelling successfully is simply to tell a story, using the tools and content you have available. It can be video, photo, or sound, but for it to be successful, your story also needs to convey what your company represents.
Implementing storytelling is not just about telling a story. If it was that simple, everyone would be able to do it. Instead, it's about telling your audience about the right things; the things that make your brand more human, make you more approachable and make you seem more genuine.
To start storytelling here is the foundation of doing it well:
Tell your audience about your brand and the origin of it
Give people the real in-depth inside look into your company and how you first started out. Tell how you first started out in your basement, or how much you worked. Don't shy away from details as it helps make your story more captivating and trustworthy.
Show things from your brand today. Real stories and real people from your company is a great start.
Showing the people behind the scenes is a great way to make your audience more engaged. When people know who they are talking to, and have a face to your brand, it will be easier for them to build a strong relationship with your brand. After all, it's quite difficult to build a relationship with a logo.
The real dill recently shared a post telling how they are working with the environment and what they are doing to achieve that goal.
You can even get one of your employees to tell your audience what it's like to work at your company! The opportunities are endless!
Include value in your content.
If you work with corporate social responsibility, this is extremely helpful to include in your storytelling. When you show that you care deeply about specific things on the planet like the environment, animals, or plants, you show that you have real opinions, and real emotions, which helps present your brand as more kind and caring.
Share user-generated content
UGC is great because it allows you to reshare your customers' stories.Furthermore, it allows you to retell the story of your customer, and how your brand has improved or changed their life.
The bottom line is that people don't only want to see amazing product images edited to perfection. People want to see the real deal, and know that your company is authentic and human – and that's what they get from storytelling.
Conclusion
Are you looking to improve your social media marketing strategy? Are you always striving to generate better results? Your competitors are doing so, and if you aren't doing equally so, your competitors will surpass you faster than you can blink.
When working with social media, you always want to fine-tune your strategy and use the most effective strategy. These are 4 of them.