After successfully and efficiently servicing local customers, you may decide to go global. This involves expanding your market reach throughout the world. This way, you can enhance your sales and profits to grow your wealth.
While that's the case, connecting with international customers might not be as easy as you may think. This is true since many other firms like yours are targeting the same customers, which results in high competition. Therefore, your enterprise may barely expand to other parts if you aren't careful and strategic.
How can you ensure you enhance the digital presence of your business so it stands out from the competition? One of the best ways to achieve that is by leveraging the power of international search engine optimization (SEO).
An Overview of International SEO
International SEO is the process of enhancing a website's performance to make it easier for search engine tools to identify where your company operates and which countries you want to reach. It can also be described as the practice of optimizing your company site for customers across multiple nations.
An effective international SEO strategy will help your business enterprise reach new markets and customers. As a result, your firm will become more profitable and grow quickly.
How To Create A Strong International SEO Strategy
You can implement various tactics to ensure you establish an effective SEO strategy. They include the following:
1. Post Authoritative Content Online
Content is one of the most important components of any digital promotional campaign. And that's true when it comes to performing international SEO. It refers to any materials you publish online, including blogs, pictures, and videos.
The primary reason you'd want to publish content online is to attract audiences to your company website. It also helps enhance your brand's engagement. As a result, your products or services will become more visible online, which is good for your SEO strategy.
While that's the case, you must post authoritative content. In other words, the materials you create must be helpful to your international target customers. Consider publishing content that addresses the concerns of your audience. Additionally, ensure you include the best keywords in your content so that it can rank high on search engine result pages.
2. Build Backlinks
Another best way to enhance your international SEO strategy and online presence is to create backlinks. This is the process of linking your websites to others in your niche, which allows consumers to find more information about the content you've published online.
Building backlinks can help boost your international SEO strategy and online visibility. For instance, your website will likely rank high online. As a result, more customers will assume that your business is credible or reputable, and they'll consider visiting your store.
A link-building strategy also enables you to gain more organic traffic from referral websites. All these ensure your company becomes more visible online. But you must partner with reputable publishers to get high-quality backlinks.
3. Develop A Mobile User-Friendly Website
You must remember you're developing an SEO strategy to connect with international customers. And these people may barely come to your physical store since they prefer shopping online on their mobile devices.
Mobile gadgets like smartphones, tablets, and laptops are flexible and convenient, and most customers love shopping with them more than with something like desktop computers. Therefore, consider optimizing your website for mobile devices if you want to connect with a wider international audience.
More people will consider your store if you've got a mobile-responsive website, making your brand visible online. That goes a long way in boosting your international SEO strategy.
4. Add Multiple Languages To Your Website
Going international means targeting people who use different languages. Therefore, apart from your local language, you also need to accommodate other languages spoken by your target countries on your website. This enables more people to consume your content and connect with your business.
The best way to ensure you accommodate different languages on your website is to install a translator tool. That enables users to choose their preferred language and understand your content more effectively. Ensure you select the right translation software.
5. Increase The Speed Of Your Website
You must understand that most clients are always busy and want to complete several tasks within a short time. Therefore, no one will be willing to waste time on a slow website. You might hurt your company's growth if your site pages take ages to load.
A slow website will likely turn away potential clients, which harms your journey of going international. On the other hand, a website that loads fast encourages more people to visit your platform, which boosts your digital presence.
You can adopt various strategies to ensure your website loads information quickly. They include choosing the best website hosting service, compressing large files, reducing redirects, caching web pages, and enabling browser caching, among others.
6. Add A Search Function To Your Website
In addition to optimizing your website speed, you must also provide a search bar. This is a tool or software that users can utilize to search for information from your site quickly. For instance, it allows them to use keywords to retrieve information instead of scrolling and going from one page to another.
Apart from the more traditional search bar, you can also consider optimizing your company website through the voice search feature. This technology enables users to speak to their devices when searching for information online instead of typing the target keywords.
Most customers like to use voice search technology since it enables them to save time. It's also applicable to people with disability or those who can't write correctly. This way, you can attract more people to your website, thus enhancing your digital presence.
7. Partner With International Influencers 
Lastly, you can consider working with online influencers to promote your online presence. These people, mostly social media personalities or celebrities, have a large following. Therefore, including one or two in your marketing strategy helps expose your business to a vast international audience. As a result, more people will likely connect with your brand, which also helps boost your digital presence. However, you must partner with the right influencer in your niche.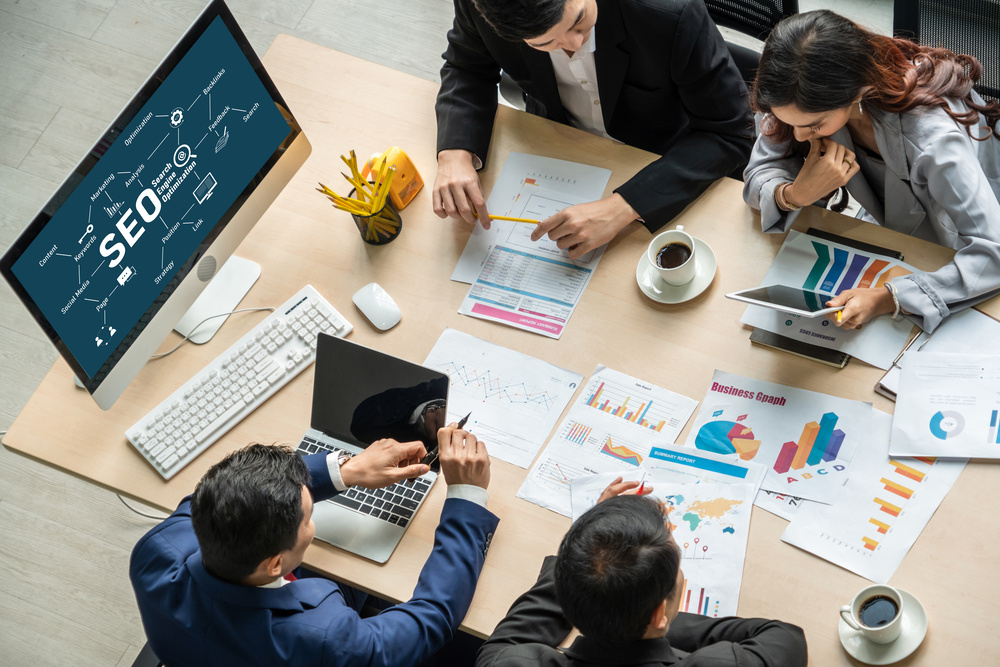 Takeaway
Enhancing your online presence is the way to go if you want to connect with more customers. It enables more people to learn about your company's existence, which helps you convert more prospects. You can implement the international SEO strategy and tactics above to enhance your digital presence.