Instagram has grown into a platform where businesses compete for engagement and reach. The social media platform has one billion monthly users, which is why running an Instagram competitor analysis can help your brand growth.
Should you conduct a conduct an Instagram video and reels competitor analysis to compare your brand's position to theirs? The answer is a big YES. But how? In this article, we will talk about tips and best practices in analyzing your competitors' Instagram video content.
Why are Reels and Videos important on Instagram?
Instagram videos are available in four formats: Feed Videos, Stories, IGTV, and Reels. The main benefit of these features is visibility. Your Instagram videos and reels are likely to reach more people and gain more engagement as they appear on the Explore and Reels page.
Why do you need to research your competitors?
It's one of the ways to know what has worked in the past and could help brands and content creators come up with a video content marketing strategy.
Analyzing your competitors' content can help you fine-tune your Instagram reels and videos, as well as the hashtags and captions you use.
After understanding the importance of competitor analysis, the next step is to identify who your competition is. 
These are the three types of competitors to pay attention to.
Direct
– These are brands that offer the same products and services as you.
Indirect
– These are businesses that offer goods and services that can be used in place of what you sell.
Potential Entrants
– Any new brands that are entering the same market you're in should be considered as competition. Analyzing their Instagram video and reels would be a good move as well.
Tips and best practices
---
#1. Use various tools to automate the process
You're probably not online 24/7 on Instagram to check on competitors and you don't have to! Here are Instagram competitor analysis tools that can help you gather and analyze key data.
Social Status
Social Status allows users to check recent posts from competitors and gather them in a dashboard. This can help you monitor their content buckets and how frequently they post.
This tool provides competitor analytics and offers competitor benchmarking. Its features allow you to monitor and compare your Instagram video marketing performance with your competitors in a visual manner that is easy to understand.
Falcon.io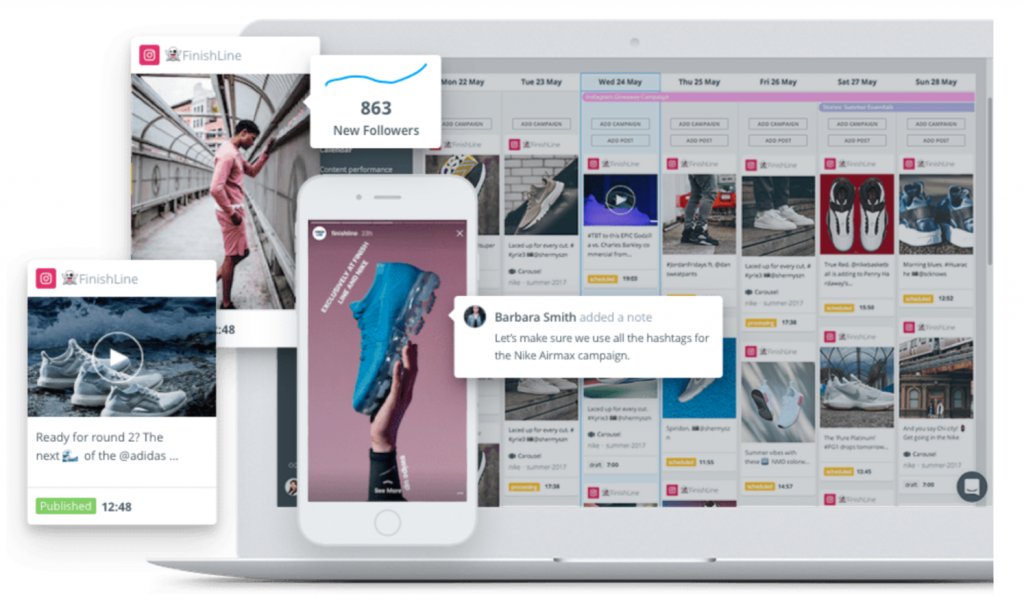 This social media management tool offers a competitor benchmarking feature which makes it ideal to automate Instagram competitor analysis.
Falcon.io can be used to compare your Instagram video and reels' performance against your competitors. It can also track metrics such as the number of posts, follower growth, and engagement.
Brand24
Brand24 is a social listening tool that helps you monitor brand mentions and online conversations related to your competition. It also allows you to run a sentiment analysis to check the feedback about your competitors.
In terms of Instagram videos and reels, it offers a profile analytics feature to gather insights into your competitors' Instagram video marketing performance.
#2. Create a database of past content that's worked well in the past
One key step in analyzing your competitors' Instagram videos and reels is to create a database of their past content that have performed well.
Sort out metrics such as likes, comments, and shares. You can also use SnapDownloader to download Instagram videos and put them in your database so you can analyze the flow and elements that helped their videos reach outstanding numbers.
#3. Analyze important metrics
Running an efficient Instagram competitor analysis involves choosing the metrics you will analyze.
Metrics such as posts, followers, likes, top hashtags, and comments are factors that can boost your competitors' social media presence as well as yours. Make sure you have these metrics on your radar every time you visit your competitors' pages to check out their videos. 
#4. Research outside your direct competitors
Don't just confine yourself to what your competitors are doing, explore and see what works well for businesses in other industries.
Check out the leading brands in other markets and analyze which videos and reels perform well in terms of engagement. Gather these videos and study what makes them engaging and other elements such as tone and the visuals used.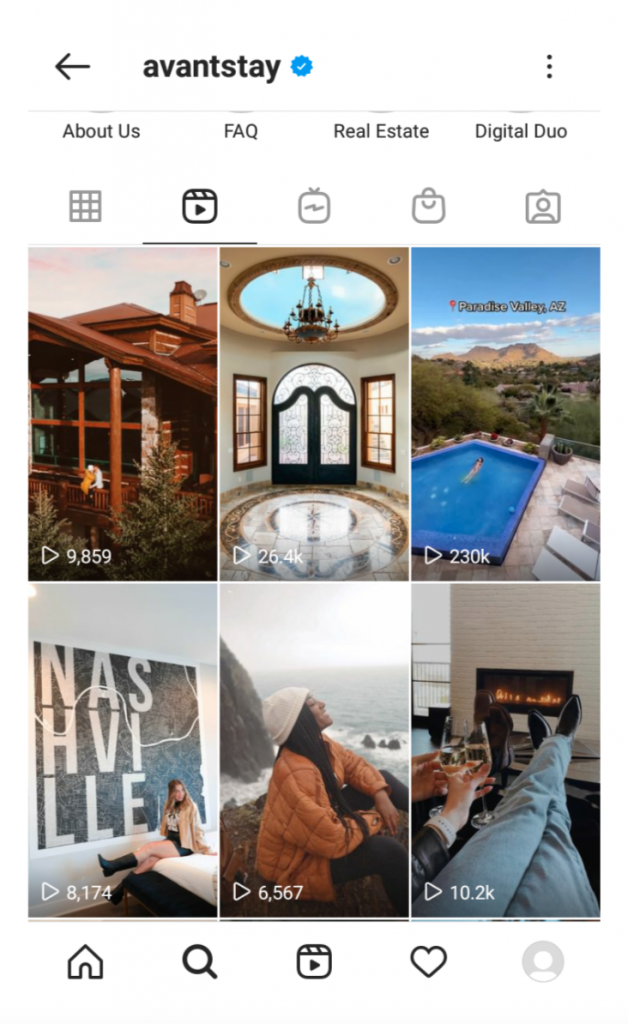 For example, if you are in the restaurant industry, you might want to check out how top-ranking Airbnb listings are presenting their places through Instagram videos and reels. For example, avantstay uses influencers in their videos and Reels to build an engaged audience on the platform and showcase their properties. 
Aside from your menu, people will have more reasons to visit your restaurant if your Instagram video marketing strategy can present your place as a must-see place because of its design and ambiance.
#5. Understand their posting habits
Observe your competitors' posting habits to identify what works for them which can also work well for your brand. 
Are they Instagram videos and reels on working hours? Do they share videos on weekends? How often do they post? These are some of the questions you can answer to help you identify Instagram marketing strategies that are fit for your business.

#6. Analyze their most successful creatives and identify patterns
As mentioned, it's best to identify their most successful Instagram videos and reels and analyze the patterns that made them great. 
Create a list of patterns and elements you observe from their top-performing videos and come up with ways on how you can use them on your own content in an original and engaging manner.
#7. See how they've used hashtags to expand their reach.
It's highly likely that your competitors are using a set of hashtags in captions that help them reach a bigger audience. Gather these hashtags on your notepad or put them on a piece of paper. Use them in your own Instagram videos to see if they will help your content gain more visibility and engagement.
#8. Compare their results to yours
After using elements and hashtags based on your competitor analysis, compare if you can get the number of likes, comments, shares, etc. that is the same or close to what your competitors are getting.
Whether you're getting better results or not, continue to research ways how you can improve your Instagram videos to boost engagement.
#9. Create a posting schedule based on your findings and assumptions
Once you've analyzed your competitors' posting patterns, it's time for you to test if the same posting schedule can work well for your Instagram video marketing.
Filter your competitors' top-performing Instagram videos and reels and identify if they are following a pattern in terms of schedule. You can use tools like Hootsuite to post your Instagram videos on a schedule you desire.
Start analyzing for better results
Make it a habit to analyze your competitors' Instagram video marketing strategies to compare your ideas to theirs and to see where you stand in terms of the Instagram realm. 
It's ideal to see what works for them as well as the things that don't to help you come up with your own strategy. After your analysis, create a guide that consists of tone, hashtags, elements, how long Instagram videos can be, etc.
You can also get advice from experts to help you come up with strategies that can bring desired results.