Want to learn about Instagram drafts?
In late 2016, Instagram introduced a feature which made a ton of Instagram users super happy.
This feature was called Instagram drafts.
For years, Instagram users had requested a draft feature on Instagram, and the Instagram draft feature was, before its launch, one of the most requested features from its users. The introduction of Instagram drafts meant that users could save posts in "drafts" before posting them, and thereby prepare posts that would go up in advance.
The Instagram drafts mean that you can save an unfinished post as a draft, then come back to and publish later, or save a prepared post and come back to it to share it later.
Before the feature was released, Instagram started testing the feature with a selected number of users, but shortly thereafter, they rolled out the feature to all of its users.
As the Instagram drafts feature was released, it was met with a lot of praise, but today, there are still users who don't know that the feature even exists. Furthermore, there are also users who don't know how to get the most out of the Instagram drafts feature, and all of these things are things that we'll go through in this post.
In this complete guide about Instagram drafts, you'll learn everything there is to know about this popular feature. How you use it, and how you can get the most out of it.
What is Instagram drafts?
Let's begin with the basics.
Instagram drafts is, at its core a very basic feature on Instagram, yet a feature that makes a huge difference for a lot of users, with marketers and brands in particular.
Instagram drafts enables brands users to save posts in "drafts", which is a specific section inside of your Instagram account at the section where you upload your Instagram posts from.
The feature enables you do edit and prepare Instagram posts in advance, save them to drafts, and then get back to them whenever you'd like to continue preparing and editing the post, or simply directly share it with your audience.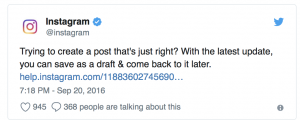 Why is Instagram drafts so great?
Well, first off, before Instagram drafts was introduced, users had been asking for such a feature for a long time, and when it was finally introduced, people felt listened to. Secondly, the Instagram drafts feature is especially helpful for individuals who manage several accounts, or people who have limited time sharing posts, especially for those who have to share posts on a specific time for various reasons.
If you are going to do it well, preparing an Instagram posts takes time. You want to tag a location, tag people, write a thoughtful caption, add a filter, or edit it. If you are in a hurry, you just might not find the time to do all of that, even if you should be sharing a post on that specific time, and this is what Instagram drafts saves you from.
By using drafts, you can prepare posts in advance and then with a simple tap upload it whenever the time is right.
The Instagram drafts feature also has a number of other benefits.
For example, the drafts feature is super helpful for companies as it enables teams to discuss the posts they are going to upload, and together create appealing and powerful captions and photos, all in one draft. Furthermore, drafts also enables teams to set up many drafts act once and plan and discuss their future postings for a long time to come which helps them have a great planning and always be one step ahead.
For regular users who just post whichever posts they feel like sharing, the Instagram drafts feature will make no difference, as most users won't use it, but for those who are using Instagram a little more seriously and more professionally, the Instagram drafts feature certainly is a valuable addition to the built-in tools available on the platform.
From Instagram's own point of view, the Instagram drafts features helps take more time to carefully choose and craft the post they're going to share, and this means that people will share higher quality posts on the platform, which is obviously something that Instagram strives for.
How to use Instagram drafts
Using Instagram drafts to save a post to your drafts category is extremely simple.
All you have to do is select a photo or video just like you'd normally would when sharing a post on Instagram, make at least one edit or change, then tap the "back" arrow in the top left corner as following: 
1.Tap the Instagram camera button in the middle of the menu screen.
2.Select a photo or video from your camera roll or shoot one with the built-in camera.
3.Make at least one edit of the photo/video. This means tagging someone, adding a filter, edited the photo, added your caption or location.
4.Tap the "back" arrow in the top-left corner.
5.Tap "Save draft"
6.Your post has been saved in your drafts.
7.Your saved drafts will appear in a specific section of your library. This library can be found right above the rest of your photos.
8.To find your drafts, tap the Instagram photo icon again.
9.At the top of your images that appear, you'll see your drafted posts under "Drafts". You'll also see "Manage" and a number next to the text.Here, you'll see the number of drafts that you have saved.
How to manage your Instagram drafts
If you want to delete drafts that you've created, you can do so.
To remove drafts, complete the following steps:
1.Open up your Instagram posts.
2.Tap "Manage2 in the top right corner of the Drafts section.
3.Tap "Edit" in the top right corner.
4.Mark the posts you wish t remove.
5.Tap Discard posts" at the bottom.
How to edit your Instagram drafts and share a drafted post
If you want to continue editing a post that you've added to drafts or share a post that you've drafted do the following:
1.TAp the Instagram post icon just like you normally would when sharing your Instagram posts
2.Choose the post you wish to edit or share.
3.Tap "Next".
4.Continue editing or tap "Share" in the top-right corner.
Have you had your Instagram drafts disappear?
Especially when the Instagram drafts feature was new, many users had issues with the drafts they had spent time and effort creating disappeared and were nowhere to be found.
Fortunately, very few users experience this problem nowadays but when it happens, it tends to happen if you update the app, download the app again, or when you log out from your account.
Unfortunately, if your Instagram drafts disappear, there is no way to retrieve them, but Instagram has worked hard to fix these bugs and issues since then, so it shouldn't happen.
Conclusion
Instagram drafts is a feature that has simplified the lives of many people on Instagram, mainly marketers and businesses.
Instagram drafts has removed the need for other third-party tools which users previously used, and has instead enabled seamless usage within the app, without having to pay a lot of money for other third-party tools.