Over the years, beautiful and enticing photographs have been attracting a lot of traffic to the business website. This is why there is nothing better than displaying your pictures from your Instagram account on the WordPress blog that you have. Instagram has millions of active users who are constantly on the lookout for something interesting to be posted by the businesses that they adore. There are numerous benefits that you can reap if you integrate the Instagram account with the business website that you have on WordPress.
Why should you display pictures on your WordPress website?
Showing the Instagram pictures has a number of unique advantages for both the entrepreneurs as well as the bloggers. The first and most important thing is that it allows you to gain more traffic on your site, which can help the business to grow in a fast and quick manner.
If you are skilled at capturing the beautiful moments with the help of the photography skills that you have, you will be successful in increasing the number of followers quickly with the help of those pictures. You can also keep your followers engaged with your brand.
A number of entrepreneurs are reaping all the advantages that Instagram has for building a strong relationship with their followers by keeping them engaged with the stunning posts that they make almost every day. This further encourages followers to share content with other people, which is greatly helpful in increasing the outreach of a particular brand.
Not only this, but the pictures help in increasing brand awareness, as they can share a lot of information through the visual effects. A picture is known to appeal faster in comparison to the written content.
Ways in which you can keep your personal things private when you are posting on the blog
It is true that all the users do not like to keep the Instagram account open to everyone. Chances are that you are new to Instagram and you do not know how you can keep all your personal pictures private especially if you are sharing your posts on your WordPress blogs automatically.
You need to know that this is not something very tough. The only thing that you have to do is create an account that is going to be only for the pictures, which you want to share on the WordPress blog.
You have to keep this particular account public so that the entire feed can be displayed to your followers and it becomes easier for them to discover you. The way in which you can gain more followers is by becoming creative with everything that you are posting on your profile. Therefore, it is important that you try to bring out your creativity and artistic side and observe your account getting flooded with numerous followers.
Ways in which you can post the Instagram pictures on the WordPress blog
You can follow two methods for posting the Instagram pictures on the WordPress blog.
1. Manually selecting the posts that you want to display
Currently, you can embed Instagram pictures directly on the WordPress site. For doing that the very first step that you have to do is open an Instagram account, from which you are interested in sharing the pictures.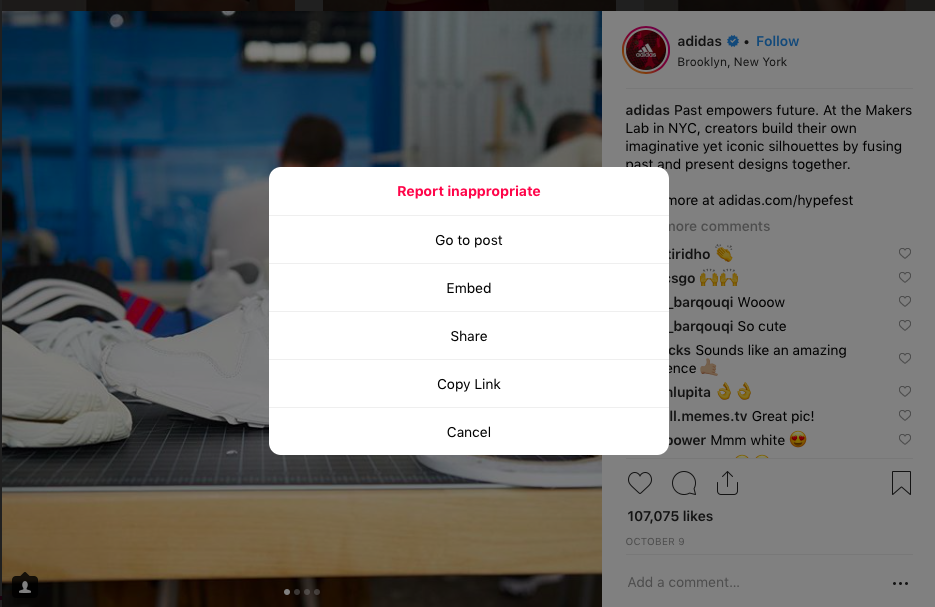 As soon as this account becomes active, you will get the option of sharing the pictures as well as follow people who belong to a similar interest group. Ensure that your profile is public, especially if you are interested in gaining more followers for following your daily posts.
In order to upload these pictures on the WordPress site, you have to look for the embed link every time you are uploading a picture. The embed link is located just beside the comment box. You will find three dots and when you click on it, you will get three options in front of you. You need to find the embed image option and then copy the embed code. This embed code has to be pasted on the page of your choice after opening the dashboard of the WordPress website.
And it is done! The Instagram picture of your choice will be reflected on the WordPress website. Another way in which you can do this is by copying the URL of the image and opening the text editor for pasting the URL. You also have the option of setting the size of the image according to your wishes.
This is a simple and easy method and it will not need coding or any kind of professional knowledge associated with web designing. This method is known to work on all kinds of websites.
2.Reflecting the Instagram pictures on the WordPress website
There are times when you are interested in dedicating a complete blog post for displaying all the images that you have uploaded on the Instagram profile. For doing this, you need to create an account on one of the most popular platforms that bring a number of applications together, and this platform is IFTTT. This tool is available online and you will not have to pay any extra charges when you are using it. As soon as the account has been created and you log-in, you have to look for the MyApplets option.
Another option, known as NewApplet, will open up. Now you have to connect the Instagram account after locating the application on this platform. You will find an option '+this'. You will be able to easily locate Instagram for activating the account.
As soon as the account has been activated, you can log-in and authorize IFTTT for accessing the account. After this, you have to choose a trigger that will redirect you to 'if this then + that'. You have to click on this statement and this step is going to help you choose what you are interested in doing with the pictures.
In the very next step, you need to locate WordPress and connect to WordPress. You have to decide on the action, which you want and you need to fill up the fields that are important. You have the option of adding custom captions or alt tags. The last and final thing is to save the settings by clicking finish.
Conclusion
Businesses all over the world are displaying their Instagram photos on the WordPress site for gaining more engagement and traffic. If you have started a business as well, you should follow the above two steps for displaying the pictures.
Explore websites like https://gramblast.com for boosting your followers and likes and read their blog for more tips on how to succeed on Instagram.