How to Use Snapchat For Customer Service
Want to find new social channels for customer service?
Looking into Snapchat to see if it is effective for customer interaction?
Snapchat is a quick and simple way to interact with your audience with either photo, video, text, or call. On Snapchat, there's something for everyone.
In this article, we'll dig deeper into how you can implement Snapchat in your customer service strategy to provide kick ass service to your customers.
1. Set your profile up for customer service
The first thing you want to do is set up your page. The settings you choose decide how easy or difficult it is to contact you.
To go to your settings, open up Snapchat, swipe down on the screen, and tap the cog-wheel in the top-right corner in the new screen that appears.
Scroll down until you find "Who can". Now, go through each of the 4 settings. What you need to think about is how easy you want it to be for people to contact you.
Of course, nobody likes complicated outreach processes so preferably, you should opt for making your contacts open for everyone and equally so with your story.
Set "Contact me" and "view my location" to "everyone". This lets anyone find your account and message you directly, thus making the contact process short and pain-free.
When someone has added you, you don't need to add them back. They will still be able to message you and view your Story.
If you'd be forced to add people one-by-one, it would be quite a task if you get a lot of requests.
2. Offer live face-to-face customer support
Snapchat offers face-to-face calls that makes for a personal and tailored experience for the customer. When the customer can see the person who helps them, they tend to be less angry (if they are upset), but face-to-face support also gives something to your brand that is extremely valuable: a face.
Sure, a nice logo and brand name is good, but nothing beats adding a human touch to your brand. And what better touch of humanity than to talk to your customers in private, one-on-one, face-to-face?
Face-to-face videos are not only effective in helping you establish a better relationship with your customers. It's also highly effective when your customer has an issue that can't be solved without you looking at the problem.
With video, you can guide them to whatever it is they need help with, without having to go there, or, having the product sent back to you. Snapchat on-on-one, F2F chats may seem like time-consuming tasks, but if you think about the options, some of them mentioned, it's really not.
To start a video chat with someone, you both need to be in the same conversation. When you are, you shall both click on the video camera icon. This will open up the video chat.
When someone calls you, you'll get notified if you have your notifications turned on, so you don't need to be inside the app.
When chatting with people, you shouldn't call people face-to-face without asking them for permission. Maybe they're extremely shy, or, maybe they are sitting completely naked for all I know.
Instead, ask them if they would like to start a F2F video meeting by using the message chat, or maybe send a screenshot of the times you have available when they can call you. There are tons of ways you can start video chats with your customers. You just need to find one that suits you. Just know that if things get hard to explain, video chat is there at your disposal.
Just make sure you don't go about calling people who haven't asked for it.
3. Use Snapchats phone call feature
Snapchat phone calls work just like regular phone calls. The only difference is that people tend to prefer calling through a social media platform instead of calling your regular phone number.
Because social media is many people's safe spot, you might find yourself receiving more customer inquiries, and if you succeed in responding to them, more sign ups and more orders.
When people already are on the platform where you are, they'll be able to call your since they're already using it regularly. In fact,  more than 60% of Americans between 13 and 38 are Snapchat users, and 45% of users are between 18 and 24.
Snapchat phone calls work almost like a video call. However, instead of tapping the video camera, you tap the phone symbol.
For some, a regular phone call might be expensive, thus limiting them from getting in touch with you. However, with Snapchat's call feature, people can call without paying a dollar.
If someone calls you and you have the notifications turned on, you'll get notified. The same goes the other way around. If they haven't turned on notifications, they will still see that you have called when they enter the chat
If they have called and you don't want to bother them with a call back, or if you want to respond to their question directly with voice, you can record a message to them that they'll be able to listen to inside the chat.
To record a voice message, tap and hold the phone symbol. To send it, let go of the recording button.
If you have recorded a voice message that you don't want to send, slide your finger to the right where you have the X symbol. This will trash your message.
4. Answer FAQs with Stories
Chances are, your audience have plenty of similar questions, so why not respond to them on your Story instead of responding one-by-one?
Just remember to check if your story settings are set for "everyone".
Snapchat stories can be used in a variety of different ways apart from just responding to common questions one by one.
If a common question is if your product is waterproof, make a video when you try if it is waterproof! Your audience will find these types of videos and engaging content much more appealing and interesting compared to if you would answer questions one by one and just write "yes" or "no".
Bottom line: don't answer your customer's questions, come up with a fun and unique way to show them the answer to their question.
If a common question of yours is "How do I use this", then make a tutorial on how you use it on your Story.
Sephora teamed up with Hannah Bronfman to give a tutorial on how to apply their makeup in the best way.
5. Respond to questions one-on-one
Apart from the phone call feature of live video, we also have the good old messaging feature.
This is a quick way to chat wth your audience, because you write with them in real-time. Best of all, you'll be able to see their avatar (or a blue dot if they don't have one) in so you know when they are inside the chat. To get their question answered, people should not be forced to wait several hours, or even 10 hours!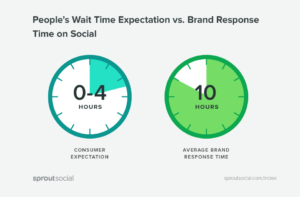 Customers expect a brand to respond within 4 hours, and if you can stay inside that timeframe, they'll see you as a brand to trust. If you can keep the response time just a few minutes long, they'll love you forever.
Timing is one of the single most important keys to a  great customer service according to customers, so make sure you put great emphasis on speed, and even more importantly, make sure you have the right resources to do so.
6. Hold Q&A sessions
Running a Q&A is a great way to get your audience engaged.
On your Story, announce that you will be answering questions your audience might have, and ask them to submit their questions.
Then, answer the questions, and add the name/username of the person who submitted the question. The reason you are writing their question and giving the answer to it is because the chances are that there are more than one person who is wondering that exact question.
Also, by adding their name, they'll feel like you are acknowledging them, thus leading to them becoming more loyal in your brand.
7. Partner with influencers
People find customer service a lot more fun when it is run by someone they look up to and trust. Trust me.
Not only can influencers help you build your audience on Snapchat, they can also respond to all your audience's messages. Best of all is that because people have more interest in engaging with influencers than brand, the influencer will encourage more people to say what they think and ask what they are wondering.
This means that you might be able to identify problems and questions your audience have that they otherwise wouldn't ask.
Victoria's Secret has started making influencer takeovers on their account where their models take over their account, show how the products work, and answer questions people ask.
Conclusion
Snapchat is a new and unique take on handling customer service as a brand.
Snapchat is not the most appropriate customer service tool for all brands, since there's few ways to save and track the interactions you've had. This is especially difficult for large brands who get tons of inquiries from customers.
However, as a smaller brand, Snapchat is the perfect tool to give your customers a personalised experience one-on-one.