How to Improve Your Retention Rate With Social Media
Are you using social media to engage with your audience and build relationships with them?
Social media is a powerful tool when it comes to building and strengthening your relationships with your customers. If you know how to use it correctly, you can vastly deepen your connections with your audience and make them come back for more.
Not only can you make your audience become so drawn to your brand that they will come back time and time over, but you can also make your existing customers become returning customers and loyal supporters of your brand.
In this article, I'll give you effective tips on How to Improve Your Retention Rate With Social Media.
Many brands make the mistake of putting all their efforts into attracting new customers and completely ignore the aspect of working to retain their current customers. Unfortunately, this is a big mistake, and all you need to do is look at the statistics and they'll prove just that.
5-20% is the probability of selling to a new prospect
60-70% probability of selling to an existing customer
So, does this mean that you should completely ignore acquiring new customers and solely focus on retaining your existing ones?
Well, not quite.
No matter how well you treat your customers, some of them will disappear for various reasons.
Also, acquiring new customers are essential for further growth and expansion, otherwise, you'll end up with just a few loyal customers left in the long run.
You can conclude the case with the following wise quote:
---
"Acquiring New Customers Is Important, But Retaining Them Accelerates Profitable Growth"
---
What's great is that social media is one of the most effective tools for engaging with your audience and as a result increasing your retention rate. Social media lets you get closer to your audience on a personal level, and also let you learn more about them in order to be able to provide more personal responses.
Let's look at how you can achieve all of those things.
1. Get to know your audience on a personal level
It's no secret that personalized customer service generates better results as it makes your audience feel seen, heard, and unique.
A study by Genesys Global Survey, 2009 found that 38% of customers think personalization goes into a happy customer service.
Also, while considering the fact that 70% of buying experiences are based on how the customer feels they are being treated (McKinsey), it's easy to understand why it's important to make personalization a part of your customer service (if you aren't already).
By taking the time to learn more about your customers, you can create content that is more suitable for them, and give them a service that builds a deeper connection than  "Hi, thank you for your message, let me know if you have any questions" will.
Thankfully, social media is on our side this time as well.
When getting approached by a customer on social media, you can get quite a lot of information about them by simply looking at their page (unless they have set their account to private of course).
In fact, it's crazy how much information that is out there for the world to see!
Some people literally share their whole lives on social media with updates every hour on what they are doing, and if you are that lucky to encounter a customer like that, you can provide them with a customer service that is personalized in a way they've never seen before.
An example of a personalized experience taken to the next level is one made by entrepreneur Gary Vaynerchuk. Gary regularly used to look up customers on social media to see what their hobbies and passions are, and found that one of his customers is a huge fan of a certain baseball player, and decided to send out a jersey signed by that player.
As a result, the person who received the jersey recommended Gary's business to its friend, which led to the friend ordering products for over $5,000 and including a note in the order, letting Gary know about his huge passion in Bruce Springsteen as a hint.
This just shows how appreciated personalization is, and how powerful of a marketing tool it is for customer acquisition and retention.
2. Be available on most social platforms and ready to engage
Not all your customers will use the same social platforms.
Some will have Facebook as their go-to social channel, and some will have Twitter.
The solution to this question is a bit more complex than it might first seem.
Let me explain…
A common mistake brands do is create accounts on all social media platforms, just to realize they only have resources to manage one or two at once.
This is where it gets a bit tricky.
If you've been reading about social media marketing, you've probably gotten the advice to have a presence on all social media platforms, because obviously, you'll gain more exposure by being active on several social platforms.
Right?
Well, not quite.
It is true that it is good to be active on many social platforms, however, this is only true if you can manage and maintain them.
This means sharing content at least once a day on all of them, work to grow your pages, engage with your audience, and so on.
Because there are a ton of social platforms out there, unless you have an infinite amount of resources, taking care of them all in a good way is impossible.
The solution…
Thankfully, there's a solution to this issue.
Since you are looking to increase your retention rate and get your customers to stay with your brand, and not attract new customers, you can create your accounts in a way that doesn't demand all of this hard work.
However, if you set up your account in a "normal way", the people who start following, will expect you to post.
Otherwise, it might just end up having a negative effect.
The solution is customer service accounts!
By setting up customer service accounts, you remove the obligations and expectations of you having to share content on a regular basis.
The only obligations you'll have with customer service/support accounts is to always be ready to respond to questions quickly.
Now, you might think "boy, that sounds like a lot of work" but if you put it this way, you'll see why it's really not:
If you have a serious business, you are offering customer service. Most brands do it through email, direct chat, or phone support, and the chances are, you are offering customer support on at least one of those.
Not only can creating customer service accounts help you save time, but also help you please your audience's demands. A study by J.D. Power and Associates found that 67% of consumers have used a company's social media site for servicing, compared with 33% for social marketing.
A study by Nielsen found that 33% of users even prefer to contact brands using social media rather than the telephone.
The thing is, just because you create customer service accounts, you won't receive more inquiries. The ones you are receiving will just be located to other places and in this case social media.
Some of the world's most famous brands have already realized the huge benefits of creating customer service accounts because they let the brand get close and personal with the customers.
Here, you can see Dell's customer care account on Twitter, @DellCares. Because they are all about fast help, they have implemented an "available 24/7" badge in their profile to let people know they are available whenever you are.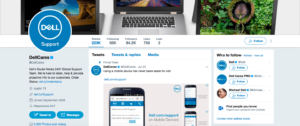 H&M takes their social media customer service very seriously and offers support in 20 languages.
Zara has also created a social media account on Twitter solely focused on customer service, apart from their standard Zara account.
3. Show your appreciation to them by sharing their images
Customers who are a fan of your brand/products will send you images of them to show you.
Chances are, you've probably received images of your products from your customers already.
This is also known as customer-generated content.
Your customers go out of their way to shop from you, photograph their products, then send it to you. The least you can do is show your appreciation and thank them for their support by sharing their photo on your social media pages.
Doing this has two benefits.
First of all, you show that you appreciate your customers, and secondly, you get real testimonials by customers who are using and loving your products seen by the rest of your audience.
Knowing the fact that 92% of consumers trust recommendations from peers (even if they don't know them), using testimonials from your satisfied existing customers is a must.
4. Encourage your customers to share testimonials
We've touched briefly on customers sending images of your products to you, but what's even better is to get your customers to share pictures of their products on their own social pages and in front of their own followers, peers, and friends.
Not only will you get content that you can use on your own social page, not only will you get more exposure in front of new audiences, you'll get the right type of recommendations since the recommendations and experiences are shared with their friends.
The statistics mentioned above about the power of peer recommendations should be enough to emphasize how important the right recommendations really are.
If people share testimonials all by themselves, that's great. But most often, your customers will need a push to start sharing their experience with your brand on social media.
This brings us to rewarding your customers if they perform tasks you wish to get them to do.
Running a campaign that encourages your audience to share their experiences with your brand is a great way to get the conversation going.
There are literally endless of ideas on how you can get your audience to start sharing their brand experience on their social account. Here are some ideas to help get you started:
Give discount codes to everyone posting photos of their products
Reward everyone with a small gift or Ebook
Run a giveaway of something your audience wants and make the rules of entry to share a post of your products
Conclusion
The solution to retention is simple.
Engage with your audience on a very personal level, always look to create a unique customer experience that makes them feel unique, appreciated and seen.
People expect fast responses, so agility and always being ready to answer any messages is key.
Lastly, don't forget to show your appreciation.  Always thank your customers. Even if just a simple "thank you", it makes your audience feel appreciated.