Social media is inundated with visual media nowadays, which makes it more and more difficult for photos to stand out. That is why if you want your photos to draw attention, you need to snap photos that are more likely to get noticed.
Make no mistake snapping photos that are able to draw attention isn't easy, but there are several ways that you could start:
Create more interesting composition with the rule of thirds
The rule of thirds is a rule for framing and composition that involves dividing your frame into a three by three grid (on most cameras you can turn on the grid function to overlay it on your frame). Based on that grid, you should position your subject as well as other elements.
Normally this will mean placing the subject in one third so that it is off-center, and using the gridlines or intersection points to align it. On the whole, this technique can make your photos much more visually interesting, and make the subject stand out more.
Keep it simple and avoid crowding
Crowded photos are distracting and more importantly have no fixed point of focus to draw in viewers. By keeping your composition simple, you can make the subject the center of attention so that viewers focus on it.
In short, you should try to avoid having competing elements, busy backgrounds, or anything else that can crowd your photos.
Try to make the photo unique
Snapping unique photos isn't easy – but at very least you should try to present the subject in a different light. One easy way to do that is to use a different perspective when snapping photos, such as taking them from overhead or getting low to ground-level.
Another way to make a photo unique is to capture the subject in the middle of an action. For example, a photo of a lion sitting still may be interesting, but a photo of a lion mid-pounce is definitely much more compelling.
Keep in mind that as much as it is important to snap photos that draw attention – post-processing has an important role to play too. Even professional photographers find it difficult to capture 'picture perfect' photos, and most edit their photos to improve them in various ways before they are published.
If you aren't sure about how to do that then you should try Movavi Photo Editor. It is a simple and user-friendly photo editor that will let you tweak and improve your photos so that they stand out more. With its features, you can not only improve the quality of your photos, but also remove unwanted elements, replace the background, touch up portraits, and so on.
Part of the reason why Movavi Photo Editor is so interesting is the fact that it allows you to improve the frame and composition of your photos. If you want, you can flip, rotate, level, resize, or crop the frame and you could then remove unwanted elements to alter the composition further.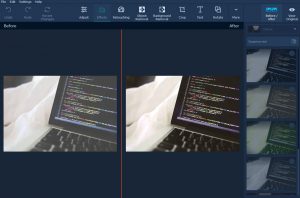 All you need to do is download photo editor to get started and spend a few minutes familiarizing yourself with Movavi Photo Editor. After that, you can apply its features to your photos, and try to come up with photos that really look amazing and are able to capture the attention of viewers on social media.