18 Brilliant Ways To Respond To Criticism and Complaints On Social Media
If you've used social media for even just a short period of time, chances are, you have had to meet criticism and angry customers.
It doesn't matter how careful you are, how hard you're trying to please everyone, and how good your reputation is, eventually you'll encounter criticism on social media.
And it's not strange when you think about the fact that an eight-fold increase in complaints on social media has taken place since Jan 2014. What's more, According to J.D. Power, 67% of consumers have used a company's social media channel for customer service.
Criticism can be a lot of things on social media, and it's important that you separate customer feedback from hate, attacks, and criticism, the latter one which we're going to focus on in this article.
Criticism on social media is not just trolls trying to harm your business. It can also be disappointed customers or people who are questioning your every move on social media.
No matter which of these scenarios you are faced with (you'll probably face all of them during the course of your social media presence), they can be extremely harmful if not dealt with in the right way.
Social media is open for the world to see, and if someone leaves criticism on your page, people will be able to see and consider if it has any truth. And if it has, they'll agree, and then possibly also start complaining. But more importantly is how people will be able to see how you respond to the criticism you receive.
How you respond says a lot about your business and if people can trust it. Not only does the way you respond have a huge effect on how people see your brand, but more importantly it has a huge effect on how the situation plays out. At best, you can calm the customer down and convert them back into loyal supporters of your brand, but at worst, you'll lose them forever, and they'll start damaging your brand.
As a business online, you'll face a lot of criticism over the time you spend there. And you'll face even more if you are caught in a social media storm.
I've faced lots of criticism online over my years, but I don't let it get to me. What's more important than feeling sorry for yourself for receiving criticism is how you deal with it.
There are many approaches you can take to criticism on social media, and it's important that you tailor your approaches based on the situation and the preconditions for that complaint.
So, why does all of this matter? Why do you need to respond to criticism on social media in a particular way?
Well, a report on customer engagement from Accenture estimated that the amount of lost revenue due to poor customer service is as high as $1.6 trillion.
And I bet you want a cut of that. At least I do.
You can! By better dealing with criticism on social media.
And doing so means having a clear strategy for how you're going to handle criticism and complaints on social media.
Identify the criticism
When you find criticism, it's probably the comments people leave on your very own page, right?
Well, I've got news for you, people are talking about your brand on social media on other places than on your own posts, and they might be doing it without mentioning you.
The foundation to providing a good response to your customers is listening.
If you don't listen, you can't answer!
Therefore, your first goal should be identifying the people who are complaining.
Believe it or not, but the people who write to you expect a response 100% of the time. Sure, the people who don't mention you might not, but the real truth is that if you respond to both of these scenarios, great things can happen.
If someone is complaining but doesn't receive a response, do you think that customer will change their mind and perception of you?
Probably not, right?
Not when considering the fact that responding to complaints and criticism is a form of customer service, and 91% of unhappy customers will not willingly do business with you again. But on the bright side, if you resolve a complaint in the customer's favor and they will do business with you again 70% of the time.
To be able to do so, you first need to identify the people who are writing about you.
The real truth?
To find criticism targeted towards your brand that isn't as easily accessible as the criticism you find on your own page, you need to scan the social web for it.
Begin by setting up Google Alerts for keywords related to your brand and industry.
Look through hashtags with your brand's handle across the different social platforms
Use Twitter's advanced keyword filter and search for keywords related to your brand
Search for your brand's location on the location check-ins
If applicable, scan through review sites such as  Yelp, TripAdvisor, and Zagat to find reviews people might have left to your company.
Define the platforms that your customers are using the most to share their opinions and to engage with your brand and regularly check them to see if someone has left a complaint. IT's important that you respond to complaints as quickly as possible, but it is even more important that you respond to them at all.
Whether you know it or not, and whether you notice it or not, people are talking about your brand on social media, and by knowing where they are talking, and having a great strategy for how you're going to find the conversations that are taking place, you'll have an easier time dealing with criticism and disgruntled customers.
Understand the nature of the criticism
Before you start responding to criticism, you want to try to understand what type of criticism it is you are receiving.
Why?
Because what type of complaints it is will determine how you react to it.
In fact, not all criticism is worth a response. It's not worth going into a fight where you know the opponent will never give up, even if they are wrong. You'll only hurt your reputation. Sometimes, with criticism, the best solution is to move on and ignore it.
But to know which you should avoid and which you shouldn't, you need to define the nature of the criticism you're receiving.
Some people will leave constructive criticism, a valuable form of criticism for brands. Constructive criticism allows you to identify problems with your brand, and ways to improve that you haven't thought about before. Often times, you can get quite valuable constructive feedback from customers who are using your products daily and are using them "out in the field" so to say.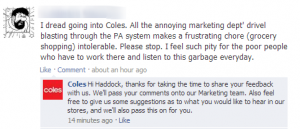 A reason people complain and spread negativity to brands and celebrities on social media is that they are unhappy with their own lives and therefore project the negative things on someone else. Not long ago, I saw a mother in her 30s who had children that were only a few years old, comment on an influencers social media profile. The influencer said she had "found the love of there life", a person who was around 8 years younger than her, and a person who she had only been dating for 3 months.
The mother who commented laughed and spread negativity saying that it is "impossible to find the love of your life and soulmate after just 4 months".
Luckily, the influencer was protected a bunch of her fans, and many people asked what type of mother she was if she was bashing down on people on social media, and what kind of example she was setting for her kids.
Not a good one you ask me.
Another reason people are criticising on social media is that they are jealous! They're jealous that the brand/influencer/celebrity has something they have and are in a position that they're not. People might also criticise if they have a low self-esteem, trying to compensate that by putting others down.
A type of criticism that you need to be very cautious about is the type of criticism that is a blatant attack towards you or your brand with the only purpose to hurt you and your brand. This type of criticism doesn't hold any real value or truth to it, and they don't bring any actual value to your company.
Then we have the type of people who are known to pick fights and only want to pick a fight.
Lastly, we have the trolls. These are similar to the one mentioned above, however, trolls are normally anonymous use social media sites to judge and put down businesses and other people. Trolls can use anything from personal attacks, to share rude content, to say negative things about your business that just aren't true.
It's important that you are able to distinguish the trolls and people who are just looking to pick a fight, from the people who are actually leaving feedback that can help you improve your business, and who genuinely care about your business.
The thing is: most people won't complain to your business. If they are unsatisfied, they'll just leave without saying a word. Therefore, you need to show your appreciation to the people who complain, because that allows you to solve problems that make other people leave your business, people you don't know where and who they are because they don't say anything.
Did you know that for every customer who bothers to complain, 26 other customers remain silent?
That's why I encourage you to value customer feedback, even criticism because it gives you an insight from your customers' perspective on what it is that makes people leave your business, and what it is you can do to make your customers happier, and as a result increase your retention rate.
Is the criticism valid? Does it hold any truth?
This is an important part of dealing with criticism on social media.
Asking yourself these two questions will ultimately allow you to decide which type of messages are worth responding to and which aren't.
There's a great difference between a complaint that comes from a customer who has got disappointed on your brand and now wants to help you become better and people who have no grounds for what they're saying. Ultimately, customers who are complaining are people who want to continue being customers but first, they need you to improve first.
A mistake that I've seen brands make is to say that all the people who are complaining are "haters" and should, therefore, be ignored.
This is, of course, something extremely harmful in the long run.
By not responding to perfectly valid complaints from your customers, you'll show them that you don't are about them and that you don't value what they have to say.
The result?
Well, you'll lose almost all of them.
You'll also show people on social media that you don't care about your customers, and ultimately, you'll scare away potential customers as well.
Just take a look at this complaint on Facebook directed towards Sevenly:
The complaints the customer had was completely valid, and as a result, the brand responded to the customer, letting them know what they know, as well as thanking for the feedback that allows them to improve.
If the message would have been from a troll, on the other hand, it could have been ignored or responded to in a lighthearted manner.
Trolls on social media are almost in their own little division, and as a result have a different way to be handled, which you can learn in the article: Sick And Tired Of Social Media Trolls?- 7 Ways To Deal With Social Media Trolls.
How to deal with criticism on social media and online
Okay, now to the fix.
The truth is that there are tons of approaches you can take to dealing with criticism on social media, and the thing is that there is not really "one best way" to deal with them, because it depends on the nature of the complaints, part of what we talked about above.
The most important part through, is: should you respond, or should you not?
Because I am so brainwashed by the importance of customer interaction, I respond to every single message by customers out of principle. No matter if it's a complaint, from a troll, or praises of how awesome I am (doesn't happen too often, but feel free to leave a praise in the comment section:)). Now, just because I respond to every message I receive, doesn't mean you need to, however, generally, there are more messages that needs to be responded to than not.
First off, the way you respond to the criticism online should be in line with the way you want people to perceive your company, and the personality you want to have.
Before you start engaging with the criticism you receive online, you want to have a special mindset and approach. In other words, view the criticism in a special way.
You should look at criticism this way: an opportunity for you to offer a solution as quickly as possible, and also make things right again in order to keep your customers.
1. Deal with the criticism on social media with humor (if it works for your brand)
Humour can be a great way to make light of a serious situation, however, humor doesn't work for everyone.
You need to be really careful with using humor and then not providing a solution.
If you're just trying to joke about the criticism you receive (if the customer presents real valid criticism that they would like you to solve), you'll only end up making the customer even angrier.
If it resonates with your brand, add a little bit of personality when jokingly responding to the criticism you receive. If it's a troll or negative criticism that doesn't hold any value, responding with humor is a great way to show them that you don't take it too seriously and that their message doesn't hurt you.
But if the complaint is valid, you need to make sure that your answer actually gives them value, and shows that you took their complaint seriously.
By adding humor, you'll make your brand more approachable, as you express humility to your followers while turning down the level of seriousness a notch.
Take a look at this humoristic response by Sainsbury's:
Since the customer used humor in its complaint, the company knew that it would resonate well if they continued on that track. But note that while they were joking, they said that they would take action to solve that problem, as well as apologizing for what has happened.
Your best bet to use humor is when the complaint you are receding isn't dead serious, because that's a time when you re most likely to turn the angry customer around and at least give them a good laugh.
Remember though, that humor only works if it aligns with your brand, its personality, and its values.
In other words, if your brand is known to be super conservative and boring, adding humor in a response might be the wrong end to start. First off, people might not realize that you're even joking because they're used to your strict and boring personality, and second, they'll have a harder time resonating with you as they notice a different personality.
Again, here's another example of Sainsbury's customer service with humor. Here, Sainsbury's plays along with their customer:
When using humor in your marketing, but also in your customer service, you need to be extremely careful. First, it needs to resonate with your brand, and second, the preconditions have to be right.
Another great time to use humor is when the customer isn't actually right. Believe it or not, but it happens, and when the customer isn't right, humor can be the perfect fix.
If that happens, you can respond to their complaint in a lighthearted manner. Avoid getting aggressive and insisting that they are wrong, because that will hardly solve any problems. More so, it will make the customer even angrier, and as a result, they'll go around telling everyone how much you suck.
The best part when your customer is wrong is when you can prove them wrong easily. If you have real proof that they are wrong, then present it to them but do so in a lighthearted way and avoid confrontation. Doing this will allow you to prove them wrong and thus saving your reputation, while still not making any attacks on the person who said it.
2. Respond quickly
Responding quickly is crucial for any type of customer service.
In fact, a study by SproutSocial found that people expect brands to respond within 4 hours on social media, but unfortunately, the reality is that most brands respond within 10 hours.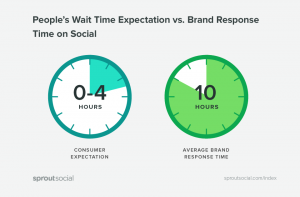 Ouch.
People expect quick responses, so give it to them!
If you can't respond in a timely manner, there's a risk that they'll either go somewhere else or start telling everyone how terrible you are. In other words, you'll miss out on a great opportunity to make things right again, and
the opportunity to convert the disgruntled customer into a happy one again.
The problem is that the longer you wait, the angrier your customer will be. If a customer is angry, the smallest negative thing from you will be extremely negative to them. They'll scan you and notice every single mistake you make, and the time it takes for you to respond is one of them.
The worst part about this is that the longer they'll wait, the more time they have to go around and spread the negativity to everyone else, telling about their experience.
3. Highlight the good parts of the complaint
This strategy can be used when the person complaining also talks about the positive parts of their experience and not just the negative.
Begin by expressing how happy you are that they are satisfied with what they were satisfied and then apologize for what wasn't very good, and then offer a solution.
By first highlighting the positive, you make sure the conversation comes off on a positive note, even though it is, in fact, written as a complaint. When highlighting the positive parts of your business, you remind your customer that your business is good, and has lots of positive sides, even though you made a mistake.
A fallout is if you thank them and highlight only the positive parts without addressing their criticism. After all, that's not why they contacted you. They contacted you because they had a problem and want it to be solved.
The best part is that you can use the positive parts of the review in your social media marketing! Why? Well, a  study by BrightLocal discovered that 84% of people trust online reviews as much as a personal recommendation, so by leveraging the positive experience your existing customers have had, you can attract new ones.
What's more, 88% of online shoppers consider online reviews when making a purchase decision which means that people do read the criticism as well as the praises you receive on social media, and that's why responding to them in a  good matter is so important. If they see the review, and then see that your response is also positive and not only focusing on the negative, the picture of your brand will become more positive, partly because they also see that you are doing your very best to help your customers and that you care about their experiences.
4.Thank them for their feedback
People have taken the time to leave a review about your brand on social media. Clearly, they want to help you identify the things that aren't working very well with your brand and help you solve them so they don't occur again. So what do you do?
You thank them of course!
But, if their complaint actually holds no truth to it, that's when you thank them and move on. If it's a faulty complaint, there's nothing you can do about it. People like to feel seen and acknowledged, and just thanking them, even though they are wrong will give them that so they can move on and stop bothering you.
What's more, even if they're wrong, the rest of your audience and the people who might plan on shopping and then turn to social media to read review don't know if it's true or not.
You could tell them that they are wrong, but if that is the case, you need proof, as talked about earlier, however, telling your customer that they are wrong is a riskful move, so often times, you're better off just acknowledging them and letting the other readers know that you care and that you are paying attention to what it is people are saying.
If potential customers come across the complaints and see you haven't responded, they might shy away buying from you.
Begin by calming yourself down if you're upset about the customer's criticism because you know it isn't true. If you're upset when answering, there's a big risk that you'll end up making it a bigger deal than it has to be and losing your integrity on the way.
In the majority of cases, you'll be best off by smiling, thanking them for their feedback and moving on.
4. Make fun of yourself
This might be a tricky one, and you'll have the most success in pulling it off if you have a humorist brand personality.
If you receive criticism from a customer, and you know you've made a mistake, making fun of yourself is a great way to make the problem smaller since you're allowing people to laugh about it. Doing so shows you have no problem in admitting your own flaws and thus boosts your brand's confidence. If you're confident enough about your brand and products, you'll have no problem in joking about the mistakes you make. The opposite is often the thing we see in companies that aren't confident.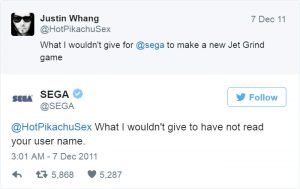 If they receive a complaint and criticism, they go into defense mode and start accusing the customer, but this is not the right path to go. Especially not considering the fact that it's all open for the world to see
While making fun of yourself, you cannot forget that you need to admit the mistake you have made and then also showing that you're doing everything you can to make it right. If you're just trying to joke away the complaints without taking any action, you risk making your customer even angrier.
The thing is, people can't make fun of you and harm you if you have already done so. In other words, by making fun of yourself, you're protecting yourself from other people doing so, possibly resulting in a more harmful effect.
Lastly, you want to be careful using this method if you have especially angry customers. If you have customers who are genuinely upset and boiling angry, you'll only make them even angrier by trying to include humor in the conversation.
5. Be gracious
People who complain and criticise you for social media want attention. If you don't give it to them, there's a great risk that they'll continue complaining until they get a response, becoming more violent and vicious for each message they leave.
Be overly appreciative of them and show that you are genuinely thankful for their feedback. This is a bit similar to number 4, but in this method, the focus is all on the customer's need for attention.
When thanking them, go out of your way to do so. You can even give them a gift to show how glad you are that they are taking the time to help you improve.
There are two scenarios that can take place when using this method.
Either, the criticism they left was genuine and true, and then, they'll feel appreciated, acknowledged, and most importantly, listened to, and less angry because you met their angriness with kindness. Not really a reaction you expect when you confront and verbally attack someone, is it?
If what they aid didn't have any grounds, their complaint will be ineffective, because they were hoping to get a reaction from you, and it wasn't a positive one they were hoping for.
6. Respond
It's that simple!
The first step to solving a problem with an angry customer is actually responding to them.
There are few exceptions when you don't have to respond, so that's why I made a habit to respond to every complaint I receive no matter what. Even if it is a troll that has no grounds for what they are saying.
There are tons of brands who don't respond to customer complaints, and it surprises me!
Social media customer service is no different from talking to an angry customer face-to-face.
The only difference is that the stakes are higher on social media.
Take the time to respond to every single complaint you receive, because that will show your audience that you care, and that you want to make things right. IT is the most basic part of customer services, yet still, brands believe that customer service is different just because it takes place in social media.
Hint: it's not.
This is not something that only small startups are doing, but even huge multimillion and even billion dollar companies with tons of resources are ignoring many of their customer complaints. Sure, I get that responding to each and every complaint of yours demands a lot of resources, but since your customers are the foundation to brand success, you simply have to get the resources. It's not something you can afford to compromise.
Just make it happen, ok?
Not responding to customer complaints has devastating effects. And remember that news of bad customer service reaches more than twice as many ears as praise for a good service experience. If your customer service on social media is terrible, people will know about it, and they'll restrain themselves from buying from you.
What's more, news of bad customer service reaches more than twice as many ears as praise for a good service experience.
The bottom line?
Respond to your customer complaints, for god's sake!
Just like you don't expect to be ignored if you contact a brand, your customers don't expect to be ignored by you.
Not responding comes off as you don't care about your customers, and if you don't care about them, why should they care about you?
7. Apologise and offer a solution
Ahh, this is probably the most famous way of dealing with complaints and criticism. No matter if it is on social media or through email, it is a strategy that is known to be effective.
Don't try to explain or give an excuse to why you made a mistake or why the customer feel like they've been treated incorrectly. This might come off as an attempt to make the problem seem smaller than it actually is. Angry customers don't want excuses, they want apologies.
Admit your mistake to them, or even publicly, if needed, and then offer them a solution to the problem. If needed, you should compensate them in a way that you think is appropriate.
Make sure your apology is genuine and comes from the heart. When people see that you're terribly sorry for what has happened, the majority will let you off the hook and accept your apology.
8. Think before responding
Before you respond to the criticism, make sure you think through carefully before. It's easy to get upset and respond defensively, especially if the complaints are really angry, or don't have any grounds – false accusations.
Before you press send, ask yourself "will this make the situation better or worse?". The last thing you want to do is respond in a  way that makes the situation worse and the disgruntled customer even more trustful. Because elf you do, they'll tell all their friends about the experience, and since 92% of people trust peer recommendations, there's a great risk that their friends will also stay away from doing business with you, making you lose a lot of potential customers.
To make sure you're responding in the best possible way, ask someone to read it through before sending it, and ask them how they would react if they would have got that response from a  brand.
It also helps to put yourself in your customer's shoes. This brings me to the next point.
9. Don't make any assumptions before you know the truth
It's easy to jump to conclusions and start assuming things. Before responding, put yourself in your customer's shoes and try to really understand why your customer is acting the way they do. Understand your customer's version completely and fully before responding. Maybe it is a customer that has faced the problem over and over again, and every time, you've promised to fix it. Understand how they are feeling when you're acting like you're listening, but really, you're not.
What's more, a customer might have experienced something that you've never had a customer experience, but just because that is the case doesn't mean that it isn't true. Don't jump to conclusions that they're lying but instead try to understand if what they are saying is true.
Gather all the facts before jumping to any conclusions, and you'll have an easier time responding to them in a way that leaves them happy and satisfied.
10. Admit your mistakes
You will make mistakes and missteps as a business. It's inevitable.
And you'll do it over and over.
Remember:
If you deny that you are in the wrong, you'll make the problem bigger, even if it's true or not. I've already gone through the ways you should deal with complaints when they are nothing more than faulty accusations, but denying them is not one of them.
often times, people will be satisfied with a simple apology and that you admit that you're in the wrong, but no one is expecting that you are going to deny them.
Because if you do, that means that you're telling your customer that they are lying.
And when you do, they'll get even more disgruntled and angry.
11.Take the conversation privately
If you receive a complaint that is greatly aggressive and negative, you'll be best off taking it offline or privately as quickly as possible. If your social media page is filled with a bunch of negativity, there's a risk that that negativity will infest your whole page, anded your brand's image. And that's not the feeling you want to mediate with your brand on social media, is it?
What's more, by taking it privately or offline, the conversation becomes more intimate, and it will be easier for you to solve the problem.
Think about it:
A bully is most often bullying if people are around to see it. They get power and more aggressive when they have people around them.
If you want to take the conversation privately, you can either say:
"Thank you or your message. Please email us at youremail@address.com and we'll assist you", or, "Thank you or your message, we just sent you a private message".
Doing so will show other people that you have acknowledged the complaint and that you're doing something about it. If you just send them a private message and start chatting with them there, people might believe that you've ignored their complaint.
12. Address them by name
Did you know that employees only ask for the customer's name 21% of the time?
Always, always, always, begin the message by addressing their name, and end it with yours. That way, the conversation becomes more intimate, between two people, rather than a conversation between a helpless person and a giant brand.
People have an easier time resonating with humans as opposed to brands, plus, by addressing them by name, you show that you see them as human beings and not just another angry customer.
13. Don't use automated or generic messages
When people complain to you, they want to talk to a real person.
In the last year, 67% of customers have hung up the phone out of frustration they could not talk to a real person.
What does this mean?
Well, having automated responses will work as a barrier between you and your customer, and chances are, they'll get even more upset.
Social media automation and chatbots are tremendously helpful and effective for many things in business, but customer service is not one of them.
When people are angry, they act on emotions. As a result, the only way to solve their problem is by talking to them with emotions.
As familiar, bots don't have any emotions.
The thing is, all your customer complaints will be different, and different situations demand different approaches. There's no one size fits all.
After all, why do you think I am listing all of these different ways to deal with customer complaints? Therefore, the human touch is absolutely necessary when trying to convert your angry customers into loyal supporters of your brand.
14. Be human
Just like you shouldn't use chatbots or generic messages, you shouldn't speak like you are one. People want to talk to a real human being, and not showing your personality and instead, responding with a bunch of canned responses, making you seem like a large corporate, will make them even angrier than they were before.
You should obviously begin the conversation by addressing your name and then ending it with yours, as mentioned. Doing this simple measure will make your conversation a lot more human, and you'll make it easier for your customer to resonate with you.
If you can, you should even include a profile picture.
People often have no problem yelling at a brand and a logo, but when they realize that they're talking to a real human being, it will be completely different. Why?
Because they realize they're talking to a person just like themselves that is just trying to do their job. As a result, the angry customer will be calmed down a bit, and it will be easier for you to solve their problem and make them happy.
It's different if you're yelling at a brand or if you're yelling at innocent Tom that's just trying to do his job, right?
It all becomes a lot more concrete and easy to grasp when you're talking to a real human.
15. Give a real apology
There's a difference between apology and apology. If you're going to apologize, make sure you do it directly and properly.
Don't "sort of"apologize, but be clear with your apology and show that you truly do mean it.
There's a huge difference between "we're sorry you feel that way" and "we're truly sorry", isn't it?
Be straightforward and don't talk in riddles.
The problem with these kinds of "apologies" is that they don't come off as sincere, and nor does it offer a solution to your customer's issue. When you respond with these kinds of complaints, people will feel mistreated, and that you see them as a pain. If you have this approach, not only will you make the customer even angrier, which means they'll tell all their friends about the experience, but you'll also lose a valuable customer.
16. Solve the  problem
Apologising is an important part, and the first step in making your customer happy again, but the key to making them happy is by solving their problem. After all, they contacted you in hope that you could solve it.
Everyone makes mistakes, but it is whether you solve the issues they cause, and how you solve them that is what is interesting.
Going out of your way to solving your customer's problem is the best way to say "I am sorry" without having to say a word". And it is also the best way to show your customer that you value them.
17. Give proper compensation
Often times, a compensation is in place for an angry customer.
But if you're going to give a compensation, make sure you do it properly.
If the issue you've created for you customer resulted in several wasted hours and a lost of wasted energy, a coupon code on $5 that's only applicable on "selected items" which means the items that nobody wants is simply not enough as an apology. THat's more of a mock to your customer.
The better the compensation is the bigger chances that your customer gets satisfied and continues being a customer.
Take a look at how this customer interaction that Zappos had played out:
First, they offered a coupon on $50 dollars, but then the customer was angry because it wouldn't be applicable to the order she had just made, so Zappos went out of their way to solve it!
18. Use your customers to improve
Nothing says "I appreciate your complaint" like making them a part of your work to improve.
As mentioned earlier, if people are taking the time to complain about something, it is because they want to continue being customers, and help you improve.
Therefore, the ultimate way to improve is to make them a part of the mix, a part of the solution.
Ask them for ideas on how you can improve and then look at the areas where they are seeing flaws. Ultimately, it is the people who are using your products every day and are testing out in the field that knows best. Not the CEO who is sitting in his office, right?
Start listening to the criticism you are receiving and start valuing it as a way for you to improve!
Things not to do when receiving criticism and complaints on social media
Okay, I've now gone through the things you should do when dealing with criticism and complaints on social media in order to get the best possible results (as well as one thing you
1.Never ignore your customers
The last thing you want to do is ignore your customers, and I've spoken about why above.
2.Debate
If you start debating with your customers, they'll just get even angrier. Debates won't get you anywhere, but they will harm our brand and your integrity.
3.Delete their comment
There's one thing that's even worse than not responding to your customer, and that is deleting their comment.
Some brands think that if they delete it, nobody will see it, but what they'll end up doing is making the person who wrote it even angrier, plus give them more reasons to continue complaining as well as tell all their friends
Conclusion
No matter how careful you are, complaints and criticism will reach you on social media.
As a brand, good customer service is crucial, because it can be the difference between a lost customer forever, and a loyal brand advocate who buys from you over and over again.
In order to get the best results possible from your customer service efforts, you need to have a great plan on how you're going to deal with criticism on social media.
With a great plan, and knowing exactly how you're going to respond to your customers, you can solve the issue quickly and pain-free, and make the customer happier and more excited about your brand than they have ever been.